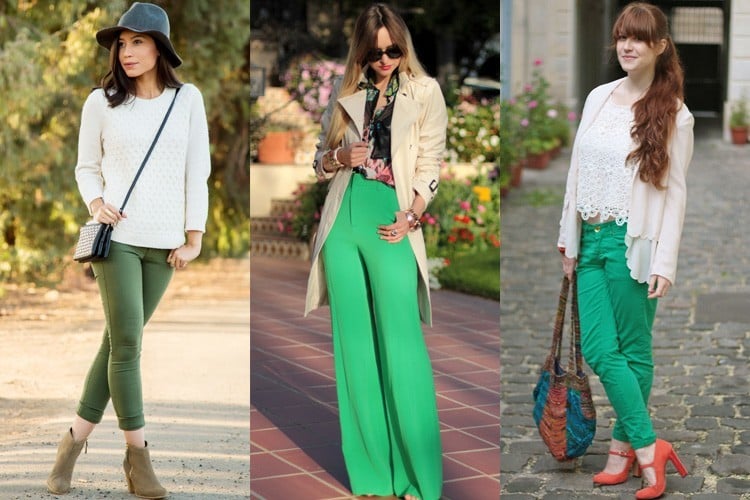 You know what? Green is the new black! Well, no it's not yet, but if you master the skill of wearing the green pants impeccably, it may soon be the new black or even the new blue. Now if you are all confused wondering what to wear with green pants to make it an everyday affair, here is what you do.
[Also Read: Colours To Wear and Flaunt On Dark Dusky Skin]
HOW TO WEAR GREEN PANTS
If comfort and funk is what you associate your personality with, pick up a pair of these super cool cargos and team them with equally funky sweatshirts. These cargo pants aren't dead tight, so there is plenty of room for you to breathe in. Again, if you have a good body and you want people to know it go for skinny cargo pants, the concerned will certainly be addressed.
Keeping the mood funky in office, pick up a well-fitted pair of khaki pants. Khaki green pants serve the dual purpose like nothing else. They can be worn to office as molded into a formal attire and if required you can also replace your blue denims with them. That's two birds in a stone, girls.
Talking of replacing your blue denims, why not replace them with green denims instead. Yes you can wear your favorite super casual outfit in green too. Green denims blend perfectly with all bright colored tee-shirts and tops. Green denims are available at all malls and online stores. Even your favorite brand has a line of them. My favorite are these skinny jeans that I am going to wear till they wear out.
[Also Read: How To Wear Leather Pants]
Coming back to office wear, if you got a straight faced boss or a super stringent HR policy that forces you to be in traditional formals Monday through Thursday, may as well pick up a pair of conventional trouser in a darker shade of green. Pair them up with a blouse in black, white or any contrasting colors and you are done.
A smart pair of green shorts can actually give some serious competition to your favorite hot pants. They go with all kinds and colors of tee-shirts or vests. And these shorts aren't super short or tight, you maintain the modesty you want to. Adding a cap or hat as an accessory will work in your favor too.
[Also Read: How To Wear Dark Berry Colours This Fall]
Green as a color won't only look good when used as a solid, but also appears lively when worn in prints. Right from abstract to floral to geometric, printed green pants can be teamed up with your chosen blouse or top for any family gathering or even a date night for that matter.
[Also Read: What To Wear With Red Pants]
The best piece of green pant that I have ever owned is my green Army pants. I have tortured this piece like a devil and I am still wearing it as I write this article for you. They are very durable and one can literally live in them. They match perfectly with white, lime, and yellow vests. But I just slip on to anything that I can reach out too, because they just don't look bad with anything.
Now let's check out these fashionistas who gave a reason to go green by rocking some amazing green pants.
[Also Read: What To Wear In Paris]
See how Gewn Stefani pulled off an off shoulder crop top with green sailor pants? Goals, people, goals!
And that one time Fergie popped out of an airplane in green leather pants, describes how green can be your go to color of the season.
[sc:mediad]
When I said team up a conventional blouse with green trousers, this is what I meant. Check out Zoe Salanda
when our pretty little liar Lucy Hale rocks the green skinny jeans like this, she officially makes it glorious like nothing ever.
Jennifer Lopez tells us, what to wear with green pants – green shirts. If you have it in you, the green on green combo can make the onlookers turn green with envy.
Taylor is falling in love with green pants too, we don't blame her. She looks effortlessly beautiful with those boots and don't you dare miss the hat.
Bollywood has found a thing of interest in green pants as well, see how they rocked it. Check out Deepika Padukone in those green shorts.
But this time the award goes to Anushka Sharma for her Harper Bazaar photo shoot. Take a glass of water before you set your eyes on this amazing green printed suit Anushka sported.
Take a try in playing with colors. Blue and black are safe choices hands down, but there is so much fun in taking these chances. Now that you have enough knowledge on what to wear with green pants, make it work the next time you are out.