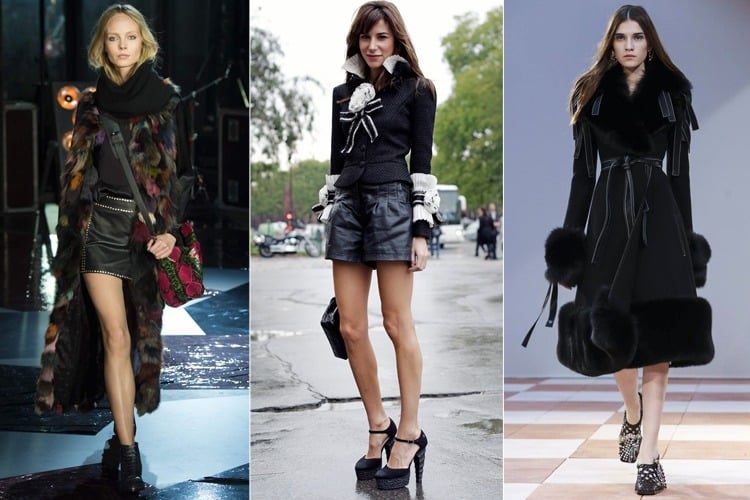 Hi! So you have got your dream trip to Paris all planned out and all arrangements dealt with except one- What to wear in Paris? Yes, it is justified since we know, Paris, the 'haute couture' has a style and fashion forwardness that is completely different from the US style we are used to. While it's natural that you would want to blend in and not stand apart like a tourist. Parisian women have a chic style quotient yet score high on comfortable and hassle free clothing. Their effortless style is what makes them appear so magnetic, charming yet daunting. Let's have a sneak peek at clothing to wear in Paris:
[Also Read: What To Wear In New York]
Understanding Paris Street Style Fashion
While pondering on what to wear in Paris, it's best to get the fashion mindset of Paris summed up which is sophistication, simplicity and style. The city is chic, yet conservative with that stylish edge. To eliminate any chances of being singled out as a tourist, keep the Paris street style fashion sense in mind while you shop and pack for your dream trip.
Opt For Neutrals
They have the penchant for neutral colours and generally follow "No more than 3 colours" rule. Thus while selecting clothes to wear in Paris, go for the subdued approach and dump all floral or anything bright and flashy. Black is a blind man's choice because apart from being stylish and versatile, it lends you a slim silhouette as well. Not only it is Paris's predominant colour but it makes things easy for you in taking the "wear and tear" of any trip magnanimously. Beiges, browns, purples, creams are some other colours you can go for. A dark and light combination would be ideal.
[Also Read: Paris Fashion Week]
Leave Leisure Wear Behind
Leisure wears like sweatpants, shorts, tennis shoes, cropped pants etc. are some items that simply are not compatible with Paris. Instead, neutral coloured jeans, pants, skirts, blouses and tops with some terrific feminine cuts and works, simple and elegant evening dresses, cardigans, pullovers, sweaters, blazers, coat etc are some terrific clothes to wear in Paris. Check the weather in Paris during your trip time since packing for Paris varies widely according to the season there. Hey! Don't forget to pack a pair of jeans for yourself. Spilling outside the niche of teenagers, it is fast becoming an increasing favourite with all adults.
[sc:mediad]
Accessories And Scarves Are Indispensable To Completing Your Style Statement
What is guaranteed to strike you about Paris street style is the lack of brand labels, signature single pieces or specific designer items. General Parisians prefer a great fit and quality to get an overall look of effortless modern, attractive style which is sexy without going over the top. Their dressing implies creating unique ensemble by proper mixing and matching and accessorizing it to limitless facets with scarves, necklaces, earrings, belts, bags etc. This relieves you in packing too much clothing to wear in Paris. Choose tops and pants that can be matched with other clothing in your suitcase. Instead go for accessories to spice your basic outfits. And yes, don't forget scarves which are most ubiquitous in Paris. You can also indulge yourself in scarf shopping in Paris which can be great souvenirs as well. Observing Parisian women can be quite educating in learning the knack of pulling outfits together.
Relax With Your Hair And Make-Up
What may get you whooping with delight is the fret you would be absolved of over your hairstyle and makeup. In spite of the city leading the fashion runaway, Parisian women are die-hard fans of 'au-natural' look. Casual, unstructured and easy hairstyles with minimal makeup define an average Paris woman. Opting for 'subtle' over 'flashy', they are all for embracing the inner beauty. Yes, you really need not pack all those make-up kit. Just essentials would suffice. Not to mentions, all the bonus time you would have at your disposal to explore and enjoy Paris!
Dump Tennis Shoes For Comfortable Ones
Finally shoes will complete your entire dress-up. Do note that Paris and walking are synonymous. Brighter side is that you can enjoy all those yummy fresh pastries and savouries without worrying about weight! Walking will ensure that you remain in shape. Go for shoes specifically designed for walking and lot of step climbing. Monuments and navigating cobblestoned corridors will test your shoes to the hilt. Loafers, pair of flats or short heeled boots are other items you can think of packing. However, try not to pack a new pair but ones that have passed the fire of heavy walking. For a tourist, Paris is not an ideal city to "break-in" new footwear.
[Also Read: Here's What Turkey Fashion Is All About!]
Final Thoughts
Well, hope we have finally helped you with what to wear in Paris. However, you can be more creative and more adaptable to your innate style, age etc but remain with the niche of elegance and not over-dressed or anything over the top. It's only about getting the perfect balance of style, comfort and practicality.