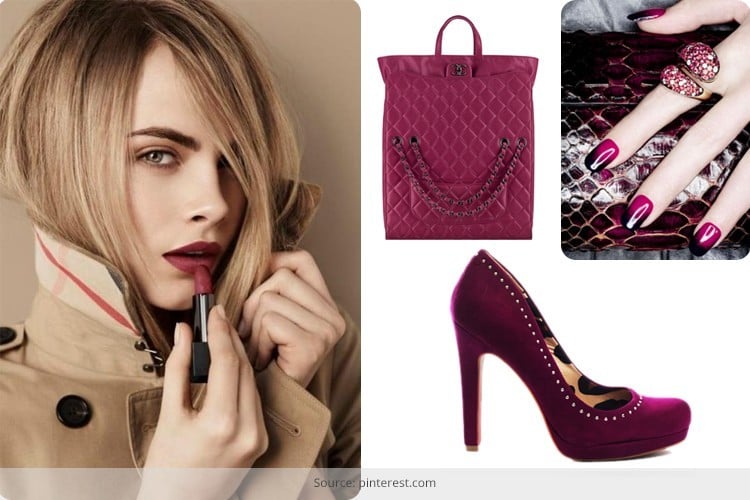 Spring and summer shades are all of light pastels, something that's not jarring to the eye. The Fall is about rich, deep, dark and warm tones like blacks, browns, grays and blues. But if the fashion-picky you finds these colours dull and boring, then go ahead and try out the colourful and sophisticated dark berry shades.
[Also Read: Ways to Wear 2015 Official Color Marsala]
The world of dark berry colours isn't small as you think. There are deep red berry to dark plum hues to add to your fall look. And that doesn't mean berry colours are reserved only for clothing. From shoes, bags, lipsticks, nail colour to even hair colour, dark berry colours this fall would dress you up beautiful from head to toe.
If you were to read colours in the berry family, you will go berserk. To start with, there is anything between the red and purple. For instance, oxblood, wine and burgundy shades.
Then there is deep Bordeaux to bright purple. These shades also have it in them to instantly glam up your wardrobe and create a fire in the catwalk.
Here Are Different Ways To Wear Dark Berry Colors
All in all, dark berry is a colour trend that can be dark and sultry, bold and fun at the same time. It is actually difficult to resist the berry trend, with the fall season not very far away. Embrace dark berry from head-to-toe and get seen first.
Nails In Dark Berry
Let's begin with a subtle and not-so-shouty colour for nails in beautiful velvet berry. Berry colours, particularly dark shades, match the fall season perfectly. The costume you wear can also be the deciding factor on the shade of dark berry you wear on your nails – between gel to regular glossy finish shades.
[Also Read: Nail Polish Colours for Different Skin Tone?]
Lipstick In Dark Berry
Wondering how to wear dark berry lipsticks? Look bolder, better and sexier with beautiful berry colors this fall. If not more, it will certainly give you luscious siren lips for the cocktail party.
Whenever your mind is on wearing a dark berry lipstick, try and keep your makeup to a bare minimum. This way, you can carry it off extremely well for a daytime look. As for the night, touch up your eyes with an earthy smoky look to look sexy and sultry.
Another way to getting berry lips is by using lip stains. Try out NARS in Fast Ride or YSL Rouge Volupte in Forbidden to get the ramp look.
Eye Makeup In Dark Berry
If you want to do away with the run-of-the-mill fall look, then try out dark berry eye makeup. There are conventional black and brown shades for eye makeup but berry gives you a beautiful eye look in an interesting way.
[sc:mediad]
Eye shadows in berry shades have the tendency to make brown eyes shine out. So if you are brown-eyed, then go all out on berry eye shadow.
Dress Up In Dark Berry
Give up your addiction to the LBD, by going for juicy berry fashion outfit. It gives you a promising and beautiful feminine look. Plus it's a refreshing turn from the now common LBD.
Wear dark berry dressed up or dressed down depending on the occasion and the time.
The Berry Scarf with Crochet pattern is a good way to combat the cold wave at the start of fall.
Handbags can't be missed out either in Fall. Neither did Miranda Kerr who made it a point to carry berry handbag in a photo shoot at downtown Manhattan.
[Also Read: Most Expensive Handbags In The World]
Now let's put the focus on feet. Put on Natural Dark Berry Shoes that have man-made sole and upper, ankle strap to dress up your casual look.
With fall around, it's time to look fashionably merry in dark berry. Let us know which of these you are going to pick up for yourself.