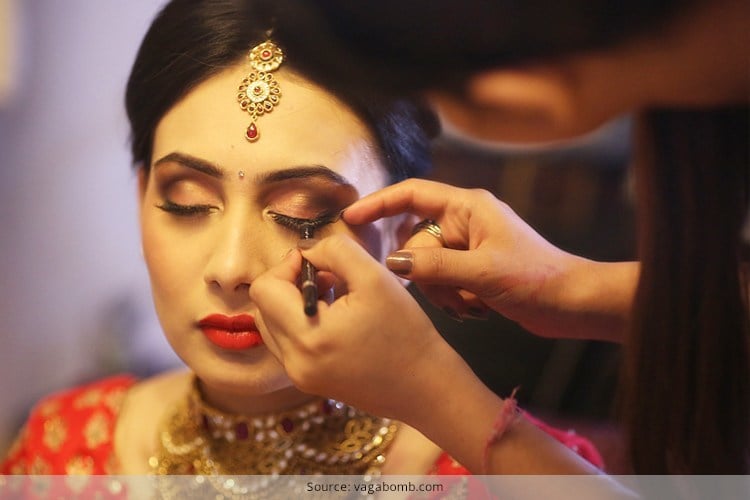 With wedding season just around the corner, brides are in a frenzy to search for the best makeup artists in Bangalore. This city has a lot to offer and besides the swanky malls and even better looking cars, some of the best makeup artists can also be found in this city. In fact, stats say that Bangalore has the most number of wedding makeup artists in the country!
[Also Read: Top Makeup Artists In Hyderabad]
Read On To Know More About Bridal Makeup In Bangalore
In your quest for makeup artists in Bangalore, we have brought you information from some of the leading bridal makeup artists in Bangalore.
1. Manjeet Khehra
When it comes to bridal makeup in Bangalore, Manjeet takes the cake, hands down! The Facebook page concludes in so many words that Manjeet specializes in Makeup and not 'made-up'. For Bridal Makeup Bangalore, Manjeet is the one stop solution for all your glamour needs. Check below some of the artist's many bridal looks. The artist also organizes workshops for those who want to learn more about makeup.
The makeup artist:
2. Gouri Kapur
Gouri is not new to the makeup scene. In fact, she is very well known for her bridal makeup in Bangalore. For her, the aim is to make the bride look as ethereal as possible and steal the show. Versatility is her USP in most of her creations and she loves playing around with colours. Point to note: Gouri is also one of the most sought after makeup artists by celebrities. So, if you want makeup as flawless as hers, make sure you visit her salon for more details!
[Also Read: Makeup Tricks]
[sc:mediad]
3. Sabrina Suhail
Another one of the best makeup artists in Bangalore, Sabrina has carved her niche in the field by also being the artist who has worked with a wide variety of people. From kids to models and brides, Sabrina has covered each and every one. The best part about her makeup is the fact that she uses very high end cosmetics which ensure that the makeup stays put for a long time to come. She too works for celebrities and is a recent contributor to ramp walks and fashion shows.
[Also Read: Best Mehndi Artists in Bangalore]
4. Ralph Daniels
He is a male makeup artist in Bangalore and needless to say, has carved a niche among all his female counterparts. Ralph Daniels has become one of the favorites of many clients and celebrities here. His makeup is inspired a lot by the old Hollywood charm and most of his creations will have influences from the makeup of the 50s and 60s. He also has influences from William Dalrymple's writings and usually has some or the other form of cues from the period movies. Check out some of his awesome work:
[Also Read: How To Use Makeup Brushes]
5. Yani Srivastava
Yani considers her connoisseur of good makeup and believes that her work actually reflects the kind of expertise she has. Her makeup is absolutely flawless and her artistic finesse has been gradually taking an awesome turn. She is a star makeup artist who has worked with the likes of different celebs for the movies and even for runways and magazine editorials. She is constantly reinventing herself-thus making herself one of the finest makeup artists of the city.
[Also Read: Top Tattoo Artists in Bangalore]
Now that you know the best makeup artists in Bangalore, check them out to have the most at your wedding!