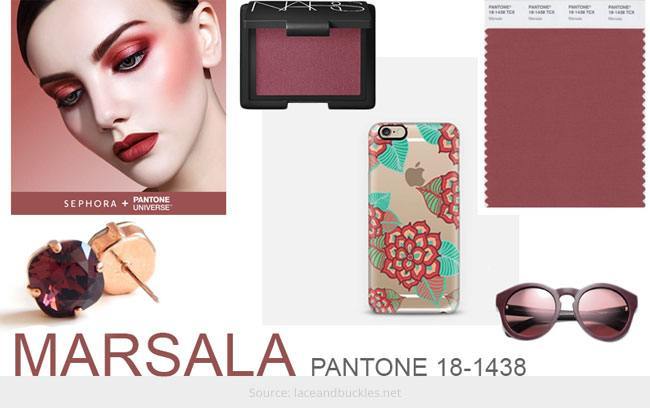 I have already published an elaborate piece on the official color of 2015 by Pantone. It's Marsala – "a naturally robust and earthy wine red". While Pantone has full confidence in this shade, you might be wondering how to pull off 2015 Pantone color. To help you out, I have come up with top 3 ways to wear the 2015 color Marsala with poise and without a hitch. The best thing about this shade is, it's extremely versatile thereby giving us endless fashionable ways to pull it off.
Do have a read and stay inspired!
Marsala lipstick
Ever since Pantone declared the official color of 2015, Marsala has taken the fashion world by storm. With demand as high as ever, almost every leading makeup brand has come up with some fabulous collections in this particular shade. While Sephora had launched a limited edition in Marsala that offered a matte satin finish, many top cosmetic brands also offer this luscious shade.
[Also Read: Nude Lipstick]
This deep wine ombre shade evokes sleek yet new age elements of the iconic Pantone Chip. Each brand features Pantone's high end formula of this luxe color payoff, offering polished finishes such as cream, metallic, matte and lacquer, which enable a refined expression of this bold yet neutral shade with sheer luminosity.
Here are the en vogue Marsala lipsticks you can give a try –
Too Faced La Creme Lipstick in Divine Wine
Tom Ford Lipstick in Black Orchid
Sunday Riley Modern Lip Color in Wine Stain
Sue Devitt Balanced Lipstick in Australian Bight
Sleek True Colour Lipstick in Smother
Revlon Super Lustrous Lipstick in Black Cherry
Revlon Matte Lipstick in Wine
Revlon Color Burst Lipstick in Grape
Nars Pure Matte Lipstick in Volga
Nars Lipstick in Scarlet Empress
Nars Audacious Lipstick in Liv
Me Me Me Lipstick in Morello Silk
MAC Rebel Lipstick
MAC Cunning Lipstick
Estee Lauder Lipstick in Black Cassis
Ellis Faas Creamy Lips in Deep Plum Wine
Dior Addict Lipcolor in Pinstripe Plum
Chanel Rouge Allure Lipstick in Rouge Noir
Avon Ultra Colour Lipstick in Oxford Wine
Wet'n'Wild Lipstick in Cherry Bomb
Marsala Eyes
When it comes to Marsala eyes, I get reminded of dramatic eye makeup by Kristen Stewart flaunting winey and burgundy tones above her eye lids. While she has covered her eyes, right from inner edges and outer edges to the ridges of the brows; she has also applied lip liner (Chanel Framboise) as the base for her eye makeup. Kristen wore burgundy shadows from Chanel Les Ombres Quadra Eyeshadow in Eclosion and Chanel Joues Contraste Powder Blush in Pink Explosion to complete her eye makeup look.
You can also take inspiration from Rooney Mara, who has combined her Marsala eye shadow with golden sparkle to add edge to her look. As both the actresses have highlighted their eyes, they have ensured the rest of their face is clean and radiant to complement their Marsala eyes.
[sc:mediad]
And if you are not willing to flaunt dramatic eyes, then here is a sensual makeup offered by Emma Stone. Unlike the above two actresses, Emma only flaunts Marsala eye shadow on the outer edges of her eyes. Plus, to add more impact her hair color also matched with her eye makeup.
Marsala cheeks
You should take cues from Lupita Nyong'o, who effortlessly carried the bold shade, Marsala blush on her cheeks. So do not shy away from this bold yet earthy shade.
So those were the top 3 ways to wear 2015 official color Marsala. Hope you enjoyed this post!