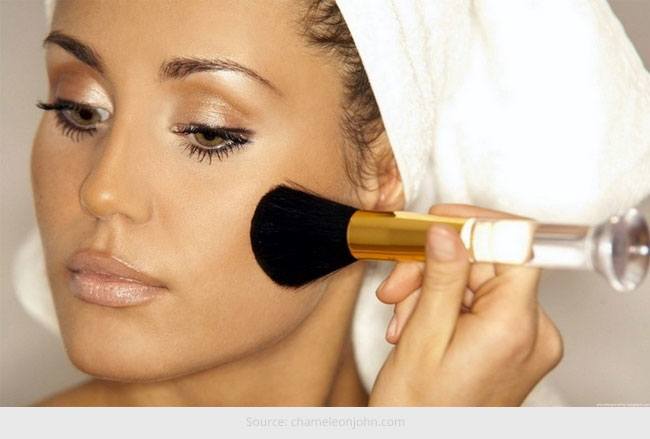 I can never get tired of repeating this abiding statement that, 'applying makeup is an art'. It is no rocket science. Just a few tips and tricks and of course practice can make you wear makeup like a pro. To make your job easier, I bring to you a comprehensive guide to foundation for beginners. Do have a read and stay inspired!
1. Find the shade that is close to your skin tone
Most of the times, we end up with a bad makeup session and that's because we choose a wrong shade for our skin. Since foundation comes in an array of shades ranging from ivory, sand, beige, porcelain, natural, honey and golden to almond, warm ivory, chestnut and espresso; you may be overwhelmed in picking the right shade that compliments your skin tone.
In order to know your right shade, you can use the tester bottles available at the counters. While the sales person will ask you to try the shade on the back side of your wrist, CoverGirl makeup guru Pat McGrath has some other suggestion instead. She asks you to test the foundation on the jaw line or neck and check it under natural light. If the shade disappears evenly without blending then consider it to be the perfect shade.
But then it's quite hard to keep on checking out every shade available in the counter. That's because while L'Oréal Paris offers 18 beautiful shades, Bobbi Brown offers 25 shades. In order to make your job easier, you should first know your complexion and then can take the help of a beauty adviser to know the closest match.
2. Find the perfect texture
Soon after you have chosen your right shade, it now becomes necessary for you to pick the appropriate texture that suits your complexion and skin type. In market, you'll come across an array of types ranging from liquid and mineral to pressed powder, cream and gel. And this can make it difficult for you to pick a right type. A quick knowledge transfer can help you understand the different types of foundation textures available in the market.
[sc:mediad]
Liquid foundation can be applied by using tapered foundation brush, stippling brush, beauty sponge, fingers and round foundation brush. Many celebrity artists prefer applying foundation using fingers in a circular motion, as fingers help blend the foundation.
Mineral or loose powder can be applied by using rounded kabuki brush. All you need to do is dab some minerals with your brush and then apply all over your face in a circular motion.
Cream foundation can be applied by using a tapered brush, fingers and also beauty sponge. Sponge offers a flawless finish. You need to pay some extra attention in blending by rolling the sponge gently to get even coverage.
3. Prepare your skin
Just as they say, "There's no such thing as good foundation without good skin"; it becomes quite essential for you to prepare your skin, i.e, cleansing and moisturizing. After you slather in moisturizer onto your skin, wait for 5 minutes before applying foundation. You can also go for primer, provided you need some corrections like under eye dark circles, dark spots and blemishes.
Primer minimizes those large pores and mattifies the face, whilst preparing your skin for foundation that offers you a flawless look.
So those were the tips on applying foundation. Hope you found this post on comprehensive guide to foundation for beginners useful.