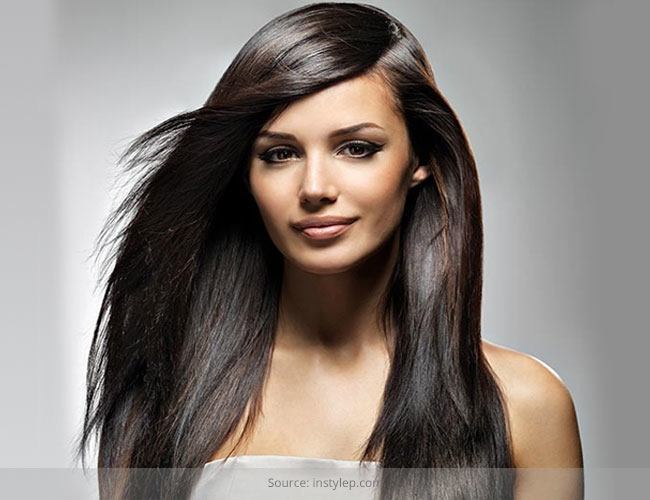 Nothing turns heads like a lustrous mane. Shiny, smooth and silky hair is what every girl secretly desires. But most of us don't really know how to get silky hair. In addition to that, we have a hectic life, seldom take care of ourselves and do not eat food good for a healthy mane. But believe it or not, it is not difficult to get a super mane. Read on for natural silky hair tips:
1. Right Diet
Having a balance diet is the most important part of achieving your super tresses. After all, you are what you eat. Foods like spinach, green vegetables, fish and nuts are good for hair and can improve your hair's texture to a large extent. Make sure you incorporate these foods in your diet to really see a difference
2. To shampoo or not
There are so many myths associated with shampoos and conditioners that you end up being utterly confused! The key is to know your hair type and accordingly shampoo. Our hair naturally secretes oil and too much of it can sometimes lead to dirt and grime being accumulated on the scalp. Shampooing is the best way to clear up your scalp. But at the same time, you should be careful not to shampoo your hair too much. This can end up drying your hair. Ideally twice a week is perfect for most hair types.
3. Homemade tips for silky hair
Natural products are the best way to get super shiny and glossy hair. Instead of loading your scalp with chemicals, you can whip up some own concoctions at home and get beautiful tresses. For instance, you can have your own homemade shampoo:
Boil amla (dried Indian gooseberry) together with shikakai and reetha
Rub all of them to get a soapy solution
Use this potion at least twice a week for glossy and manageable tresses
4. Cold Water and Conditioning
Conditioning and washing the hair with cold water is the key to getting shiny hair after a bath. Hot water tends to make the hair rough and frizzy so after your shampoo routine, take the final rinse with cold water.
[sc:mediad]
When using a conditioner, always keep the product on hair for a stipulated amount of time. After that, make sure you leave behind some when washing the hair. This will not only make the hair manageable, but also keep your shine intact.
5. Cut out on Chemicals and Heating:
Chemicals and heating are bane for your hair. As much as possible cut down on products like gels sprays and mousse. These products can temporarily give your hair a good feel, but on the long run, they tend to wreak havoc with the natural texture of hair. Same can be said about blow drying, curling and straightening. Too much heat and styling can weaken your hair and diminish the natural shine. If you have to use silky hair products, go for those which do not contain too many artificial agents.
Easy Peasy Hair masks to try at home:
1. Egg to Go!
Eggs are the best source of protein and if you are not bothered too much by the smell, then you can easily whip up this hair mask. The egg-cellent hair mask can give your hair that much needed shine.
Beat an egg into a container and add 1 teaspoon of honey, cream and olive oil to it
Mix it for a smooth paste and apply all over the hair
Let it dry and then use a mild shampoo
2. Banana Boost!
Bananas are one of those fruits which are packed with all kinds of minerals. Make a mask out of this super fruit to get shiny hair instantly.
Take a ripe banana and mash it with 2 teaspoons of yogurt
Blend it well to prevent chunks
Apply to hair and rinse off with water after 45 minutes for super shiny hair
Silky hair is not hard to get. A few rejigs in your everyday routine and some pampering for your hair can do wonders. Follow these tips to get a glossy mane.