You reach out for the fragrant, pricey, salon-style shampoo to give your hair a lovely, fragrant wash and feel refreshed. But haven't you missed a step? How about conditioning your hair to keep it soft, smooth and tangle-free?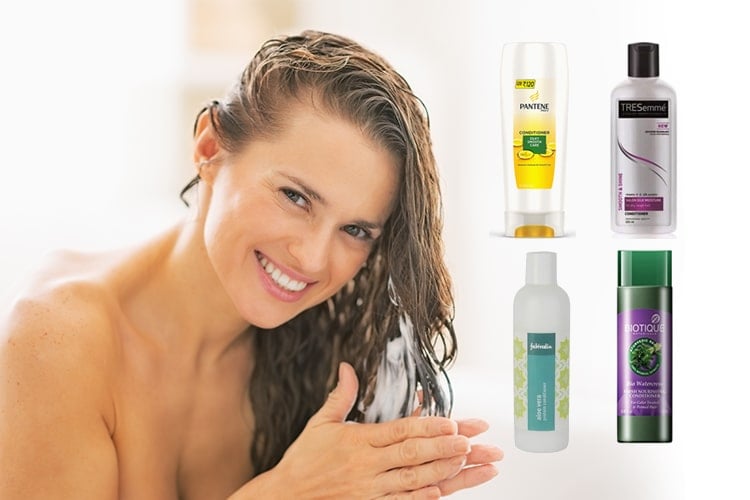 Hair conditioning will heal your damaged and lackluster hair to make them smooth, silky and shiny.
Here are five reasons that explain why using top hair conditioners is so important:
Nourishment – When you shampoo your hair, it not only removes dirt and dust but also zaps out the crucial nutrients from the scalp and hair. The only way to restore the nutrients is to use a good, quality hair conditioner. Otherwise, you would end up with rough, unruly and weak hair.
Moisturizes – Usage of shampoo leads to loss of moisture from hair which can lead to hair loss and roughness. A good hair conditioner restores the lost moisture and keeps your tresses soft and silky.
Protects – Hair conditioning protects your hair from rough weather and changing environmental conditions. Whether it be a harsh summer afternoon or a chilly, cold winter evening, hair conditioning would ensure that the hair stays healthy, thick and lustrous.
[Also Read: How to Stop Hair Fall]
With such benefits and effects of hair conditioners, it is important that hair conditioning becomes a important part of your hair care regime.
Best Hair Conditioners:
We bring to you 2 quality and top hair conditioners available in India:
1. Pantene Silky Smooth Care Conditioner:
Is your rough hair preventing you from having that smooth and silky look you have always wanted?
Get this look with an easy solution: Pantene's Silky Smooth Care.
This rich conditioning formula is specially designed to:
Fight roughness and control frizz
Lock in essential moisture and shut out excess humidity
Smoothen hair all day in any weather Provide enhanced nourishment and protection
Price: 175ml – INR 120/-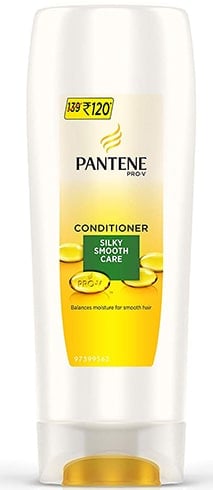 2. Tresemme Smooth And Shine Conditioner:
This is one of the conditioners in Indian market that has received lot of popularity and admiration. It promises salon style hair and should be used in combination with shampoo to get good results.
Benefits:
Hydrates the hair to heal the dry areas
Moisturizes to give a satin-smooth, silky feel
Gives you salon style hair
Perfect for daily use
Price: Rs 64/- for 100 ml
3. Fab India Aloe Vera Protein Conditioner:
With the goodness of aloe vera extract and Vitamin E, your hair will soft and hydrated.
Benefits
Mild conditioner with goodness of herbs like Aloe Vera
Keeps the hair smooth-textured and even
No side effects like hair fall
Smells pleasant and light
Adds moisture to the hair
Price: Rs.175/- for 275 ml
4. Biotique Bio Watercress Fresh Nourishing Conditioner:
Tame your frizzy hair with this organic hair conditioner this season. The herbal ingredients like tomato, aloe, neem and much more which are present in the conditioner nourish the hair to perfection.
Benefits
It has fewer chemicals and hence it doesn't damage the hair
Doesn't make the hair greasy with its thick consistency nature
Works faster and delivers good results
This conditioner makes the hair smooth, shining and silky.
Doesn't make the hair oily and leaves it well-nourished.
Price: Rs 159/- for 120ml
5. Dove Nourishing Oil Care Conditioner:
If you are on the lookout for anything mild to the hair, then pick the Dove products. One such unbeatable composition of conditioner that will fulfill your needs is the Dove nourishing oil care conditioner. As the name itself suggest, it composes of essential oils that form a strong base to good, smooth hair.
Benefits:
Since it is mild, it can be used daily
Less quantity is sufficient to render great results
Hair is softer, tangle-free and shining.
Treats the frizz effectively
Price: Rs 160/- for 180ml
6. TRESemme Keratin Smooth Conditioner:
Keratin protein has earned quite a popularity amongst the hair nourishment and the Tresemme have infused this protein into their conditioner for the betterment of the hair. It is known to add volume and strength to the hair.
Benefits:
Fights dullness, dryness and leaves the hair tangle free
Gives hair a soft touch and perfect shine
Moisturizes dehydrated hair
Price: Rs 170/- for 225 ml
7. The Body Shop Rainforest Moisture Conditioner:
Do you have dry hair and you wish to seal the moisture in the hair? Then get hold of this Rainforest moisture conditioner from The Body Shop. It is extremely light and is free from parabens and silicones that effect the hair health.
[sc:mediad]
Benefits:
It handles the dryness of the hair well
Adds shine to the tresses
Contains oils like Pracaxi oil, manketti oil, coconut oil and much more that add nourishment to the hair
It is a mild conditioner that makes the hair healthy and bouncy.
Price: Rs 695/- for 250ml
8. L'Oreal Total Repair 5 Conditioner:
As it claims, it treats dryness, dullness, breakage, roughness and split end issues effectively. It has to be used for a good amount of time to notice the benefits. It is thick yet it washes off easily.
Benefits:
Rules frizzy hair
It will keep the hair silky and shiny
It reduces the flakiness of the scalp
It has very good fragrance
Price: Rs 130/- for 180ml

9. Garnier Fructis Fortifying Cream Conditioner:
Its fruit concentrates strengthen the hair and make them smooth and soft. With the fruity fragrance, it leaves behind a fresh and endearing smell. It is suitable for oily as well as dry hair.
Benefits:
It tames the hair and supplements the dry hair with good moisture
The biotin content strengthens the hair and helps in hair growth
Reduces hair breakage and split ends
Price: Rs 68/- for 90gm
10. Himalaya Protein Conditioner:
Since Himalaya products are known to contain the natural ingredients, the protein conditioner is a safe bet. The protein content of the conditioner proves an excellent remedy to treat dry hair.
Benefits:
Safe for color treated hair
Refreshes and vitalizes the dull hair
It controls hair fall
It adds shine to the hair
Price: Rs 130/- for 200ml
11. Matrix Opticare Smoothing Conditioner:
It is enriched with shea butter that helps protect, condition and moisturize and gives back silk shiny hair.
Benefits:
Manages frizz and detangles the hair
Gives shine and softness to the hair
It doesn't cause hair fall
It prevent damage and also prevents split ends
Price: Rs 365/- for 196 gm
How To Use Hair Conditioner:
There is a right way to apply hair conditioner otherwise it might lead to hair loss and damage:
From The Tips To Roots – The tips I.e lower end of your hair needs special attention as they are in the growing stage. Start from your hair tips and work your way towards the roots to give the nourishment required for the hair to grow.
Avoid The Scalp – We all make this mistake of applying hair conditioner to the scalp. But the application of hair conditioner is to coat the hair shaft for making the hair cuticles lie down. Therefore, apply conditioner only to the hair and not use it on the scalp.
Hair coloring and straightening leads to raising the scales on cuticles which results in loss of smoothness and shine. Hair conditioning reverses the damage and provides essential nutrients to the hair.
[Also Read: Celebrity Hairstyles]
Dry Hair Before Conditioning – After shampooing your hair, do not apply conditioner immediately on absolutely wet hair. Gently rinse your hair with towel and then apply conditioner to the hair for best results.
Right Way To Apply – Use your fingers to blend the conditioner into your hair ends and roots. Leave the conditioner for 3 minutes and then rinse it off from your hair.