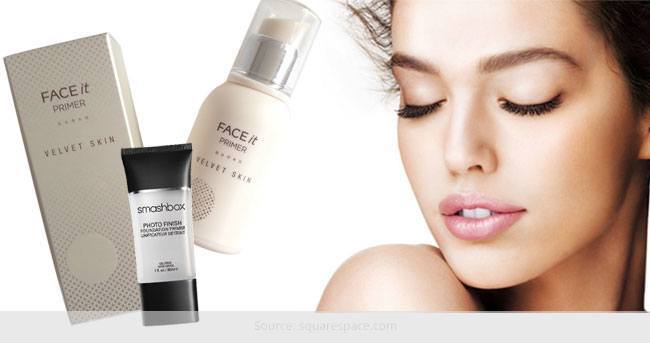 Finding a good primer is the key to getting flawless makeup that can last throughout the day and night. It not only softens your face but makes it velvety soft, which enhances the smooth effect it casts on your make-up.
Question is what type of skin you have determines the primer you should use. In the rush of things and lack of appropriate knowledge on primers, some of the girls end up making blunders when it comes to putting face primers.
In fact, celebrity makeup artist Napoleon Perdis has said it well
"Not to prime is a crime! It's been my career-long mantra as it helps finesse your foundation, helping your skin to stay flawless for longer".
If that is the sacrosanct truth, let us explore and help you choose some of the best primers for your face.
Skin Type: First and foremost, determine your skin type. Depending on its nature – dry, oil or combination skin, choose a primer that suits well.
Skin Tone: Primers come in various hues so as to meet specific skin needs. While green-colored primers combat redness that comes from acne, light purple primers counteract sallow undertones and pink primers help brighten the complexion.
Once you've done your selection on the above factors, apply the primer but only after your have moisturised your face. If you apply it before your day cream, then the water-based products can't penetrate well to reach your skin. Here we go on primers for dry skin:
Laura Mercier Hydrating Primer
This primer was made for girls with dry skin. Super hydrating and nourishing, this will keep your skin plump and flake-free all day long. The formula is made with antioxidants, vitamins A, C and E and hydrating properties thanks to glycerin and hyaluronic acid.
Hourglass Veil Mineral Primer
The 'Rolls Royce of Primers', this brand is suitable for dry skin. When it is applied, it glides over the face giving it a nice health glow.
Mac Prep + Prime Face Protect SPF 50
This brand of primer creates such a smooth surface on the face that allows any kind of makeup to stay smooth for hours. Furthermore, it gives an even matte look on the dry face. Since the SPF factor is 50, there is no need to apply additional sun protection.
Make-up Forever HD-Micro Perfecting Primer
One of the best primers for dry skin, Make-up Forever requires tiny application on the whole face. Since it has an oil-free base, it works to give the skin a smooth texture by helping control excessive drying up of naturally dry skin.
Clarins Instant Smooth Perfecting Touch
Great for ageing skin, it leaves the skin velvety and silky. Besides, it erases the fine lines on the forehead and in between the eyebrows.
Clinique Super Primer
If you have dry skin with a tendency to flake, then this product is perfect as it has an oil base that helps smooth out the skin. The best part is that it doesn't dry the skin further or cause an acne break out.
[sc:mediad]
L'Oreal Studio Secrets Professional Face Primer
Since this primer has oil free base it is perfect for all skin types. Not only does it moisturise the face, it hydrates the skin without making it look greasy. All in all, it keeps the skin moisturized and clean.
Revlon PhotoReady Primer
This brand has the benefits of a primer and a serum with vitamin C that reduces the appearance of fine lines and wrinkles. It gradually smoothens out the skin, helps conceal pores and makes the skin look great. Only a very little quantity is needed per application.
Maybelline Dream Smooth Primer
Lightweight and translucent, it evens out the skin tone and helps conceal pores. It gives the skin a matte and glowy finish. Apply it before using the foundation.
Dior SkinFlash Primer
Skin is smoothed and signs of fatigue and dull complexion are swept away in one stroke of a brush. Created with the latest discoveries in optics, Photo-smart Pigments boast photochromic properties that attract the light and optimally diffuse it over the complexion.
Now get started with any of these best primers for dry skin!