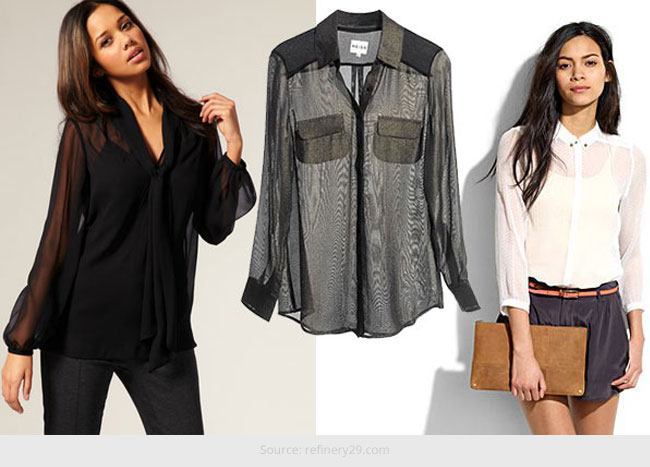 Sheer for evening gowns and cocktail trousseau only! Ye right, says who? If you haven't been following the trends of late, slash away that fashionista sash and crown – sheer is an all time wear in this day and age.
Let's look at different ways to wear sheers:
Newsflash Sheer Chic Style
Powerful women of substance across the globe and fashion designers, brands too have shown us how sheer can be worn during the day; even at work. Carine Roitfeld, in her sixties and known as the 'doyenne of French fashion' stunned the world in her sheer maxi skirt and grandma knickers – the former editor of Vogue Paris, now advocates transparency in fashion and she modeled for them too – Bridget Jones underwear and the see-through skirt – what a sensation that was!
Draped pants and sheer fabrics
Autumn 2014 showed us many ways in which sheer could rule the day; work or at play – sheer fabrics, dresses sans the back, draped pants, skirts with long slits, gowns in sheer and pastel shades, designers brought around a revolution for their Spring 2015 collections at the New York Fashion week last year.
Light and nice for Spring
Spring 2015 is almost knocking, and when the winds stop blowing harsh and cold; flaunting out a little more than the usual is the norm. Sheer thus would be bright as an option to wear. It reflects elegance, shimmering styles, luminous grace and the oomph factor for sure. Wait for the esteemed 2015 Mercedez-Benz fashion week at Manhattan's Lincoln Center; you'd be sitting at the edge of your seats watching sheer fashion!
How to wear Sheer
There are ways to wear sheer fabrics at work or at play; so here are 10 quirky and fun ways to doll up this spring, should you choose sheer to wear!
1. Sheer top with a buttoned-up shirt
Planning to wear sheer at work, do so with a nice buttoned top. The sheer piece shouldn't be body hugging – helps steer clear from the bulky and wrinkling looks below the gorgeous fabric.
2. Add texture to monochromatic hues
From top-to-toe, wear one colour for a blend of elements to happen; use a one-piece sheer layering over what you wear for a stunning look thereafter.
3. Embellishments for your sheer tops
Enhance the visual treat and interest, wearing embellishments; trick the eyes and create an illusion that shows more coverage.
[sc:mediad]
4. Sheer over crop tops
Friday dressing at work can be fun and quirky; sheer mesh over the crop-top would be great; just incase you do not want to expose too much of the midriff!
5. A feminine-masculine touch
Sheer buttoned-up man shirt over a neutral coloured bra; dress pants for the legs or a long skirt to the knees – sexy and professional for Friday dressing!
6. Go retro
House party at 2pm, go retro! Sheer brings in more visual happiness to the eyes and adds texture too – small accents best placed over crochet tops and conservative round collared tees.
7. With classic pants
Stylish and fun with classic trousers or dress pants, heels for the oomph factor and a crispy sheer man shirt over a camisole- work is fun!
8. Play with floral prints
Sheer printed floral fabrics wouldn't be all that see-through; so you are safe from prying eyes and comments while wearing them at work.
9. Sheer socks with open-toe shoes
You can avoid distractions galore, especially when your toes peep out of those shoes – wear sheer socks with your open-toed puppies for a classy coverage to be.
10. 90s grunge ripped look and sheer
Sexy as hell – doesn't look pre-made when sewn sheer panels are placed behind the holes of ripped areas on your 90s jeans. Layer them over the crevices and holes, or simply wear sheer lace tights below your jeans – a new look, a new sexy you!
And there are many more ways you can indulge in sheer wear for work or just for a casual evening out with the girls, without having to fear being grilled in public! Sheer happiness this spring 2015 – go get them girl, be the lioness you've always wanted to be!
Hope this article on ways to wear sheers was helpful.