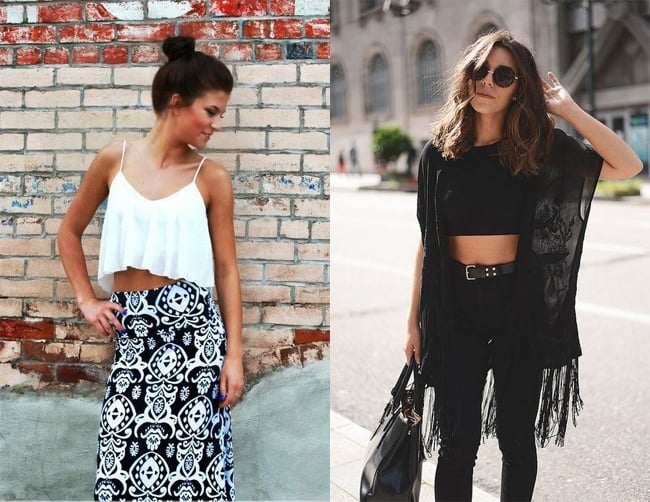 If you've been hitting the gym regularly and want to show off your toned body, then there are some very easy ways to do that. You can wear sleeveless tops to flaunt your toned arms and wear shorts to show off your legs. But what if you want to flaunt your midriff? Ah, now that's where it gets a little tricky. Depending on how you go about it, showing off your midriff can be a fashion statement or a fashion disaster. Let's look at different ways in which you can show off your midriff tastefully.
Crop Tops
Crop tops are one of the safest options when it comes to showing off your midriff. Team a cropped tee with a pair of jeans or wear a lacy crop top with a floor-length skirt. Just make sure you pair your crop top with high-waist pants as opposed to wearing them with low-waist ones. The idea is to show off a little of your midriff and not to bare-it-all for everyone to see. So remember that a little goes a long way.
Sarees
Of course, the most obvious way to flaunt your midriff is by wearing a sari. And the best part is that you can decide how much or how little of your midriff you want to flaunt. Take your cue from our bollywood celebrities who time and again have shown us how to look gorgeous and stylish in a sari.
Cut-out Dresses
Cut-out dresses are another great way to show off your midriff. All you need is a fabulously toned midriff and loads of confidence to show it off. Cut-out outfits have been popular choice on the red carpet, with celebrities in both Bollywood and Hollywood embracing the trend. Check out how Halle Berry shows off her midriff in a black cut-out gown.
Sheer See-through Material
You can also show off your midriff with some see-through material. This will show off the midriff while still covering it up with a sheer layer of material. Pretty much the best of both worlds, isn't it?
Malaika Arora Khan looks stunning in a white lehenga with a see-through jacket that shows off her midriff.
[sc:mediad]
Britney Spears makes a daring statement in this sheer black dress.
Knot Up Your Shirt
Even if you have no clothes that are designed to show off your midriff, you can fashion something yourself. Just knot up your regular tee shirt or shirt to turn it into a cute crop top. Show off your midriff in this super casual look.
Here are a few simple dos and don'ts with regard to showing off your midriff:
Only show off your midriff if you're totally comfortable doing so. If you are not too sure about it, then it would be better for you to skip this trend.
Never show too much skin. No matter how well-toned your midriff is, showing too much skin is a complete no-no.
Have a cover-up option with you. Wear a jacket or something which you can later remove once you reach your destination. If you feel the event and the atmosphere is conservative and formal, you can leave your jacket on. If not, you can remove your jacket and show off your midriff. This way you can avoid any potentially embarrassing situations.
Needless to say, if your midriff is not in its best shape, then showing it off could result in an unflattering look.