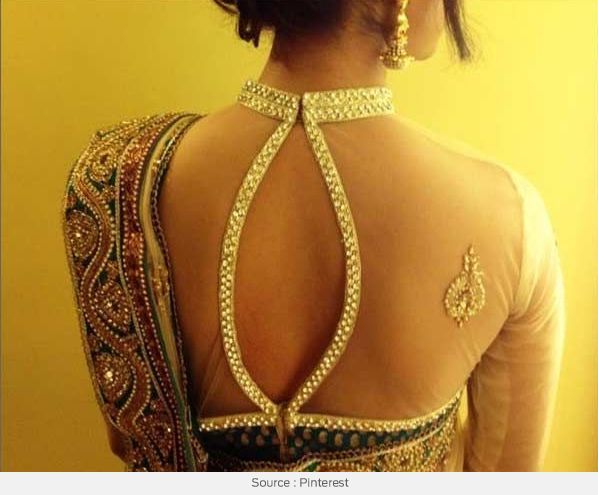 Sarees are timeless, ethereal and classic traditional Indian ensembles – This beautiful attire graces the body of every Indian woman perfectly well and makes them look beautiful in the truest sense. The sheer or net saree blouses have become a huge rage these days.
The sheer blouse designs not only reflect a sexy look, but also spells class as there is skin visible but isn't. Get it? This blouse design is for those who do not believe in skin show but want to add the little bit of status to their over look and the way they carry themselves.
[Also Read: How to Wear Saree]
These sheer or lace blouse designs are more often than not seen with various Bollywood celebrities at Red Carpet events, movie promotions, music launches, premiere shows and so on. Like in the below image, Deepika Padukone sports a celebrity blouse design styled lace blouse in sheer net fabric. Although it is a high neck blouse design, the sheer embroidered fabric spells sexiness. While these blouse designs are beautiful, one must consider their hairstyles too. Deepika chose to pull up her hair in a bun hairstyle to show off the elegant blouse back design. It is very important that these points be kept in mind, else all the effort to get a stylish blouse will go in vain if it is hidden behind the hair. Designer celebrity blouses are what that make new trends amongst people. Once the celebrities are spotted in these blouses, the common man also starts getting similar celebrity blouse designs to show off their style statement.
[Also Read: Backless Blouse Designs]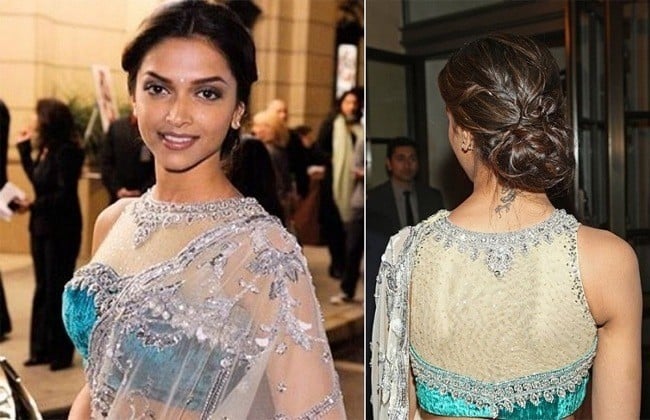 Since Bollywood celebrities are frequently seen wearing these saree net blouse designs, the demand has rapidly increased. This 60′s fashion trend is here once again.
Bollywood celebrities experiment with designer sarees and net blouses in different ways and styles. This trend has renewed the younger generation's interest in sarees and look forward to wear this classic Indian outfit. The latest trend doing the Bollywood rounds are the sheer net saree blouse designs. Celebrity saree blouse patterns in a fad these days. Many of these celebrity saree blouse designs are seen at red carpet events and functions.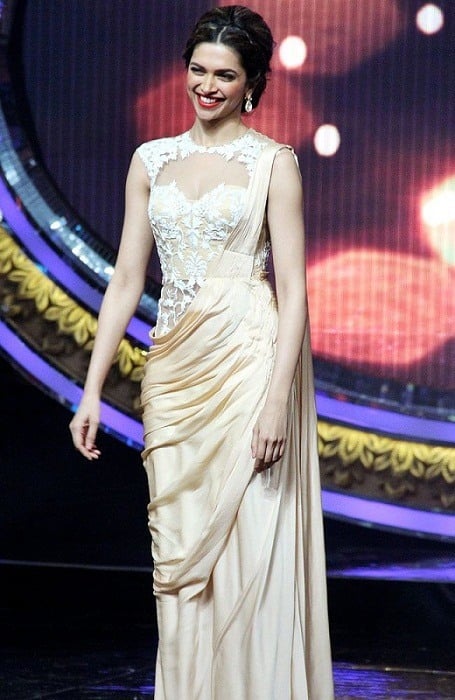 Whether it is an inauguration event, a fashion store or a movie or music launch, the sheer saree blouses have made it everywhere! These sheer net saree blouses impart a classic touch and beauty with their lace or net sleeves defining femininity and beauty. Trust us, these net blouse designs really make heads turn. How many times have we not wow'ed on Deepika and Priyanka in net blouse designs? Image the impact when we wear these designer net blouses. Celebrity blouse designs have really influenced us.
Let's look at some celebrities in net blouse designs:
Priyanka Chopra in A Sheer Net Saree Blouse
Check out this sheer and net saree blouse design worn by Priyanka Chopra at the Marrakech Film Festival, 2013.
[sc:mediad]
A Ritu Kumar ensemble, the sheer saree blouse had long transparent sleeves with rich detailing and design. The black and gold sheer blouse was paired with a lovely black and gold border saree, long danglers and coral lips.
[Also Read:Blouse Designs]
Kajol in A Sheer Net Saree Blouse
Next in line is Kajol, the dusky, bubbly Indian actress who has turned into a fashionista and becomes better with increasing age! She looks resplendent in this black sheer net blouse design with a delicate floral pattern running across the boat neck and long sleeves.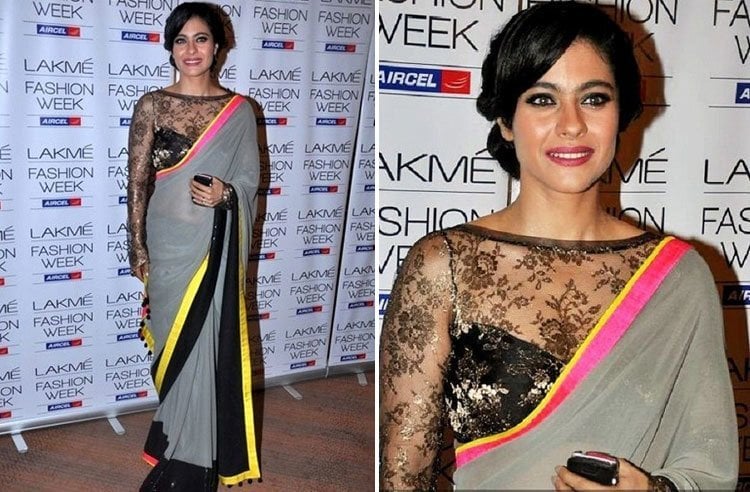 Pairing it with a gray saree with a black, fuchsia and yellow border, she chose a low bun with a smokey eye makeup.
Illeana De Cruz in A Sheer Net Blouse Design
Bollywood newcomer Illeana De Cruz promoted her movie "Barfi" at the Marrakech film festival wearing a stunning dress paired with h a lovely sheer blouse. Apart from her natural grace, she stole the show with Priyanka Chopra in her high-on fashion take.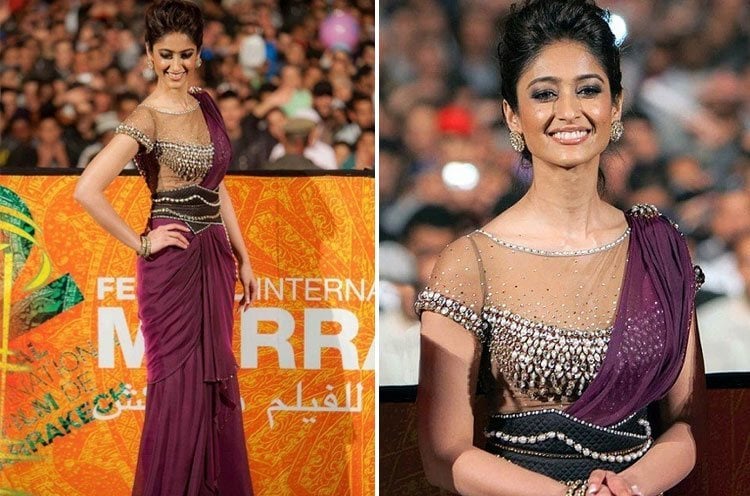 With lovely embellishments on the blouse, the sleeves and neck of the blouse were made of sheer material and matched her pleated deep wine colour saree extremely well.
Tamannaah in A Sheer Net Blouse
Southern hottie Tamannaah looked ravishing in a black sheer net blouse design with gold leaves and patterns running around her cuffs and the neck. Complementing the fair and glowing skin, she looked beautiful in this black blouse, heavy pink lehenga and a gold embellished dupatta.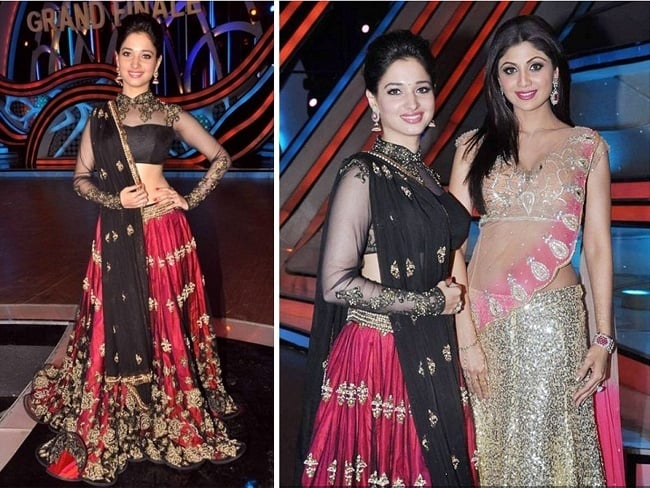 Amrita Rao in A Sheer Net Blouse
The petite Amrita Rao looked divine in this peach colored lehenga dress. She paired it with a dainty and delicate sheer blouse with gold embroidery around her cuffs and the round neck of the blouse. The gold-silver work and peach color makes her look no less than a princess.
[Also Read: Farewell Party Sarees]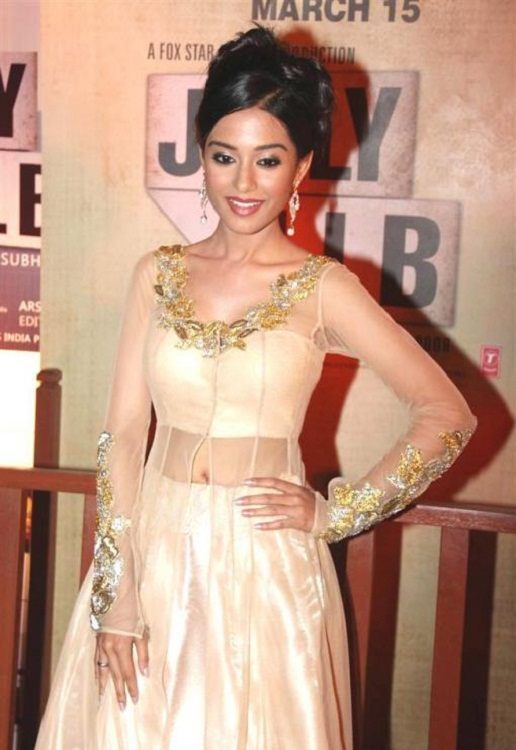 Parineeti Chopra in A Sheer Net Blouse
Another newcomer into the Bollywood Industry, Parineeti Chopra rocked the sheer blouse design. She looked lovely in the black and silver lehenga choli. The high neck collar and sleeves were embroidered with rich silver and white embroidery giving a very contemporary look to her.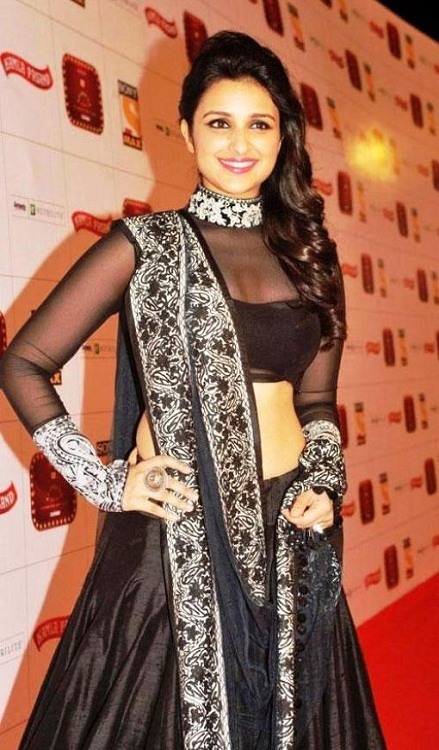 Kareena Kapoor in A Sheer Designer Net Saree Blouse Design
Kareena Kapoor has also sported the sheer blouse look with a flaming orange saree. The yellow sheer saree blouse gave her a radiant and bright look.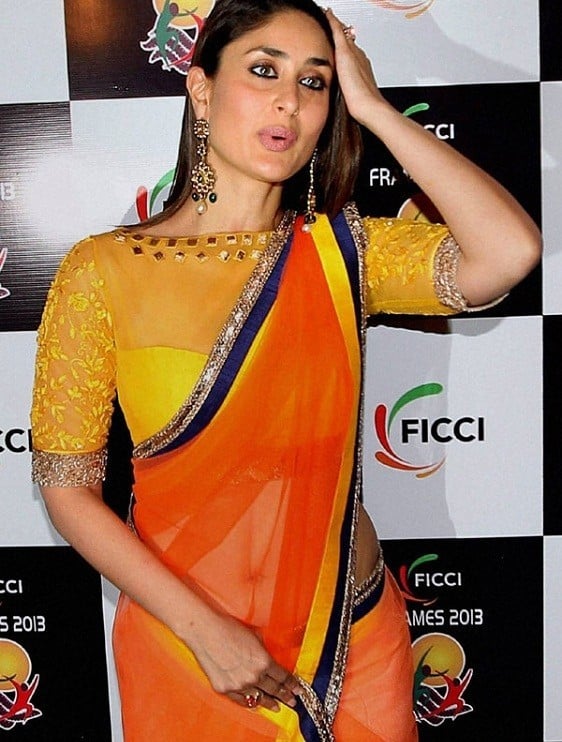 Katrina Kaif in A Designer Sheer Net Blouse Design
Katrina Kaif, the barbie doll of Bollywood was sported the sheer saree blouse as well. She looked angelic in a pink and orange lehenga choli. The sheer designer blouse was adorned with beautiful sequins, beads and stones.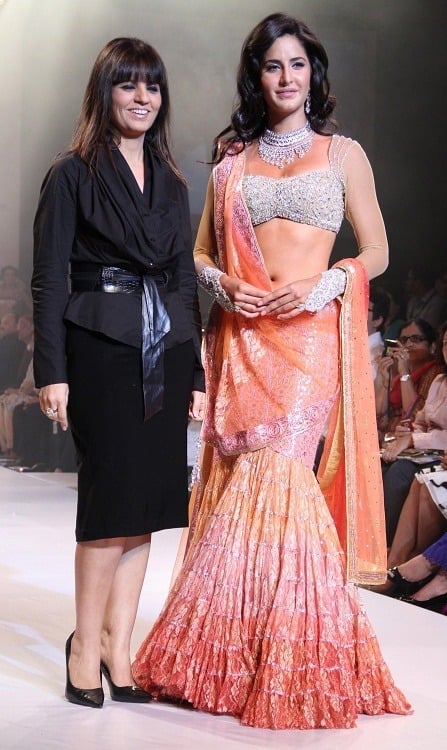 Bipasha Basu In A Designer Sheer Choli Pattern
The Bengali bomb, Bipasha Basu brought forth an amazing high necked pattern of sheer blouse right onto the ramp inspiring us to try the style this festive season. The intricate design of the blouse gave her an elegant and royal look, don't you think?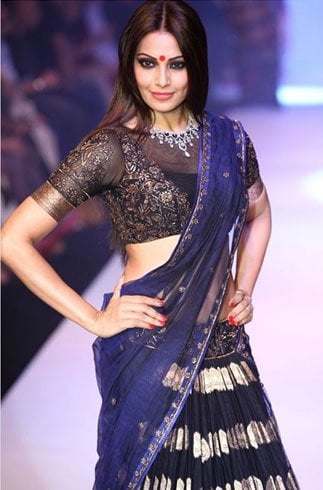 Pragya Jaiswal In A Sheer Style Blouse
For the SIIMA event, Pragya chose to go blackout with her outfit. What caught our eye is the sheer high necked full-sleeved blouse. Like we al know black elevates the glow of the skin and such a pattern is bound to get noticed.
[Read Here: Blouse Back Neck Designs]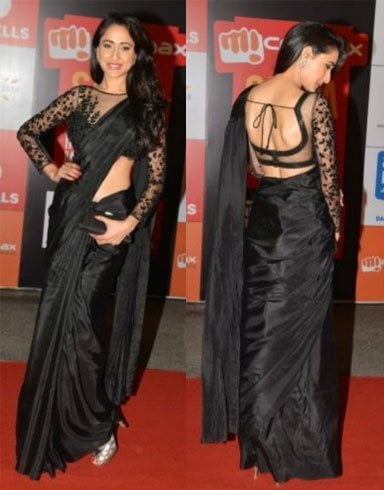 Shraddha Kapoor In Sheer Blouse Design
Walking the runway for Manish Malhotra, Shraddha looked picturesque in a black lehenga and a floral sheer patterned blouse. Love the embellishments near the neck line giving her a well-accessorized feel!
[Also Read: Lace Saree]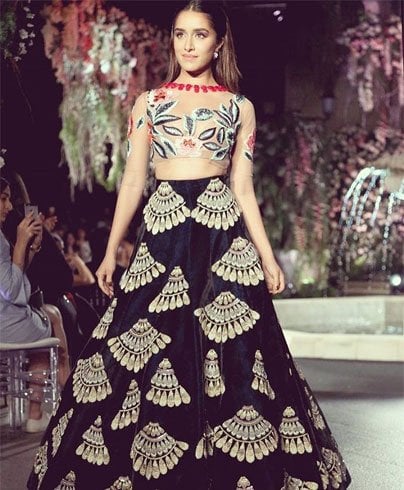 Bhumi Pednekar In Checkered Sheer Back Styled Blouse
If you are unsure about going slightly sheer on the front, go sheer with your back like Bhumi Pednekar. Buttoning up high in the front with a checkered sheer back, she flaunted this style with great confidence. If you are a newbie to this sheer designs, the checkered back will make you feel comfortable and not too bare.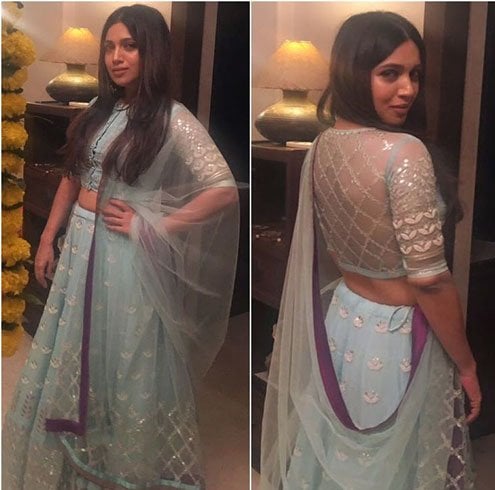 Amy Jackson In Designer Sheer Blouse Style
Knock all the guys off their feet at your sibling's sangeet by aping this blouse pattern. Amy Jackson walked the ramp at Lakme Fashion Week looking absolutely stunning in this outfit. It's important to pick the sheer cloth shade that matches your skin tone to give such a bare body look.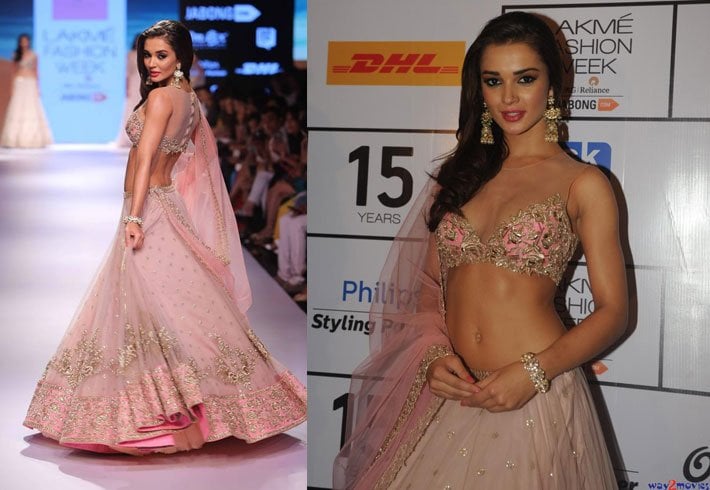 Esha Gupta In High Necked Sheer Back Blouse Design
Absolutely vintage was the look of Esha Gupta at an event. She went very easy with the colors and opted for sheer back blouse design. To flaunt this lovely pattern, she pinned her tresses into a vintage bun.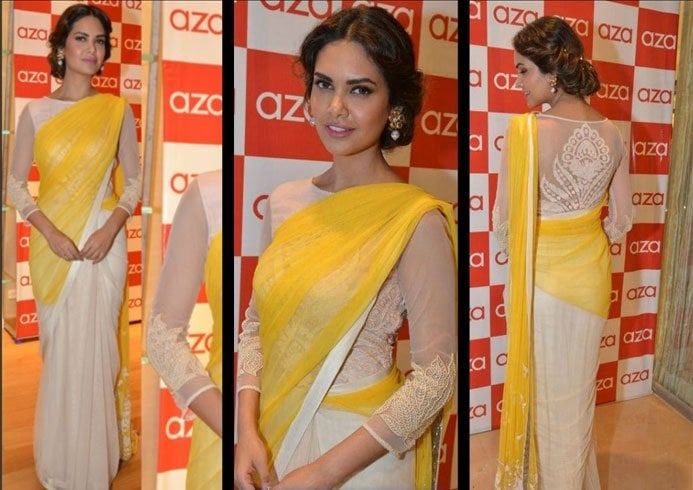 Hope you loved the sheer blouse patterns, which have graced these gorgeous divas. Keep scrolling for more latest blouse designs.
[Also Read: Traditional Sarees]
Try this look for the next occasion or that upcoming party which you have been looking forward to!
This red net blouse design has gold embroidery work that matches that of the lehenga. The net see-through on the neck and sleeves makes this blouse pattern look sexy. This blouse design and pattern can be replicated with any other color net or sheer fabric.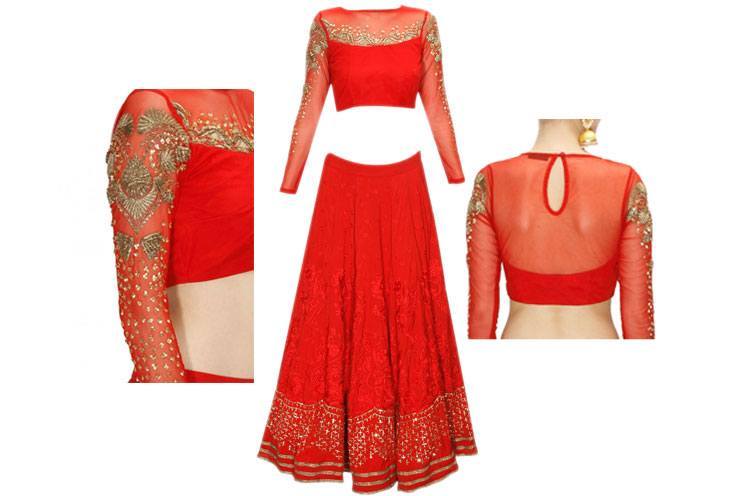 Mirror work and sheer sleeves is what makes this blouse unique. Wear this blouse when you want to borrow a friend's saree to an evening function.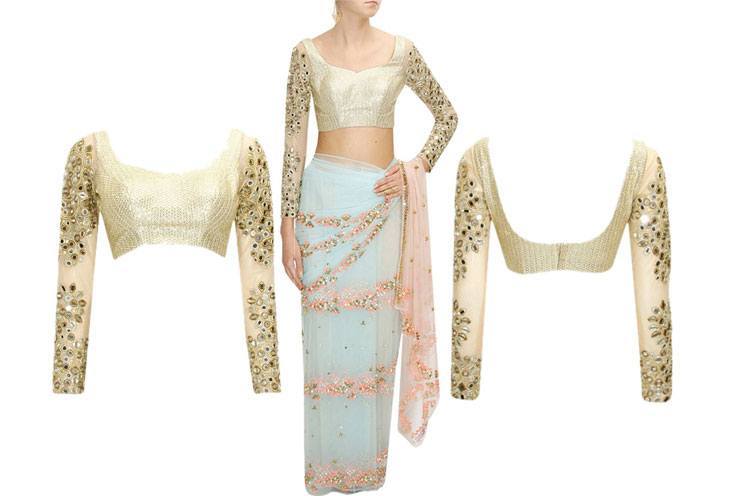 This blouse is a halter neck pattern with a raised collar and transparent neck design. Wear this blouse design with sarees and lehengas when you are attending a summer wedding.
[Also Read: Saree Blouse Designs]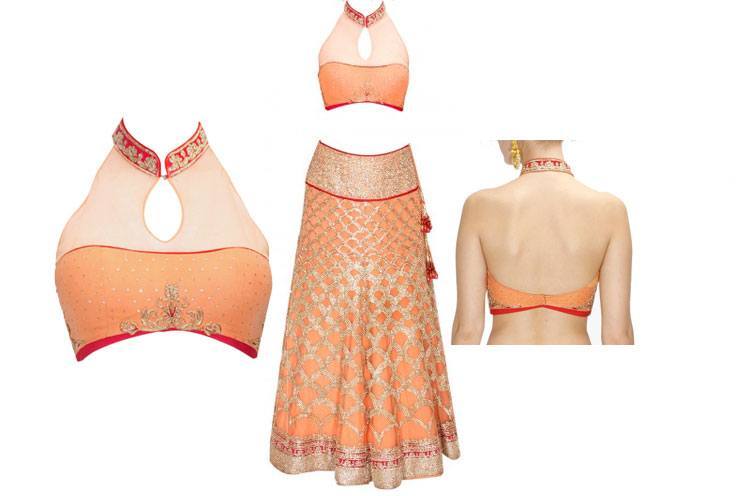 Stay tuned on FashionLady for more blouse designs and patterns.
Images Source: pinterest.com
Recommended Articles
Brocade Blouse Designs
Boat Neck Blouse Designs
Maggam Work Blouse Designs
Princess Cut Blouse Design In Raglan Style
Designer Blouse Designs: From Jacket Blouse to Mirror Work Patterns
Zardozi Embroidered Blouses
Trendy Saree Blouse Designs And Patterns
Designer Blouse For Wedding in Winter
Backless Blouse Designs