What makes a nine yard sari stand out in the crowd? There are plenty of reasons – workmanship on it, the draping style, the material used, the colour tone and many more. But how can one forget the blouse and the back neck blouse designs?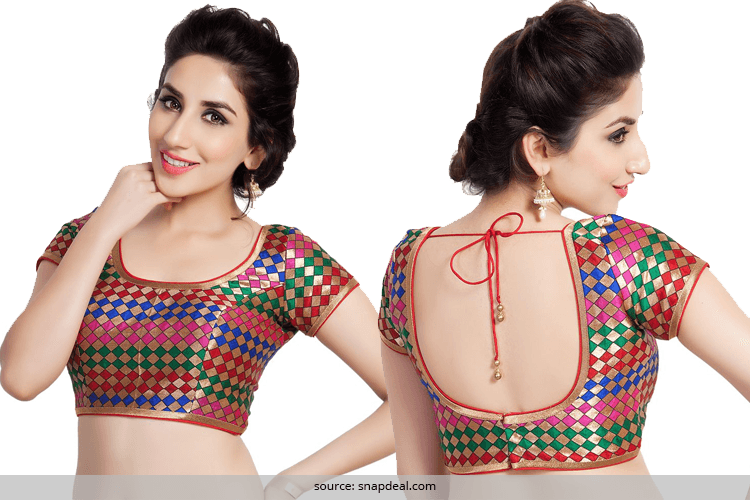 The blouse has an equal part to play in adding sophistication to a saree. A saree blouse can add oodles to one's personality, especially the back neck blouse pattern which goes noticed by everyone.
That is why fashion designers have placed a lot of focus on the blouse cut and frills on it. However, nothing can compete against a brocade fabric blouse design. It's gorgeous look and craftsmanship is rare to find. Whether it is a golden brocade blouse design or a silver brocade blouse design, it makes a perfect pick for the season.
The brocade is made of premium quality and is highly comfortable to wear. Get ready to get endless compliments in latest brocade blouse designs. Let us explore the world of sheer brocade in blouse.
1. Black Cocktail Effect
She is no 'Dirty Picture' in this black silk saree that has designer low cut brocade blouse. Vidya Balan is looking seemingly perfect in this brocade blouse meant for cocktail occasions. The brocade blouse in fact looks all the more fabulous with beautiful Kundan piece worn as an added accessory.
[Also Read: Bollywood Blouse Designs]
2. Yellow and Red Magic
Absolutely mesmerising this yellow and red brocade blouse is. Take a look at the sweetheart neck in front and a flower broach on the brocade blouse back neck design and you will realise the pure magnificence of it.
3. Blue is Regal
A net blouse has its own beauty. Check this blue net blouse design that has brocade border. It looks superb for event invitations in summers.
4. Black And Orange Effect
This elegant black brocade fabric blouse design in Bengal silk material has square neckline and red piping. The blouse has a deep cut back and comes with a front opening. The sleeves are embellished with brocade, gota lace and red piping along with a pretty beaded tie-up at the back. Team it up with shades of gold, cream or multicolour saree to get the complete look from the blouse.
5. Magenta Pure Banarasi Brocade Blouse
Rich, pure Banarasi silk blouse with small zari motifs greets you in full abundance. The elbow length sleeves look very stylish. Immaculate cut and tailoring, back hooks, princess cut, padded, dori makes you feel like a queen.
6. Eternal Blue
This royal blue high collar blouse with a princess cut is sure to give you the 'Maharani' effect. The creation is done partly in golden bhutta brocade whereas the rest comes in plain blue raw silk. The piping done with golden tissue and patched with a triangular brocade piece at the back makes it look gorgeous to the hilt.
[Read Here: Sleeveless Blouse Designs]
[sc:mediad]
7. Black Handloom Silk Brocade Blouse
Wear this black handloom silk brocade blouse designs saree that comes with a mandarin collar. The sleeveless blouse is a beauty with its notched neckline and golden piping across the borders.
8. Quarter Sleeves Brocade Work Blouse
Regale in this intoxicating purple colour Banaras silk brocade blouse that comes with quarter sleeves and broad round patterned back neck. The stones and kundan work with royal flower bunches embellished on the upper arms and huge work comes around the neck.
9. Antique Brocade Blouse
Make a statement with this purple net lehenga that comes with Banaras, velvet and antique borders. The best part about it is the antique brocade blouse which is supported with purple & gold floral print pure brocade jacket.
[Also Read: Boat Neck Blouse Designs]
10. Navy Blue Brocade Blouse
It will be difficult to take your eyes off this stunning looking readymade padded brocade blouse in navy blue outlined with brocade material. The brocade tie up at the back along with beaded tassels gives this saree a simple and exclusive look.
11. Green Brocade Blouse
Have a plain black saree sitting in your closet? Still thinking which blouse would be the best one to wear with it? Try a green brocade blouse with a simple neck design. It's a great idea to wear brocade blouse with plain saree.
12. Unique Back Design
You can experiment with the back of your brocade blouses. Take a look at this unique and stylish pink brocade blouse design.
[Read Here: Blouse Back Neck Designs]
13. Brocade Blouse With Cut Work
Have a look at this brocade blouse pattern which features cut work on the neckline. This kind of cut work brocade blouse pattern works well in all the colors. You don't have to limit it to only a black blouse.
14. High Neck Brocade Blouse
A brocade blouse material can be styled in different ways. If you want to ensure that all eyes are on you, then you need to ditch the simple and boring patterns and opt for something like this high neck brocade blouse style.
15. Golden Brocade Blouse
Having a golden brocade blouse in your blouse collection is very essential since it can be easily paired with most of the sarees that you won.
16. Set Saree With Brocade Blouse
Kerala sarees or set sarees are extremely popular and you can wear a brocade blouse with your set saree by matching the color of the blouse with the color of the saree's border.
17. Blue And Golden Silk Brocade Blouse
This raw silk brocade blouse in a combination of sky blue and golden would look amazing to wear at a summer wedding.
[Also Read: Mirror Work Blouse]
18. Silver Brocade Blouse
Just like a golden brocade blouse, it it would be a wise decision to have a silver brocade blouse in your collection. A sexy back design is what you should aim for.
19. Silk Saree With Brocade Blouse
Vidya Balan once again shows us how to drape a silk saree with brocade blouse. She looks simply beautiful in a blue and green double shaded silk saree with a heavy border which she wore with a black and green, quarter sleeved blouse.
20. Brocade Blouse Neck Designs
Like we said earlier, you can try different kinds of neck designs for your brocade blouses. We have gathered few brocade fabric blouses with gorgeous neck designs.
It's time now to rock the season with these stylish and latest brocade blouse designs.
Recommended Articles
Net Blouse Designs: Sheer, Lace And Long Blouse Designs For Net Sarees
Boat Neck Blouse Designs
Maggam Work Blouse Designs
Princess Cut Blouse Design In Raglan Style
Designer Blouse Designs: From Jacket Blouse to Mirror Work Patterns
Zardozi Embroidered Blouses
Trendy Saree Blouse Designs And Patterns
Designer Blouse For Wedding in Winter
Backless Blouse Designs