Maggam work has recently surfaced as an expensive and heavy work applied all over the blouse piece and saris for Indian women. Maggam work blouse designs are embroidered with zardousi along with added beads and stones for more decorative effect.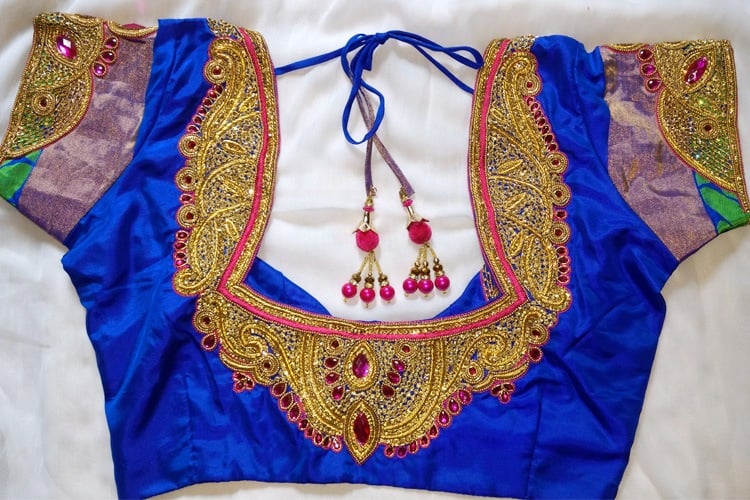 One can wear it for their own wedding or that of the near and dear ones. These heavy blouses also make for a good wear for festivities. Even a simple sari gets loads of glamour teamed with a Maggam blouse. Maggam work can vary according to your taste and style. While some are really simplistic with limited color display, others are heavy and well suited for a party wear. Here is a display of designer blouse featuring Maggam work arranged for your view.
[Also Read:Blouse Designs]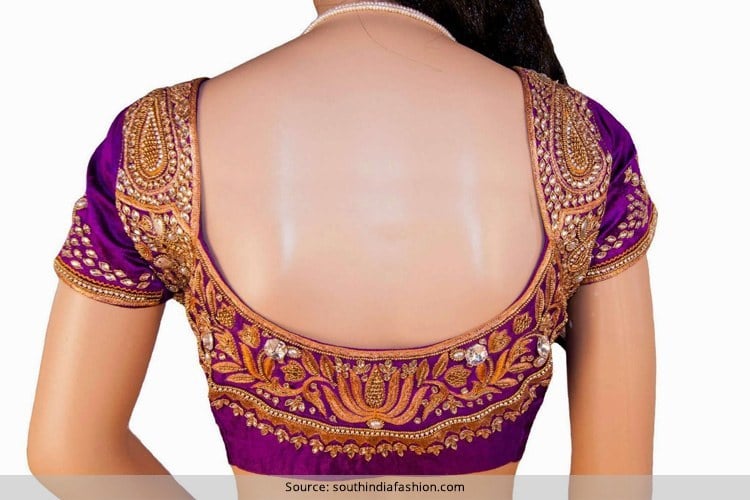 1. Simple Maggam Work Blouse
To begin with, we present to you examples of simple maggam work blouse designs. It can be noted that designs for Maggam work are inspired by nature and are besotted by the beauty of peacock. And hence the workers draw various patterns of the bird in different postures.
2. Mango Motifs Maggam Work
Another simple patters in this yellow blouse with the back neckline framed with mango motifs. The fabric has been embellished with little beads all over, but enough space between the beads assure that the pattern doesn't look too heavy on the eyes.
3. Colorful Maggam Work Design
This one is another example of combining beautiful colors, simplicity and Maggam work together.
4. Classic Peacock Pattern
Here is an example of the classic peacock pattern, but this one is for those who like to go heavy on the gorgeous quotient. The contrast between the deep purple and colorful feathers of the sequined peacocks are a sight to die for.
5. Elaborate Maggam Work
The brighter the colors the better the work turns out. Heavy maggam work is not just bordering the neck and sleeves, if you like to play with it, Maggam has a whole lot to offer. Check out this deep back blouse sparking with green, blue and gold.
6. Royal Blue Blouse With Maggam Design
The blouse neck in Maggam work designs are given special attention. The traditional peacock can be more interesting and innovative at the hands of a creative craftsman. For all the young ladies reading this article, this peacock is going to be your pet.
7. Unique Back And Neck Maggam Work
Or would you rather make this peacock your favorite? This is going to be a tough decision girls! With one of the best blouse back and neck work designs, this piece is my personal favorite.
8. Contrasting Blouse With Maggam Work
So as I was initially talking about turning the simplest saree gorgeous by teaming it with a Maggam blouse, here is how you do it. The saree is a plain cotton piece of fabric, but the designer has patterned the border of the saree with patches of Maggam and matched it up with a contrasting blouse with a large key hole back. You can't even afford to miss the intricacy of the work that surrounds the key hole and the sleeves.
[Also Read: Blouse Designs For Silk Sarees]
9. Festive Maggam Work Design Blouses
And here are a couple of designer pieces that will double up the joy of any festival, be it Diwali or Dussehra. If you have an evil edge, you may also wear it to your best friend's wedding and claim her lime light.
[sc:mediad]
10. Red And Navy Blue Blouse With Maggam Work
The rare combination of navy and red in this blouse is something we don't see every other day. But the cut of the sleeve and the embellishment on it, makes it all the more unique.
11. Modern Blouse With Maggam Work
Speaking of unique and innovative blouses, how about this rich bridal Maggam work blouse, with a modern blend?
12. Velvet Blouse With Maggam Work
For the modern girl who wants to experiment even with the most traditional attire – the sari, Maggam has some new ideas to offer. How about this half transparent and half velvet blouse with crystals and beads?
13. Pattu Blouse Maggam Work Designs
Wearing a pattu saree with maggam work blouse designs looks elegant ans sophisticated. Check out the below design and we are sure you would love to get your hands on it.
14. Purple Passion
How gorgeous does this combination of green and purple look? This is one of the latest maggam work blouse designs that has taken our breath away!
15. Maggam Work Blouse Neck Designs
Take a look below to see how you can add maggam work to your sheer blouses. Which one would you love to try?
16. Simple Maggam Work Blouse Designs
Not everybody likes to flaunt a heavily designed blouse. If simplicity is your mantra, then you can take inspiration from the below simple maggam work blouse designs.
17. Silk Saree Blouse With Maggam Work
If you have a silk saree, then we suggest you get your bloused designed with maggam work. You could also add a different looking back neck design.
18. Red Blouse With Maggam Work
Maggam work is not restricted just to the back and sleeves of your blouse. You can adorn the front of your blouse with maggam work designs too.
19. Bridal Blouses With Maggam Work
Are you a soon-to-be bride? If yes, then you need to include some maggam work blouses in your wedding trousseau.
20. Maggam Work With Kundan Stones
Add elegance to your maggam work blouse design by including kundan stones as well.
Gone are the days when you just had so little to choose from, when it came to blouses. The growing need of the fashion forward generation has encouraged the designers to mix tradition with trend and Maggam is an outcome of this blend. They look super attractive and are totally 'in'. Mostly done on silk base, Maggam has also made its debut on velvet and cotton.
Recommended Articles
Brocade Blouse Designs
Net Blouse Designs: Sheer, Lace And Long Blouse Designs For Net Sarees
Boat Neck Blouse Designs
Princess Cut Blouse Design In Raglan Style
Designer Blouse Designs: From Jacket Blouse to Mirror Work Patterns
Zardozi Embroidered Blouses
Trendy Saree Blouse Designs And Patterns
Designer Blouse For Wedding in Winter
Backless Blouse Designs