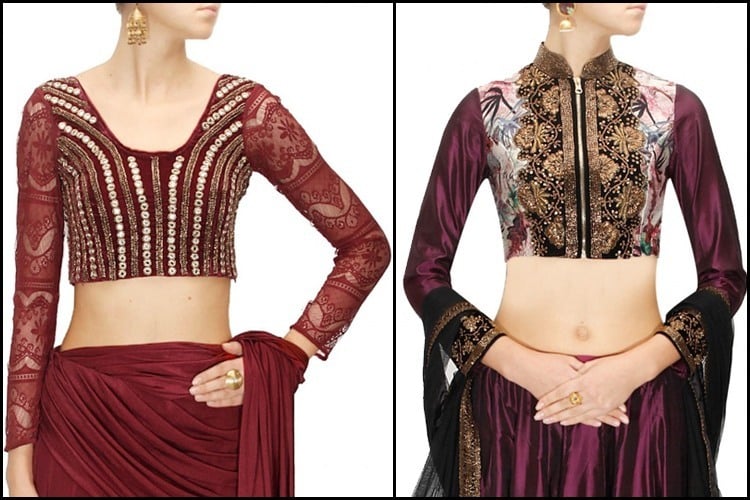 Winter weddings have a charm of their own: Sipping hot coffee while gorging on samosas and jalebis is a thing for winter weddings. But many women will also reluctantly agree that for the sake of the wedding, they would have to give up on their designer blouse. After all, you wouldn't want to look shivery and uncomfortable during the wedding. But good for us, designer wedding blouse patterns have gone on an overhaul and there are now tons of designs which are exclusively to keep you warm during a winter wedding.
Designer Wedding Blouse Patterns
We have picked up some from wedding blouse designs catalogue and these are going to keep you warm during the wedding. Read on to know more.
Elbow-Length Sleeve Blouse
The most popular designer blouse for wedding is the elbow length sleeve blouse. This was primarily a design of the 80s, but it has come up in a big way and a lot of fashionistas are seen wearing this blouse for most weddings. Even brides have now started wearing this style of blouse. The cherry on the top is when you add embellishments on the sleeves. Not only do these look good with traditional sarees, but you can also wear them as stand-alone blouses for lehengas.
[Also Read: Backless Blouse Designs]
For an even better look, make sure you ask your tailor for a deep round neck. This will focus the attention to the sleeves of the blouse instead.
Zipped Up and Long Sleeves
This is one high fashion designer blouse for wedding. They are zipped up, have long-sleeves and are fully-covered blouses. Exactly the kind of blouse designs for silk sarees you were looking for! They have high mandarin collars and sometimes are made of warm fabrics like velvet. For some of the more adventurous ladies, we also have biker jacket style designer blouse. In the latest fashion week, we saw many designers like Anju Modi, Manish Malhotra and Falguni & Shane Peacock's models sashaying down the runway with zipped up and trendy blouses. They can also be customized to match the trends of bridal saree blouse patterns. So not just the guests, but our very own bride can wear these blouses too.
[Also Read: Sleeveless Blouse Designs]
Long Sleeve Puffed Sleeves
Channel your inner Bengali goddess looks with this style of designer blouse. You may have noticed that puffed sleeves are ubiquitous to Bengali weddings and if it's as cold as 7 degrees in Kolkata during the wedding, you will have to wear a blouse which is going to cover up your arms. The puffed and long sleeves blouse will be a perfect addition to your saree collection for a winter wedding!
Check out the stunning design:
[sc:mediad]
Blouse With Embellished Neck and Long Sleeves
Now this one is creating a storm all over the market. Trendy, stylish and gorgeous, these blouses with an extremely intricate design on the necks are wonderful additions to simple sarees. If you don't want to look too decked, you can simply wear a design like this and accessorize your hair with a high bun. It looks chic and elegant and you can mix and match it with lehengas too. If you are not feeling that adventurous, you can wear a small earring and even leave your hair open. Check our Deepika Padukone with the exact style:
[Also Read: Boat Neck Blouse Designs]
Even Sridevi isn't far behind with this trend:
There goes our list of wonderfully chic designer blouses for the winter! Hope you love them!
Recommended Articles
Brocade Blouse Designs
Net Blouse Designs: Sheer, Lace And Long Blouse Designs For Net Sarees
Boat Neck Blouse Designs
Maggam Work Blouse Designs
Princess Cut Blouse Design In Raglan Style
Designer Blouse Designs: From Jacket Blouse to Mirror Work Patterns
Zardozi Embroidered Blouses
Trendy Saree Blouse Designs And Patterns
Backless Blouse Designs