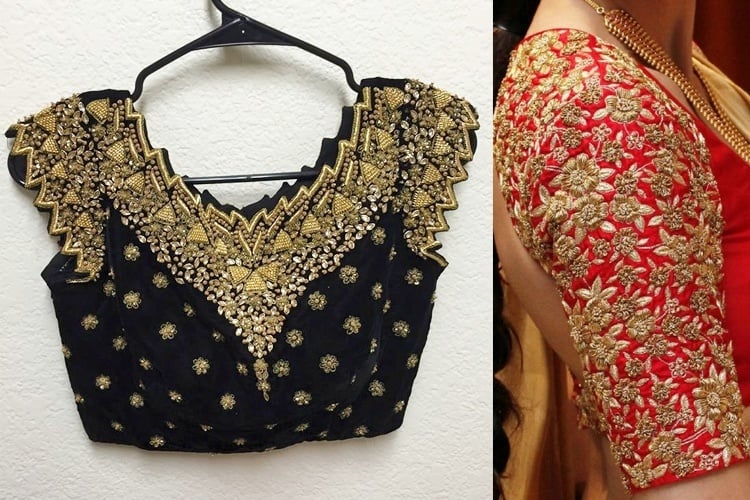 Festivities are on and in full swing. From religious festivals to sangeets, mehendis, shaadis and more, it seems the nation is busy shopping and throwing more than just a bash around, with near and dear ones. And must we talk about the luxe haute styles being flaunted? OMG the embroidered blouses especially are so chic.
Let's look at beautiful and simple embroidery designs for blouse
Why We Love Embroidered Blouses?
The reason why we love intricate and very lovingly designed embroidered blouses apart from the styles and cuts is because of its versatility. You not only get to wear these lovely cholis and blouses with Indian ethnic wear, but can romp around on the streets with style, wearing your embroidered cholis with ciggy pants, denims hot pants, skirts, ghagras, dungarees and anything you would like to go fusion in!
Coming back to the love for embroidered blouses, did you know when it comes to zardozi, it was only the males at the manufacturing units in Kolkata and Lucknow that were engaged in making the designs and cutting the cloth? That was back then in the medieval times, but now there are women in the workforce too.
[Also Read: Embroidery Stitches]
The craftiness of zardozi is handed down from one generation to the next, and in smaller villages of Lucknow it is said that kids as young as six, emulate the techniques watching their parents.
[Also Read: Blouse Designs For Silk Sarees]
It's All About Innovation and Creativity
You may have seen popular Bollywood divas wearing highly complex to simple embroidery designs for blouses when it comes to zardozi, and Lucknow zardozi is the most popular amongst them all. Thanks to the advancement of tailoring and modular machinery, the richness is intact with more oomph on the Mughal royalty being brought out these days.
Instead of making the blouse embroidery designs for silk sarees, costly and only in gold threads or silver, artisans now are using synthetic wires and copper too, rayon and cheaper silk options as well so that PYTs across the nation could procure and use these chic blouses.
Apart from that, the maintenance factor is most important to think about because the zardozi work done on cholis are surface based; the sheen and shine has to be maintained or else the show would go deep into an abyss!
[Also Read: :Blouse Designs]
A Large Variety to Choose From
It is usually an alloy of silver and gold which is used in the making of zardozi patterns and styles for cholis and blouses. Remember this; when we say Lucknow zardozi, one should respect the Mughal inspiration an opulence it has been born with. The zardozi patterns thus found with the Lucknow artisan is much different from the ones you would see in Chennai or Kolkata for that matter.
Latest Wedding Blouse Embroidery Designs
These days you would find heavy designs and more ornamentation done on wedding blouse embroidery designs, some with 3D quality on every motif placed as well. One could say that this is an influence based on the demands of the PYTs up in north India, but when you come down south or south west, the patterns are kept to a minimal.
From flora to fauna, nature to wilderness, animals to birds, mythology to new-age trends and designs, simple embroidery blouse designs with chic touches and embellishments are the norm these days.
Lucknow and Kolkatta
During the reign of Aurangzeb, zardozi began flourishing and was encouraged as an industry across the nation. While the 12th century was on, imperial arts such as the zardozi spread far and wide across then India. The city of nawabs demanded more and more of zardozi work, patterns and styles, which is why back then Kolkata and Lucknow became the most important cities for zardozi crafts.
[Also Read: :Blouse Designs]
While all said and done, thinking about the history behind this opulent design and more, one can only salute the hard working team behind each chic choli produced. We encourage you to check for videos online such as this one that shows how zardozi blouses and other garments are made.
Do let us know how you liked this post on zardozi, and yes, while we spoke at length about the background and styles of zardozi, we also showed you plenty of stylish numbers too – did you like them all? Which one was your favorite amongst the many blouse embroidery designs you saw?
Recommended Articles
Brocade Blouse Designs
Net Blouse Designs: Sheer, Lace And Long Blouse Designs For Net Sarees
Boat Neck Blouse Designs
Maggam Work Blouse Designs
Princess Cut Blouse Design In Raglan Style
Designer Blouse Designs: From Jacket Blouse to Mirror Work Patterns
Trendy Saree Blouse Designs And Patterns
Designer Blouse For Wedding in Winter
Backless Blouse Designs