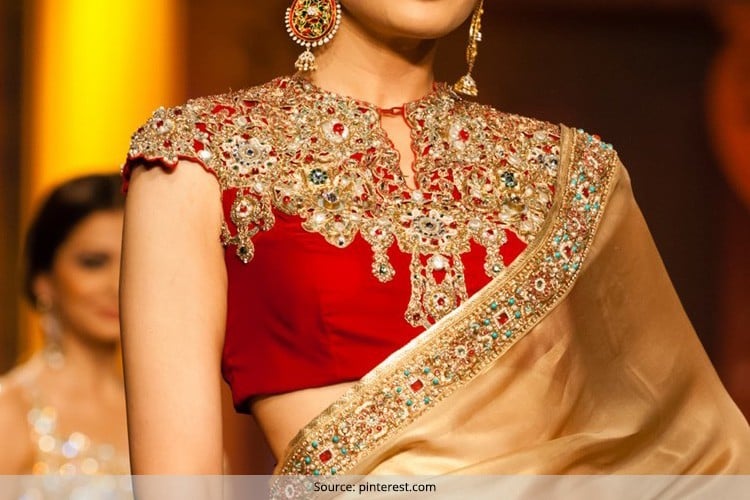 Saree, the only draped Indian attire is suitable for both formal & occasional purposes. Sarees are indispensable without blouses. The diversity in Blouse Designs occurs mainly due to neckline & sleeve variations. Blouses are made of chiffon, cotton, brocade, silk, net, lace etc. The elegance of any saree is incomplete without an appropriate blouse with a perfect fit. Hand done Embroidery & embellishments like mirror work, Kundan work, pearl work majorly dominates every market. How your saree looks also depend on a lot of factors like, which embellishment or material you chose for your blouse.
To keep yourself updated with the latest designer blouse patterns, read on!
1. Daily Wear
For casual activities, you can opt for classic V neckline, round or oval neckline & square neckline. A subtle matching blouse with a simple saree can work wonders in office or formal meetings. These simple neckline designs can be made extravagant by adding different kinds of sleeves. Another important factor in any design is the back which determines the sophistication & elegance of any blouse. With varied cuts & patterns, the simple saree blouse designs can add glamour to your saree. Minimal Embroideries at the neckline or borders of sleeves of any blouse can add elegance to your daily wear casual saree look.
2. Traditional Twist
To give your old traditional sarees a contemporary twist, indulge in chic strapless designs or halter neckline blouses. Pairing these designer patterns with any vintage saree will make anyone go gaga over you!
[Also Read: How To Wear Crop Tops As Blouses]
[sc:mediad]
3. Bridal Saga
They are preferred by majority of women for wedding purposes. Body shape is a special factor to be considered while choosing a blouse for brides-to-be or any other wedding occasion. Heavily embroidered designs with unconventional cuts at the back are the ones to deck up for any special occasion.
[Also Read: EMBROIDERED BLOUSES]
Another latest trend in blouse designs is a lehenga saree style blouse. This is easier to drape & is a perfect ensemble for bridal occasions since it radiates the charisma of a lehenga.
4. Party Wear
The concept of wearing sheer like net or chiffon or georgette sarees is definitely back in the contemporary fashion world. Get into this trendy retro look by wearing such a sheer saree with heavily embroidered saree blouse. This style is immensely popular in evening parties as well as weddings. Designer saree blouse patterns also incorporate zari work or traditional embroidery as well as embellishments like sequin work. Bollywood divas Sridevi, Priyanka Chopra, etc. all have set style statements with beautiful designer saree blouses.
[Also Read:Blouse Designs]
5. Creative Sleeves
These designs can be easily distinguished by the creativity executed on sleeves of blouses. Fringes at the sleeves to delicate embroideries on net, designs for blouse have gone miles forward in the fashion department & all thanks to designers. The latest is surely engraving paisley or peacock patterns on the sleeves. Customization of sleeves from off-shoulder to one shoulder blouses are also in vogue.
6. Charismatic Necklines
Plunging neckline is a huge recent hit among the masses. Plunging ones along with embellishments at the neckline forms an attractive feature in any saree. Deep cut sweetheart neck, kundan work or sequin work also cater to the variety of saree designs.
[Also Read: Blouse Designs For Silk Sarees]
7. Backless Saree Blouse Designs
They are also in huge demand since they are promoted by many Bollywood celebrities including Kareena kapoor, Priyanka chopra. Keyhole cut blouses, Backless bikini cut blouses with a knot are also prevailing in the fashion world.
Designer Saree with jacket & princess cut are also increasing in popularity.
With Zakoopi you can easily find the latest stores around your city and latest trends of Fashion.
Recommended Articles
Brocade Blouse Designs
Net Blouse Designs: Sheer, Lace And Long Blouse Designs For Net Sarees
Boat Neck Blouse Designs
Maggam Work Blouse Designs
Princess Cut Blouse Design In Raglan Style
Designer Blouse Designs: From Jacket Blouse to Mirror Work Patterns
Zardozi Embroidered Blouses
Designer Blouse For Wedding in Winter
Backless Blouse Designs