Have a wedding or a function in the family? Sarees will be the obvious choice for traditional wear. What about the blouse? Are you clueless about how to choose a trendy neck pattern? Fret not! Go ahead and check out the latest embellished saree blouse designs and patterns we have curated to help you take the right pick.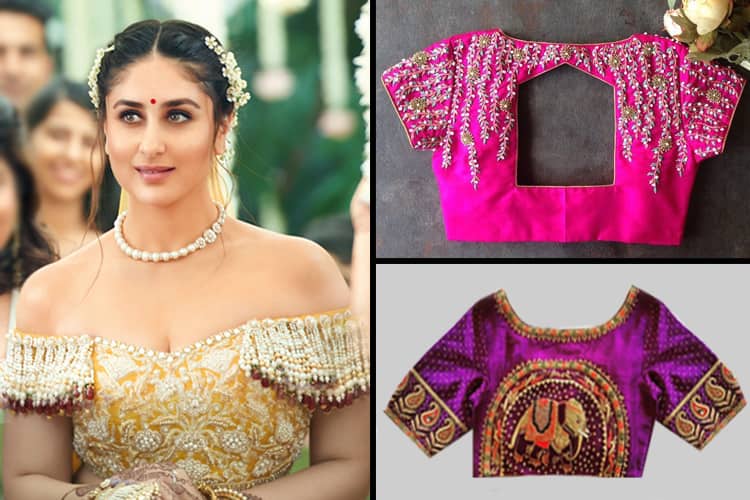 When it comes to special occasions there is no end to joy and celebrations. That's why your blouse collection should have appropriate creativity in terms of color, designs, embroidery, and embellishments to match the festive mood. Check out our top picks of designer blouses 2020 to take your ethnic look to the next level!
Designer Blouses That Are Topping The Popularity Charts In 2021
Jaw-dropping, exquisite, workmanship galore, stunners to the core, the latest blouse designs 2020 will have you asking for more. Shall we start?
1. Look Like A Mermaid:
Regale and rejoice 'In Elysium'. It's an interpretation of the mythical paradise of Elysium brought to you by noted Indian fashion designer Tarun Tahiliani.
Evoking the essence of angelic gardens, this 2020 saree blouse designs blends European design with classic Indian heritage style. Sparkling diamantes and exquisite threadwork in regal shades of oyster are the highlights.
2. Bring Alive Your Bridal Fantasy:
Abu Jani Sandeep Khosla is a designer duo who need no introduction – especially after the iconic Indian designer blouses they created for Kareena Kapoor in the film Veere Di Wedding.
The ultra-glam choli Bebo wore in VDW had an embellished sweetheart neckline. The off-shoulder sleeves stood out with their pearl tassels, proving that the blouse is no less than a true bridal fantasy.
3. Add A Dash Of Romance:
Hold your breath as this fancy blouse design in baby pink steals your heart. The front design of this blouse mesmerizes with its intricate embroidery and its sleeves are loaded with sequins. The back of the designer blouse has floral embroidery done on sheer fabric.
4. Enchant Like A Bronze Beauty:
In this latest blouse design for saree, the House of Sabyasachi brings a beautiful blend of soft glitz and subtle glamour. The full-sleeved blouse in an impressive bronze tone has mirror work all over the neck and sleeves. Dedicated to slim beauties who like to make a sophisticated style statement.
5. Recreate A Floral Dream:
Become a fashionista with this latest saree blouse pattern that boasts of a keyhole back design. The keyhole can be big or narrow, depending on your preference. This keyhole design is not just reserved for the back, it can also be created in the blouse front if you are game for flaunting your cleavage and upping your oomph.
6. Flirt With The Fringe:
Couturier and Bollywood costume stylist, Manish Malhotra can never fail to impress us given his design sensibilities. The gold colored off-shoulder fringed blouse paired with the ruffled lehenga skirt is totally ramp-worthy. Best suited for festive occasions and cocktail parties when you don't mind being the cynosure of all eyes.
7. Experiment With An Edgy Look:
Celebrate the rustic wave trend coming from Gaurav Gupta Couture in this unstructured yet avant-garde crimson red blouse design. Looks phenomenal with the intricacy brought in through the use of beads, wire work, and tassels. Fit and slim bodies can carry it off well while giving a sneak peek of the chiseled collar bones.
8. Get A High With A High-Neck Sleeveless Blouse:
This designer blouse image is just dazzling. Actress Tamannah Bhatia shows us how a blouse can be lethal with a cold shoulder pattern, ruffle sleeves and high neck design combo. Showcased by her at the Lakme Fashion Week, it left the audience spellbound.
9. Look Ethereal In An Embroidered Cape Designer Blouse:
This pattern blouse for sarees from Dheeru And Nitika is a sleeveless taffeta silk blouse in peach. The embroidered cape in net has been embroidered intricately with resham threads. For the finishing touches, there are sequins and bugle beads forming the cape hem. An apt choice for broad-shouldered girls and royal occasions.
10. Jazz Up With An Embellished Jacket:
Actress Prachi Desai warms up the cockles of our heart in this fringed jacket that is loaded with embroidery and tassels. Designed by Ridhi Mehra, this pattern can also be adapted in saree jacket designs for formal occasions.
11. Tantalize With A Traditional Blouse Work:
Revisit the Indian fairy tale of a bride being taken in a palki by her groom through this blouse image. The intricate cutouts, exquisite embroidery, and applique work topped with several ghungroos dangling from the boat-shaped blouse design is an example of extraordinary workmanship.
[sc:mediad]
12. Paint A Pretty Picture In Pastel Hues:
Rhea Kapoor, the sister of Bollywood actress Sonam Kapoor Ahuja is all for using pastel hues in wedding fashion. This blouse designed by Abu Jani Sandeep Khosla puts up a bespoke bridal look with a deep neck and dramatic sheer sleeves.
13. Mesmerize In A Mirror Work Blouse:
What makes this choli draw immediate attention? The quantum of mirror work done across the sleeves, the neckline and around the massive O-shaped cut out at the back. This pattern of blouse will be a rage when teamed with a beautiful ghagra and oxidized jewelry.
14. Create Magic In A Cut Dana Loaded Blouse:
Look like a fashion goddess with this full-sleeved sari blouse. The blouse design loaded with cut dana and delicate embroidery is paired with a sheer neckline and sleeves for a sensual appeal.
15. Experience The Exquisiteness Of Embroidery:
Take your partywear to the next level through this cream-colored saree designer blouse. There is workmanship all over the sheer fabric, starting from the bustier to the sleeves. Wear minimum jewelry and makeup, because it is the blouse which is the showstopper here.
16. Look Charismatic In A Criss-Cross Pattern Blouse:
Not everything has to be straight to be right. This new design of blouse shows an interesting criss-cross pattern coupled with embroidery at the back. One blouse is in a sheer transparent fabric whereas the other bodice is an impressive fusion of black and golden fabric with crystal and zardozi work on the border. Go ahead and take your pick.
17. Floor Everyone With Floret Embroidery:
This sari blouse design in hot pink will take you a step closer to the awe-inspiring beauty of nature. Delicate embellishments and fine hand embroidery make this floret lata pattern look as if it has been plucked straight from paradise. Opt for this designer blouse design if you have a dainty personality and a flawless back.
18. Go Classy With A Classic Black Corset:
Such regal elegance and grandeur can only be seen in a piece from the Rohit Bal collection. His blouse design for India Bridal Fashion Week was absolutely stunning and far ahead of current western trends in the corset category.
The intricate dabka work done on the blouse and the use of sheer magic is enough to wow us, this latest saree blouses design is what dreams are made of.
19. Nail Your Traditional Look With Kaasu Work:
This designer saree blouse has coin embellishments dotting the neckline. That is why it is not only bold but beautiful too. Wear it on Teej, Karva Chauth or Raksha Bandhan and it will surely enhance your festive mood.
20. Sparkle In A Blouse Loaded With Jewelry:
This wedding saree blouse design in silk and cream is given a touch of royalty by adding a precious accessory at the back. Surely this designer blouse image is worthy to be preserved in a wedding album. Flaunt this and be ready to be the toast of the town!
21. Rule Hearts With Rose Embroidery And Moti Work:
This sleeveless blouse with pink rose embroidery is best suited for formal dos. The princess-like feel this blouse design offers is unmatched. Just leave your hair open and tuck in some pink roses and get ready to rule hearts.
Now that we have shared some of the trending saree blouse designs, how about knowing some miscellaneous tips on sari blouse wear-and-care. Read on!
Tips You Should Follow While Wearing An Embellished Blouse:
Remember, both your height and weight are critical factors you need to consider while choosing an embellished designer blouse. Here are a few dos and don'ts you need to follow while getting one customized:
Wear whatever goes with or complements your sari. If your blouse seems loose to you, but looks gorgeous with a sari, then go ahead and wear the blouse [1].
Never wear a blouse which is too tight for comfort. It might cause ugly bulges and draw unwanted attention to the flab on your arms and back.
When wearing a high-neck blouse, go in for delicate all-over embroidery, avoid loud and garish embellishments.
Tube tops or wide-necked blouses that accentuate a smaller bust line should be avoided [2].
In-built padding is always a good idea for a sari blouse to avoid any wardrobe malfunctions if you are planning to go bold with your blouse designs.
Avoid over-accessorizing your sari blouse. This will rob it of its natural appeal and make you look OTT.
Sari and jewelry are complementary to each other. For saris of light colors and fabrics like georgette or chiffon saris, wear light jewelry, or give them a miss. While donning silk saris and blouses, accessorizing with traditional jewelry is important. A pair of earrings is a must wear with a sari. In that case, you can ditch wearing a necklace and opt for a light chain for the neck. Try not to go for heavy jewelry with a sari unless it is a major ceremony like sangeet, wedding or reception.
Safety pins are of great use while draping a saree. However, too many pins will destroy its appeal. Let your saree flow freely for a graceful look. Brooches are a better option than using boring safety pins. Just 1-2 pins or a brooch is enough to secure your sari.
Your sari and blouse might be gorgeous. What about your hair? A bun with a gajra adorning it is a classic hairdo to nail your sari look. Hair left open in loose curls, medium-partition hairstyles or a fish braid are several options you can explore.
An embellished sari blouse needs extra care while washing. Silk blouses or sheer ones with transparent sleeves should be preferably dry-cleaned. Use good quality liquid detergents and fabric softeners for cotton-based blouses. Ensure you handwash your expensive designer blouses.
Hope this blog on the designer blouses gave you enough style ideas to help you wow everyone during the upcoming festive and wedding season. What are you waiting for? Plan a trip to the boutique today to get your blouse orders rolling!
Don't forget to tell us your favorite trendy embellished saree blouse designs and patterns from the above list in the comments box below. We would love to hear from you! Stay tuned for more fashion tips!