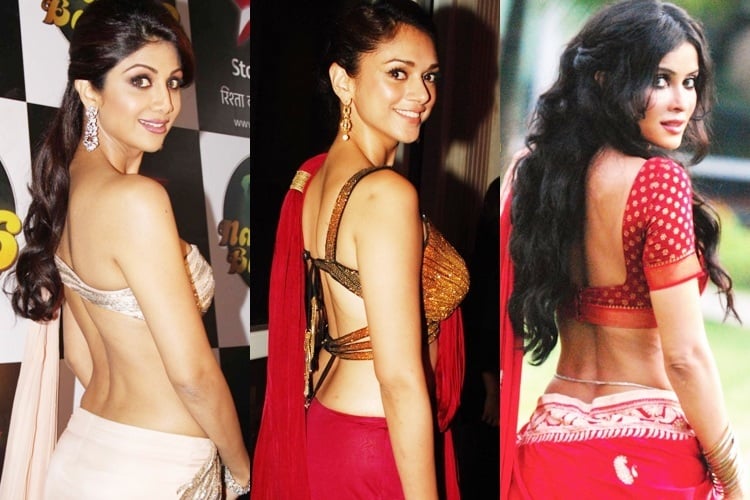 Backless blouse designs are a daring quotient that have become exceedingly popular amongst women over a period of time. Team these blouses with low navel sarees and you know you are on your way to looking a sex bomb. This is one reason why backless blouses are a rage amongst the B-town celebrities, both on and off screen, and Page 3 wannabees. Even common women are joining the bandwagon of wearing backless blouses.
Let's look at some beautiful and sexy backless blouse designs
It goes without saying that backless blouses are not just in-the-trend but the talk of the town too. Even the most boring looking chiffon saree can go notches up in its beauty and sex appeal, when worn with a backless blouse.
[Read Here: Sleeveless Blouse Designs]
A virtual combination of the blouse back pattern, neck style and the perfect fit gives backless blouse a rich look. Tassels or latkans on the back further brings grace to the blouse pattern. Whether you have to go for a wedding or a marriage anniversary, backless blouses would be ideal to make heads turn.
Fabrics for Backless Blouse
It's not just the cut and the design pattern of the backless blouse that makes it stand out. The fabric plays an equally important role.
Though all fabric materials are used into making a backless blouses, chiffon, net, lace stand out the most. Silk and satin can also be used in designing the blouse.
The fabric texture of the blouse should go with the blouse design. Then only will it look comfy to wear and blend well with the sari texture.
Selection Tips of Backless Blouse
Most of you might think backless blouses are worn by ladies who want to flaunt their skin. It's not always the case. Both simple to designer backless blouse patterns and versions are readily available and it all depends on the occasion you want to wear, and whether you want to keep it within your comfort zone or above it. It's a thin line of fashion and vulgarity.
In any case, go for a backless blouse that complements your body shape. A blouse well-tailored will surely bring out your femininity in a subtle way without going loud and at the same time making you look gorgeous.
[Also Read: Brocade Blouse Designs]
Pairings for Backless Blouse
Well the sensual looking backless blouse can be paired with a normal saree, half and half saree, designer saree and lehnga. Let us take a look at some of the backless blouse patterns worn by Bollywood celebs.
Priyanka Chopra
Having delivered super hits such as Mary Kom and in Fashion, the multi-talented Indian actress and the winner of Miss India World, our Desi Girl Priyanka Chopra looks chic and hot in this gold saree teamed up with halter neck bikini knotted backless blouse. An easy going and perfect party going look, the inspiring blouse almost sets the stage on fire.
Shilpa Shetty
How ravishing is Shilpa Shetty looking in this Manish Malhotra designed pink saree with the super awesome black backless saree blouse. She chose to wear this stunning blouse on the sets of realty show Nach Baliye.
Zarine Khan
What would you call more sensuous – the star or the blouse? Mouths would go salivating watching Zarine Khan dressed in a deep maroon backless blouse pattern. The most striking thing out here is her fair skin that actually compliments the colour of her blouse. With rectangular looking gold crystals embedded on the sari pleats and across the border, you know her killer look in this gorgeous blouse, don't you?
Below are few more backless blouses in a variety of backless designs and patterns for you to find your perfect pick.
A mirror work blouse design that already has a lot going on in it, can be kept sesnous by simply selecting a backless design pattern to pair with lehengas or sarees.
2. If you do not want to go completely backless, wear a net blouse that exposes the skin through the net making the blouse and you, both look extremely pretty.
[Also Read: Net Blouse Designs]
3. An embroidered saree needs a not-so embroidered or a plain blouse. For such sarees, the blouses in backless patterns like this one, will look ravishing.
4. Keep the backless blouse from slipping off the shoulders by having strings tied to keep the blouse secured and in place.
[Read Here: Blouse Back Neck Designs]
[sc:mediad]
5. Shilpa Reddy shows us how backless fashion can be given an additional edge to look pretty.
6. Give a new twist to your saree with this latest backless blouse design.
7. Be it lehengas or sarees, wear a deep cut backless blouse pattern like this one to catch all the eyeballs.
8. If your saree is simple and it will be only the blouse doing all the talking, then try getting a backless blouse design like this one with a deep cut back.
9. If you want to look different than the rest, this is what you need to wear.
10. If you are looking for some net blouse designs, then this net backless blouse design should be an ideal pick for you.
11. Sonam Kapoor looks absolutely gorgeous in this backless blouse. The two strapped backless blouse design would look good paired with a saree as well as a lehenga.
12. Give a twist to your Indian backless blouse with this full sleeved blouse which has a bow at the back.
13. The below designer backless blouses look stunning with their strings and pearls.
14. You could also try a high neck backless blouse pattern in bold colors. A delicate string at the back will hold your blouse in place.
15. If you don't mind going bold with your blouse then you can try this black backless blouse. We are sure all the eyes would be on your sexy back.
16. Here is a backless designer blouse that can be worn during the festive season.
17. Sonam Kapoor once again shows us how to rock a saree with backless blouse. Would you be able to pull this backless blouse pattern?
18. One of the latest backless blouse designs is the mirror work blouse with a deep back with strings.
19. Check out the below designer backless blouse. With a backless design like this, the best way to style your hair would be to put it up in a bun so that you can flaunt your back in style.
20. The below images will give you some more ideas on how to wear backless blouse designs for sarees.
Now pick your favourite backless blouse in various style options – noodle strap, zari, choli style, long sleeves, criss cross tassels, halter neck, kundan work and show your back to the world in admiration and applause.
Recommended Articles
Brocade Blouse Designs
Net Blouse Designs: Sheer, Lace And Long Blouse Designs For Net Sarees
Boat Neck Blouse Designs
Maggam Work Blouse Designs
Princess Cut Blouse Design In Raglan Style
Designer Blouse Designs: From Jacket Blouse to Mirror Work Patterns
Zardozi Embroidered Blouses
Trendy Saree Blouse Designs And Patterns
Designer Blouse For Wedding in Winter