Fashion fades over-time, but the classic Indian traditional attire never seems to leave the charts at all. I am proud to be a saree enthusiast as it is the most sexy fashion staple according to me.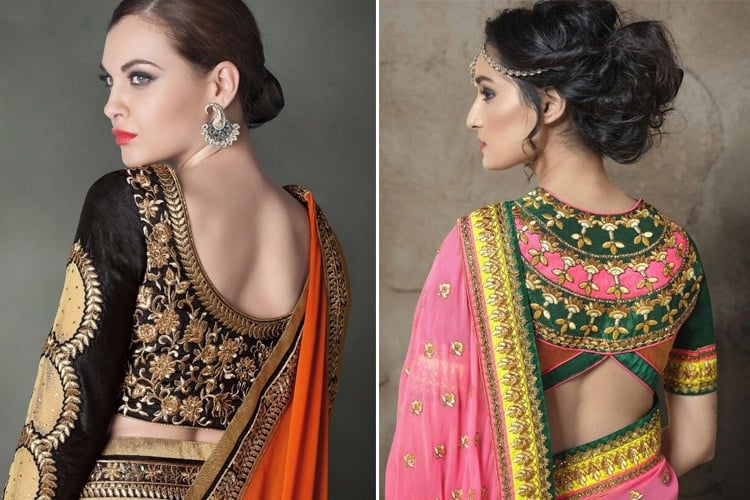 What is very important to keep in mind is the blouse that compliments the saree. Whether it's a cotton saree or a gorgeous net saree which may be a replica of the one worn by Deepika Padukone or Priyanka Chopra at a red carpet event, what makes the saree elegant is the blouse design and its fit.
You must never compromise on the fit and design of the blouse. In fact, to give a different look to the saree look every time you wear it, you can have multiple blouses in contrasting colours and patterns for that extra classiness.
If you are wearing your mother's traditional vintage Banaras saree that has a weaving in gold or silver, you can get a contrasting gold or a silver blouse made with embroidery detailing on the neck and sleeves. A cotton gadwal saree on the other hand can be worn with a crisp full-sleeved high neck cotton blouse with a simple back design.
[Also Read: How to Wear Saree]
Mix and Match is the key here, but how can we forget the back neck designs for blouses?
Let's look at a glossary that I have put together for you to help you decide on a blouse pattern for your saree.
Here is the list of 20 Blouse Back Neck Designs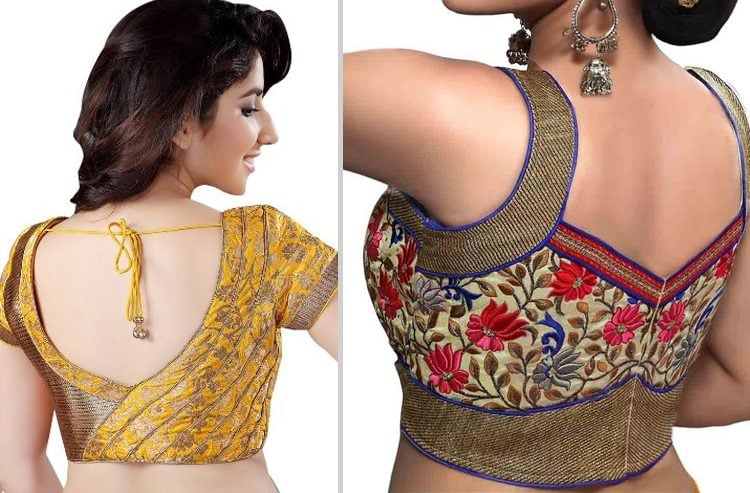 Asymmetrical Blouse Design, Horse Shoe & Round – These styles can be matched with your net or chiffon saris that you wish to wear to a family get together or at a festive occasion.
If you pay close attention, the round neck looks like the pot neck style. This blouse back neck design is perfectly suitable for silk saris and for lehengas.
[Also Read: Tips For Blouse Stitching]
[sc:mediad]
One shoulder – A bit dramatic and purely filmy is this style of blouse back neck design. A heavily embellished or embroidery blouse back neck design would be great with this pattern.
Back buster & Off-shoulder – More on the sexy side, these blouses are for the young women who have gorgeous shoulders to show off. Wear these at a friend's reception and await the over-flowing compliments you are due to receive.
The back bustier is for ladies with small bosom. With or without straps, this number will surely get you noticed but it's equally important to carry it elegantly and gracefully. Here is a small suggestion-
Look out for the off-shoulder style. This can make or break your look. If you don't like going strapless or are not too fond of thick straps, slide them off the shoulders and flaunt those chiseled collar lines.
Bateu / Boat Neck – This is a simple yet stylish blouse back neck design pattern for women wearing sheer net sarees. Embroidered front blouse design can add glamour to the ensemble.
Pointed Back – Dive deep with the pointed blouse back neck design. It can be mixed and matched with tassels, strings borders and many more to keep it interesting.
Strings – These not only show off the beautiful back you have, but also helps if you may have put on or lost some weight as these strings can be secured based on the shape and size of your chest.
Square, U and V shaped neck Designs – These designs have been doing rounds for ages now. Most Bollywood celebrities of the 60s wore these blouse back designs in their movies with pretty polka dot sarees.
The V back neck design for blouses gives you ample room to flaunt the lovely back. Add some tassels or an elegant border to make it even prettier.
The U neck is one of the most routine and simple back neck blouse designs. This patterns is usually held in place with strings or a thick border line.
The square neck is surely a plain looking blouse back neck design. Play with borders or go with net blouse back neck design for the extra charm.
Sheer Back – Creating illusion has always been fun, especially with apparel. Going sheer on the back will give you a covered up feel and balances the sensuous part of the outfit. Pot neck, with strings or cutouts, whichever you chose to pair it with, it will look fabulous.
High Collared/ Mandarin Collar – The high collared blouse designs for the back are currently the most raging style. Wear this style and see how it just switches on the elegant mode swiftly.
Be it for lehengas, sarees or your bridal outfits, blouses must get enough attention as they may be only seen as a small part of the ensemble, but it is THE most important bit to make you look gorgeous.
Even simple blouse neck designs can change the way the saree looks. It is not mandatory that you buy a saree for every occasions. Heavy party sarees cost a bomb and it may not be possible to rewamp the wardrobe repeatedly. Hence getting new blouses stitched is an easier and a much reasonable option. Heavy or simple blouse neck designs and blouse back designs can do wonder's and if stitched well, can make your saree look new too.
Hope this article on latest blouse back neck designs was helpful.
[Also Read: Tips when getting your blouse stitched]
Meanwhile, let us take you through some beautiful blouse designs that will have your hearts melting.
This is a net sleeved blouse design with mirror work. The full sleeve blouse can be worn with any net saree as it is in dull gold color. If you own one such blouse, then you can wear it with multiple sarees.
The back neck embroidery designs for the blouse are aplenty. The deep ones can have strings to keep the blouse from drooping at the shoulders, while the normal ones can just stay by themselves if the fit is correct, like the one shown below. The embroidery designs for blouses can vary from mirror work to patchwork and thread work. It depends on how you like it best. These blouse embroidery designs can either come along with the unstitched or stitched blouse with the saree or you can get it done externally, by your personal designer as per your likings.
A red blouse, black blouse, and a gold blouse are must-haves in every wardrobe. This blouse design is very decent and can be worn by anyone. A raised neck with a deep back that has tie-ups can be worn with any contrast color saree too. In this image, the model is seen pairing this blouse with a black saree.
The embroidery designs blouse back neck in this below picture is what is extended from the front.
A dull gold cut out blouse design with a contrast lining is again a unique way to style your sarees and lehengas. This boat neck blouse pattern can be worn by petite and tiny frame women.
One staple gold blouse can be worn with sarees and lehengas of any colour, but with gold detailing on them. This design blouse neck from front is deep and very appealing. The blouse designs back is the most flattering of the ensemble, right?
[Also Read: EMBROIDERED BLOUSES]
Off-shoulders are all a rage this season. Not only for Western wear, but for Indian wear as well. When sarees and lehengas are worn with off shoulder blouse designs, like the one shown below, you are definitely going to be the talk of the town. When patterns for blouses are considered, it must also be noted that they must compliment the body too. This being said, those with a tiny or a petite frame, will look best in this blouse design.
You can see more blouse neck designs and patterns on our blog, from cotton chanderi blouses to net and sheer blouses. All the latest blouse patterns are available on FashionLady.
Recommended Articles
Latest Embellished Saree Blouse Designs And Patterns
Sleeveless Blouse Designs
Blouse Designs For Silk Sarees
Lehenga Sarees With Blouse Designs