The blouse can really make or break your look. So if you have bought a fabulous saree, you will need an equally well-fitted blouse to go with it. Most women hardly have time to decide their blouses and mostly end up with some last minute readymade ones. But it is always better to get a blouse stitched rather than just buying anything off the shelves.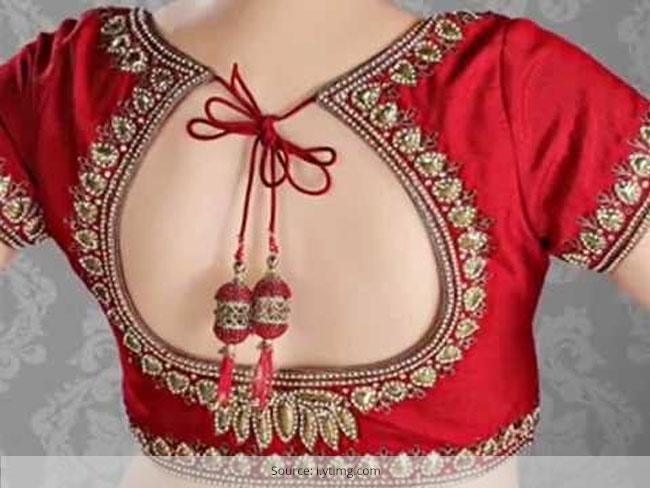 Here is the guide to getting the best blouse designs for that perfect saree.
1. Decide on the Design
You may have bought the saree, but it is important that you decide what design would suit best with it. Everything else will depend on what kind of design you would want for your saree. So, if you are looking for something a little classier or something which is very different from the rest, you will have to decide the design so that the fitting and the fabric can be bought accordingly. Remember, there are no rights or wrongs until and unless you are comfortable. Don't go by latest back neck designs for blouses, if you are not very sure to carry it off.
2. Fitting it fine
The next important part about getting a blouse stitched is to get fitted and measured to the very last period. Wearing a blouse bigger or smaller than necessary will spoil your look and leave you in a grumpy mood. So before Mr. Tailor sits to work on your masterpiece, make sure you get yourself measured very well. Your arms, your shoulders and your bust area should be measured very accurately to give you the best possible fit.
[Also Read: Sleeveless Blouse Designs]
3. Right Bra, Right Measurements:
Another equally important point is to wear your most comfortable bra while getting measured. There are some blouses which come with in-built cups, but try and avoid those as much as possible because they won't give you the best possible fit and look. So when you are getting yourself measured, make sure you wear your best fitted bra so that your bust area is properly measured.
[sc:mediad]
4. Fabric is your Friend:
Now that you know the design and your fit, you have to zero in on the fabric that you would want your blouse in. So, if you are planning to wear it during the winter, then it would be better to choose something which is not that flimsy. That way you will not only be able to flaunt your style, but you would also be comfortable. Similarly during the hot summer months you wouldn't want your fabric to ruin your look. So, choose your fabric depending on what would be the most comfortable and feasible choice. If you are wearing a net saree, then go for net blouse designs as these are have become a huge rage these days.
Also, if you are planning to get the material yourself, check whether the material is heavy enough. Many a time georgette and chiffon are light and they may need an extra lining to go with it. Make sure you buy the matching lining too.
5. Keep it Simple Silly:
The cardinal rule to get your blouse stitched is not to overdo it. Most sarees that are to be worn for weddings or special occasions are usually very ornate and are designed in a way that would attract attention. So, you have to tone down your blouse. You can't wear something which would take the attention off your beautiful saree. Also, heavy blouses will only spoil your look more. They won't be adding to your look. Remember balance is the key and never overdo your look. Like they say, Keep it simple silly!
Now that you are armed with the requisite saree blouse designs stitching tips and knowledge, go ahead and get the best blouse stitched!
Recommended Articles
How to Wear Chanderi Cotton Blouses for Different Occasions
Ways To Pair Your Saree Blouse With Different Outfits
How To Wear Crop Tops As Blouses
The Art of Choosing Blouse Design
What Type of Blouse Suits Your Body Shape?
Bollywood Blouse Designs
Madhuri Dixit Blouse Designs
Where to Buy Designer Blouse in Delhi
Where to Buy Designer Blouse in Hyderabad