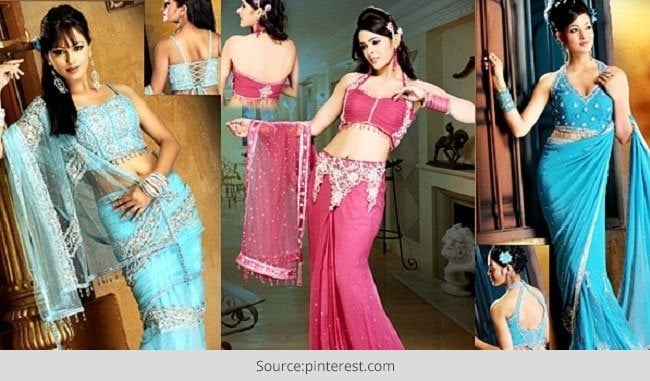 Wearing a designer saree blouse is no joke. There is always a huge difference in buying a designer saree and blouse. That's because while saree does not adhere to different sizes, blouses are designed purely based upon sizes.
Finding a perfect blouse for your saree can be a challenging task. Also, finding the right fit is very important else it can definitely spoil the look of the entire ensemble. I have learnt this from my mother and have also noticed that if the saree is not paired with the perfect blouse, the value of the saree will completely drop. No matter how expensive the saree may be, the fitting and style of the blouse is very important.
While one has a vast number of e-commerce websites to purchase from, it is almost impossible to get designer blouses that can perfectly fit. It is because those that are sold online have standard sizes while what you require is a customized size and fit. In simple words, a blouse should almost be a second skin.
[Also Read: Boat Neck Blouse Designs]
Since every individual has a distinctive physical structure it becomes quite hard for the manufacturer to render accurate fitting. Although I'm an online shopaholic, when it comes to purchasing or stitching my blouse, I prefer the traditional method i.e. visiting my favorite blouse boutique to get the most accurate design, cut, style and fit.
[Also Read: Sleeveless Blouse Designs]
Tips on getting designer blouse
One easiest the simplest one is to follow Fashion weeks and other Fashion shows. Designers like Manish Malhotra, Ritu Kumar, Rocky S, Shyamal and Bhumika make wonderful and exclusive designer blouses creations that generally become the trend. From sheer net patterns to designer jacket styled blouses. They have brought in a new revolution to blouses.
These images are either published on various websites and on Fashionlady as well. You could either download the image and show your designer or simply draw and rough sketch to convey the point.
Where to buy designer blouse in Delhi?
One of my personal pics, based on a personal experience is Eve's Tailor, GK I M Block Market.
I know this is already a household name among Delhiites, but I would still like to reprise it to those who may be new to this city.
[Also Read: Backless Blouse Designs]
My first encounter with my unstitched blouse
When I stepped into the shop for the first time, I was still doubtful if they could give me a fabulous design crafted out of this 80cm piece of cloth.
Being already popular in Greater Kailash region, it was obvious to see the shop over-crowded. I had to wait for my turn and there were already 10-12 customers in the queue. Since it was a wedding season, I couldn't blame but patiently wait and yes, the 40-minute wait was worth it!
[sc:mediad]
Here's what I liked about them –
You explain them your style and they instantly catch your requirement. You imagine and they create it!
No matter whether you're looking for a simple blouse design or party wear type, they can stitch any design. And if you run out of ideas, they will provide you with a thick catalog to confide upon.
The owner himself gets indulged in helping his customers get the style that would suit match their saree and their personality as a whole.
They also provide custom-made wedding blouse designs. On personal demand, they add embroidery and sequin works to the 80cm piece of cloth.
The shop is good at
Corset blouse design
Spaghetti strap design
Halter cut neck design
Princess cut blouse style
Bombay cut blouse style
Padded blouse pattern
Backless design
Off shoulder blouse style
Choli cut design
About Eve's Tailor:
Stitching Price: Rs300 for regular blouse design, 500 and above for the padded ones. Embroidery and sequencing will be charged extra
Delivery Time: They take 7-10 days. During the festive or wedding season, they may extend up to 20 days
Address: M-24A, Main Market, Greater Kailash Part-1, New Delhi-110048
Contact no: 011-29237843, 41631378
Work Timings: 11.00 AM TO 8.00 PM (Tuesday Off)
Here is another great boutique in Delhi, which you can count upon, especially if you're looking for high-end items in latest and unique designs.
Regalia by Deepika Chopra, was basically launched for wedding outfits for brides at Uday Park, New Delhi. Soon after their success as a bridal store, they expanded their wings to other verticals including anarkali suits, gowns, blouse designs and not to mention designer sarees.
About Regalia
Regalia by Deepika Chopra is one of India's top boutiques dealing with an exquisite line of designer wears including anarkalis, gowns, lehengas and sarees. While the boutqiue's major focus has always been in bridal wear, they also offer an entire range of customized sarees with superb blouse designs especially for the wedding and festive seasons.
New Delhi is the melting pot of Bridal Trousseaux, because of the Indian fashion giants, including Tarun Tahiliani, Ritu Kumar, Rohit Khosla, Rohit Bal and Abu Jani & Sandeep Khosla, have chosen Delhi for conceiving the haute couture. So it's obvious to find a wedding line in almost every boutique, but not every fashion store like Regalia can carve out the finesse.
Not only Hindu bridal attires, the store also deals in offering Christian wedding gowns for brides and tuxedos for grooms as well.
"With this business thinking, Ms Deepika Chopra, the designer, with a different approach, created a brand and named it"
The best part of this brand is that they are active on the Internet as well. There are numerous good boutiques across India, but are not visible in the world of online marketing. Regalia by Deepika has a strong presence on the World Wide Web with an online boutique store followed by Facebook fan page.
You can always check on the latest blouse designs from their social media accounts or directly visit their website to get the updates on newest items and designs.
Contact:
51-A, LGF, Uday Park,
Opposite Ansal Plaza
New Delhi- 110049
Phone : 91-11-26566676
Mobile : +91-9999944323
I hope you found this post on where to buy designer blouses in Delhi is useful! Do share your experience!
Recommended Articles
How to Wear Chanderi Cotton Blouses for Different Occasions
Ways To Pair Your Saree Blouse With Different Outfits
How To Wear Crop Tops As Blouses
Remember These Tips While Getting Your Blouse Stitched
The Art of Choosing Blouse Design
What Type of Blouse Suits Your Body Shape?
Bollywood Blouse Designs
Madhuri Dixit Blouse Designs
Where to Buy Designer Blouse in Hyderabad