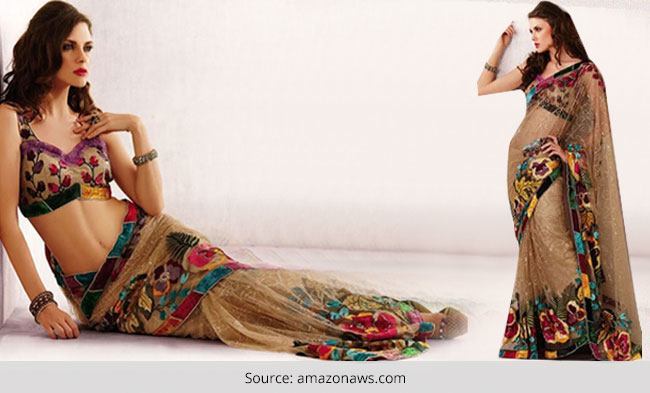 Wearing a tailor-made blouse design is not a child's play. While fitting blouse accentuates the beauty of your saree; it's crucial to understand what type of blouse suit your body shape.
Since everyone has a distinct body type, the blouse design should be tailored accordingly so that it not only compliments the saree, but your personality as well.
While a saree doesn't adhere to any body shape, blouses are purely based on sizes. Because of the distinct body shapes, sometimes manufacturers are even unable to offer accurate fitting blouse designs. This is the reason, blouse pieces are always offered with the sarees so that you can tailor-made it as per your body type.
Instead of buying ready-made embellished blouse designs, I still prefer the typical method of stitching my blouse pieces. This traditional method of visiting my tailor enables me to get the perfect fitting that effortlessly sits on my shoulders and flaunts all my assets.
Since the beauty of a saree is only determined with an effortlessly fitting blouse design; it's also necessary to focus on the design of the blouse that compliments your personality. So, let's find out what type of blouse suits your body shape!
[Read Here: Sleeveless Blouse Designs]
Round and square neck blouse design
These are the most common blouse designs that are in fashion since time immemorial.
However, as I've already mentioned picking a design that suits your body shape is critical. So even this design is stereotyped, this design looks great both on tall and short women. You can easily get a variety of styles and in all possible sizes online.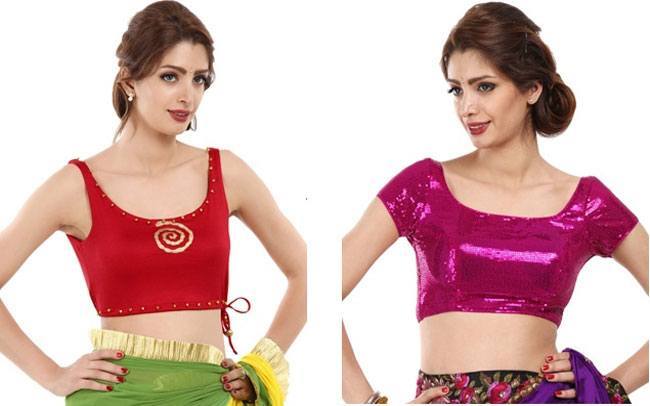 Rectangular and oval neck blouse design
This particular design particularly suits petite women. Since short-heighted women have short necks, this design accentuates their body shape. Plus, backless blouse designs add glamor to their personality, which is again their preference.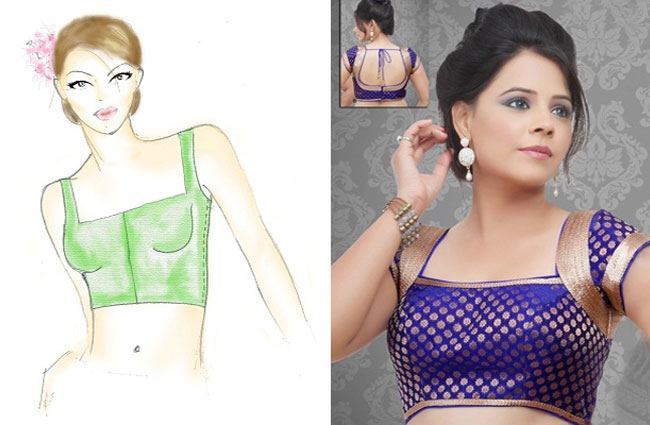 Chinese collar blouse design
This particular blouse design compliments tall women with long necks. The Chinese collar was made famous by the yester years Bollywood actress Rekha. She was seen in this blouse design in almost all of her 80's movies and this blouse design became her ultimate trademark style which she flaunted with her dark maroon lipstick and gajra on her hair. Although she preferred a covered-up back design, her assets such as her collar bone and long neck made her look extremely sensual even in traditional attires.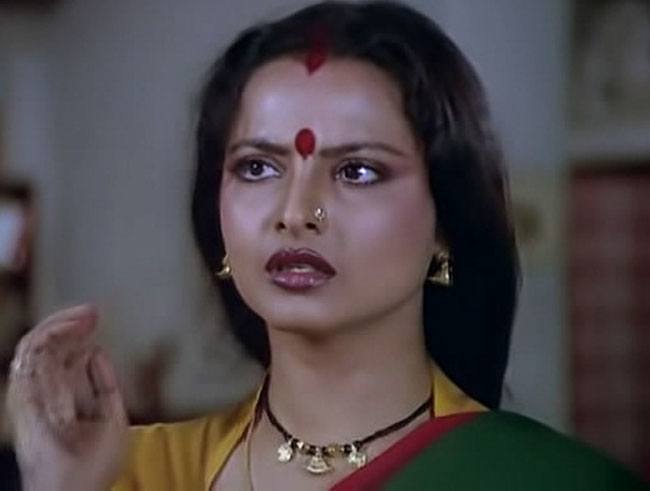 High neck blouse design
This blouse design is again for tall women with long necks. Petite women with short necks should rather go for plunging blouse neck designs so that it shifts the focus from their short necks.
[sc:mediad]
The high neck blouse design is quite a rage these days, especially after ace designer Sabyasachi Mukherjee launched his signature saree with embellished high neck blouse designs. Right from Sridevi to Deepika Padukone, almost every leading actress with long and thin neck is donning this style these days.
The heavy embellishment work on the neck and the chest enables you to wear minimal jewelries only on ears and hands.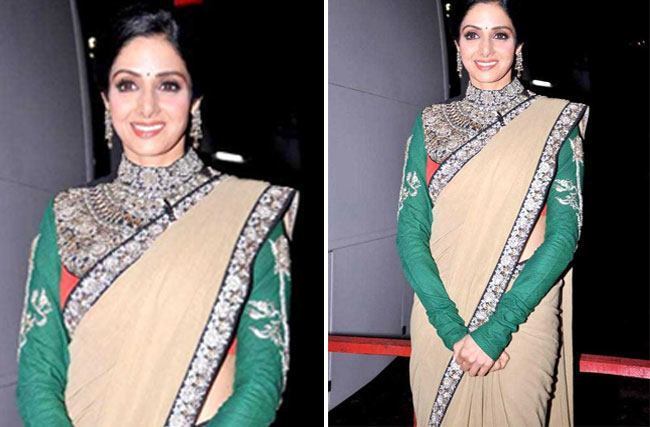 Halter neck blouse design
This design is for the fashion-forward women, who prefer to fuse tradition with new age fashion. For those, who love to show some skin, can settle for this fashionable design. Those who have pear shaped body, i.e. the bottom part is heavier than the upper part can go for the halter neck blouse design to shift the focus from their flaw areas, i.e. the hips.
[Read Here: Backless Blouse Designs]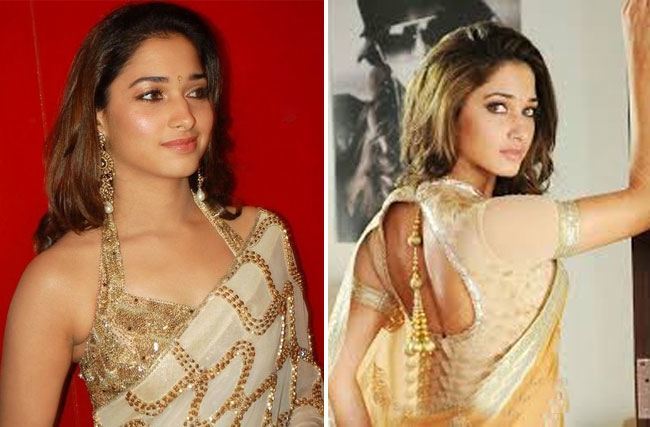 Spaghetti straps blouse neck design
This ultra style blouse design is for those who take fashion seriously. The new age fashionista always looks for an excuse to stay tuned with fashion, even when she wears traditional wear and this blouse design aptly suits her choice. Only if you have great collar bones and a thin long neck then go for this blouse design. Never go for spaghetti strap neck, if you're heavier on the top.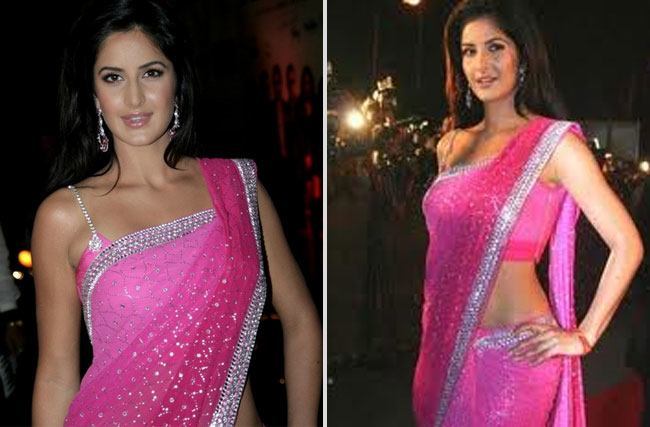 [Also Read: Blouse Designs For Silk Sarees]
Blouse with transparent or sheer full sleeves
This is a versatile blouse design suiting almost every body type. This particular blouse design has been on and off in fashion since ages.
Right from the 60's actresses like Sadhna and Asha Parekh to Sridevi and Priyanka Chopra; this blouse design has been adorning glamorous bodies of all ages.
The sheer sleeves are trending these days. They are usually made of net and sheer fabric, which not only accentuates the feminism but also strategically hides your flaws.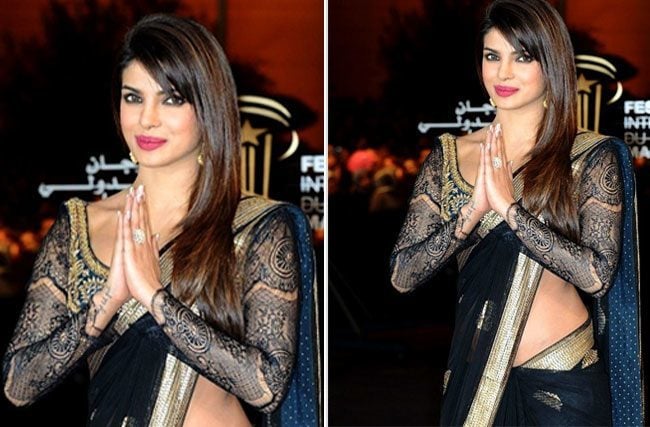 Backless blouse with 3/4th sleeves
Here is another versatile style that can add glamor to your personality. While the 3/4th sleeve design makes you look elegant, the backless hints at your mischievous side. For that special occasional look, nothing could be classier when you show up in this ultra-stylish ethnic attire.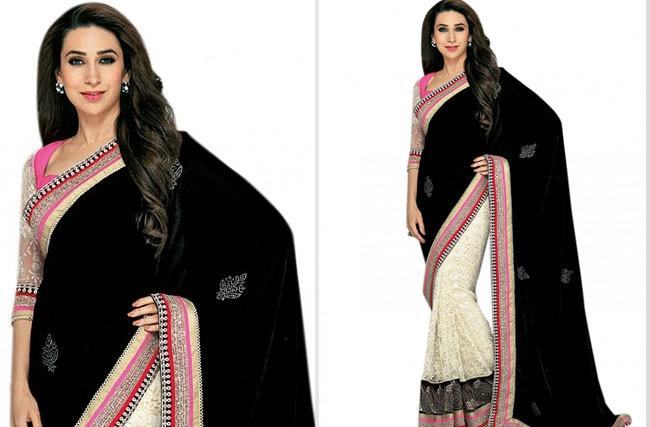 Hope this post gives you some relevant cues on what type of blouse design to choose for your body shape!
Recommended Articles
How to Wear Chanderi Cotton Blouses for Different Occasions
Ways To Pair Your Saree Blouse With Different Outfits
How To Wear Crop Tops As Blouses
Remember These Tips While Getting Your Blouse Stitched
The Art of Choosing Blouse Design
Bollywood Blouse Designs
Madhuri Dixit Blouse Designs
Where to Buy Designer Blouse in Delhi
Where to Buy Designer Blouse in Hyderabad