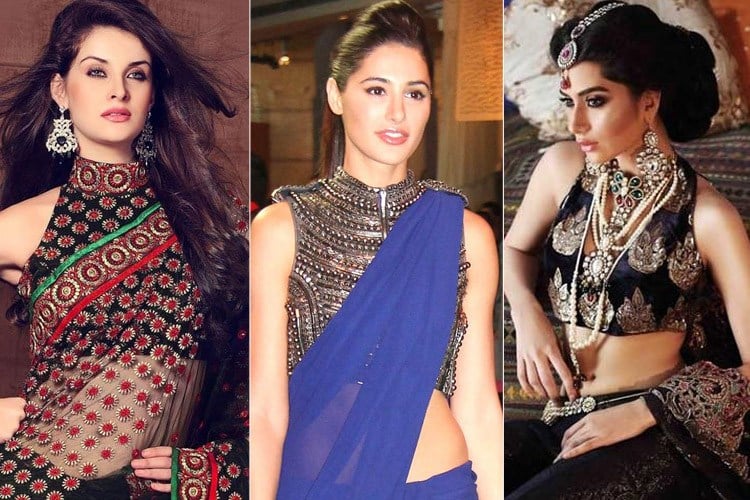 Did you know the history of Indian clothing, saree dates back to 1800 BC i.e. Indus Valley Civilization?
No matter how antiquated this particular attire is; it hasn't ever gone out of fashion and still holds an important place in the fashion scenario. These days, interestingly, the latest fashion among Indian women is a saree teamed with a designer blouse.
The beauty of a saree is enhanced and becomes more prominent when it's paired with a beautifully designed blouse piece. This is the only reason equal importance is now given to the design of a blouse as much as it is given to the saree design.
No matter how the saree is, plain simple or extravagant; a good blouse makes or breaks the look.
In olden days, the tailor used to show women a catalog with different yet repetitive blouse neck designs. The ladies then having no other option had to select one which they thought would go well with their saree and personality.
Although the designs kept changing at regular intervals, very few people were able to get updates about the changing fashion, with fewer having access to TV commercials and others getting tips from various magazines.
Thanks to the technology and e-commercialization, we can now get info on all the latest trends with just a few clicks.
How To Choose A Blouse Design:
Women are now clinging towards mix and match fashion. They buy a simple saree with less detailing and pair it with a heavily embroidered blouse, which alters the look of the saree. The complete attire looks extremely glamorous, ready for a party-wear or any function.
Bollywood actresses, be it of 60's, 80's, 90's or 21st century, they have always emphasized on the blouse designs to maintain their glamour on-screen. This style quotient has always stood the test of time. A beautiful embroidered or perfect tailor-stitched bodice can alter the overall look. The same way an ill-stitched or mismatched piece can ruin the entire look, no matter how glamorous the saree is.
FashionLady brings to you some must-have neck designs which will accentuate your physical features elegantly.
Continue reading…
Round and Square Neck Designs
These are the most regular shapes when it comes to picking a design for under-the saree-wears. These designs look great both on taller and shorter women. You can easily get this style in all sizes.
Round neck blouse designs and Square neck designs look better on petite women. These give an illusion of broad shoulders.
[sc:mediad]
Rectangular and oval neck Design
These shapes particularly suit women with short heights, as they enhance their personality, by making the saree look more beautiful on them.
However, the depth of the neckline completely depends upon you. If your saree is heavy then there is no logic of having a plunging neckline, instead, you can go for the backless or low back design to flaunt your sexual appeal.
Chinese Collar
Chinese collar became famous with Rekha, when she started donning this design for almost all her movies in the 80s, whenever she was required to wear a saree. This design has become her trademark design, which she has maintained to date.
High Neck Design
This blouse design looks great on women having long and thin neck, as it highlights their best features. You can wear this design to a wedding ceremony, cocktail party or to any occasion. This high profile design will help you enjoy all the flattering glances you receive. Take a look at the gorgeous Sridevi in a high neck design blouse.
Deepika Padukone dons a similar kind of neck design for one of her movie promotions. This design is definitely in trend these days.
Halter Neck Design
This kind of design always comes under the high-end fashion quota in terms of sensuality. It looks ultra fashionable with the backless design complementing the halter neck. It's quite popular among the celebs and is actually fashioned for net sarees or any kind of party wear sarees.
Spaghetti Strap Neck Design
Although this design is not appreciated by many, young ladies prefer this design to maintain a level of fashion quotient even with traditional wear. Such designs require a lot of panache to be carried off well. If you're not comfortable pulling it off, then better not to go for it only for the sake of trend.
Blouses with transparent full sleeves
This fashion is on and off for ages. From Sadhna and Asha Parekh to Sridevi and Deepika, every single actress has once in a while donned this style. The sleeves are actually made up of a net or extremely sheer fabric, which all the more enhances the feminine side, simultaneously making it look elegant yet sophisticated.
This design will go with any kind of saree, be it party wear, fancy, net or handcrafted. It is an ideal choice for taller women. Also, if you're conscious of flabby arms, here's your best choice!
Backless blouse with 3/4th sleeves
If you're serious about setting a trend in the most fashionable manner, you can go for this design with your sarees. While the 3/4th blouse design makes you look classy, the backless design hints at your mischievous side. For that momentary look, nothing could be more playful or beautiful, so don it on for a Sangeet function.
You'll always have an array of options when it comes to saree blouse designs. All you need is to choose the right style which aptly suits your personality and adds value to your saree.
Hope you liked this post! Stay tuned for similar posts!
Recommended Articles
How to Wear Chanderi Cotton Blouses for Different Occasions
Ways To Pair Your Saree Blouse With Different Outfits
How To Wear Crop Tops As Blouses
Remember These Tips While Getting Your Blouse Stitched
What Type of Blouse Suits Your Body Shape?
Bollywood Blouse Designs
Madhuri Dixit Blouse Designs
Where to Buy Designer Blouse in Delhi
Where to Buy Designer Blouse in Hyderabad