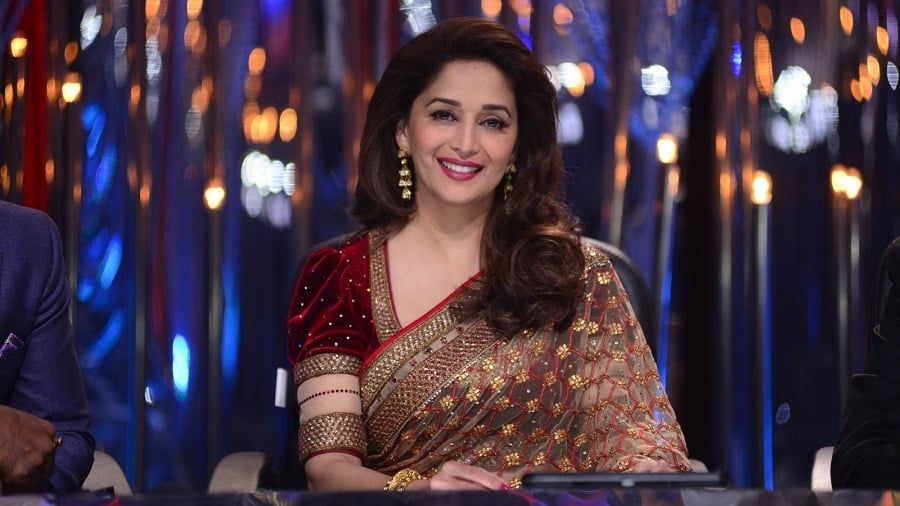 Designer blouse designs have always been on demand since fashion got its place in Indian woman's wardrobe. And since Indian fashion domain is hugely influenced by Bollywood, so we cannot just overlook Bollywood trends while talking about blouse designs especially.
Lately Madhuri Dixit's blouse designs have evoked a massive craze among her fashion-forward female fans. Whatever the style icon wears instantly becomes a trend, just like her sarees and blouses which she has worn so far in an Indian TV reality dance show.
While the channel and the show roped in the Bollywood legend Madhuri Dixit to get a hike in their TRPs, her outfits also contributed to the popularity of the show. As per a recent survey, the sarees along with fashionable blouses that Madhuri wears in the show is one of the major reasons for attracting viewers, as the Indian female mass is keen to take some inspiration from the Dhak Dhak girl.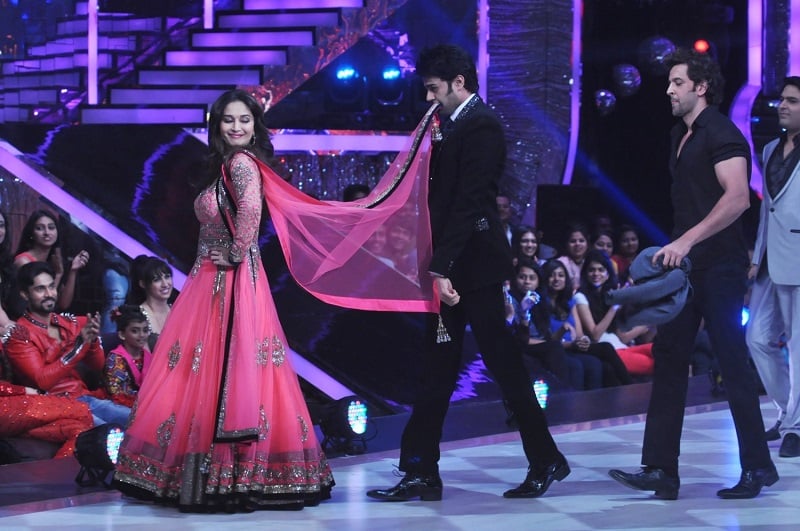 Even her style statement is equally famous online as well. With just 1 month away from Madhuri Dixit's birthday (Madhuri's birthday – 15th May) and On popular demand Fashionlady offers you some of Madhuri's best sarees and blouse designs from a dance show. Do have a look!
This apple green saree along-with orange border and tasseled corners looks amazing on the Bollywood's best dancer. If you have a close look at her saree, it looks more gorgeous with the contrasting orange shade, the mirror work on the brocade and not to mention the latkan on her pallu. To keep up the grace, the actress has worn her signature style sleeveless blouse in matching apple green shade kushion-inspired design.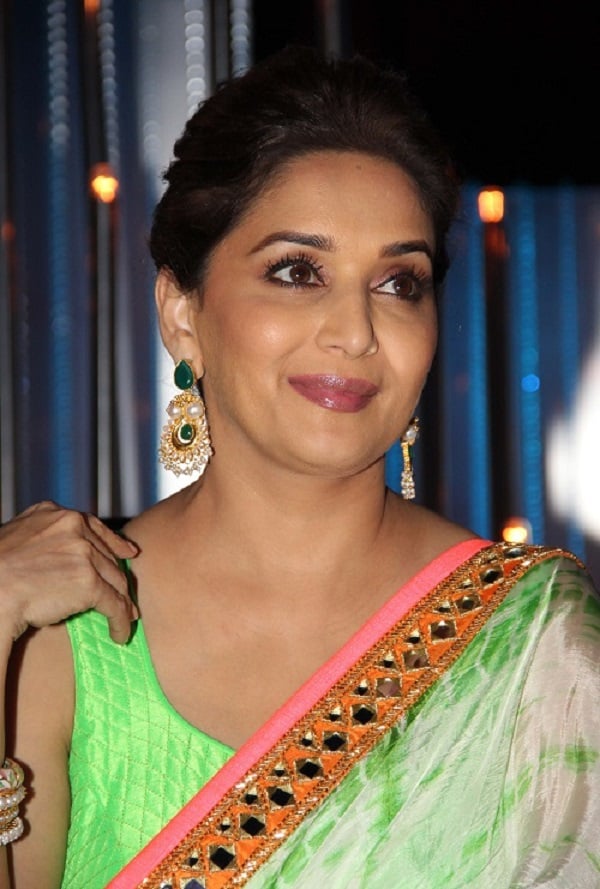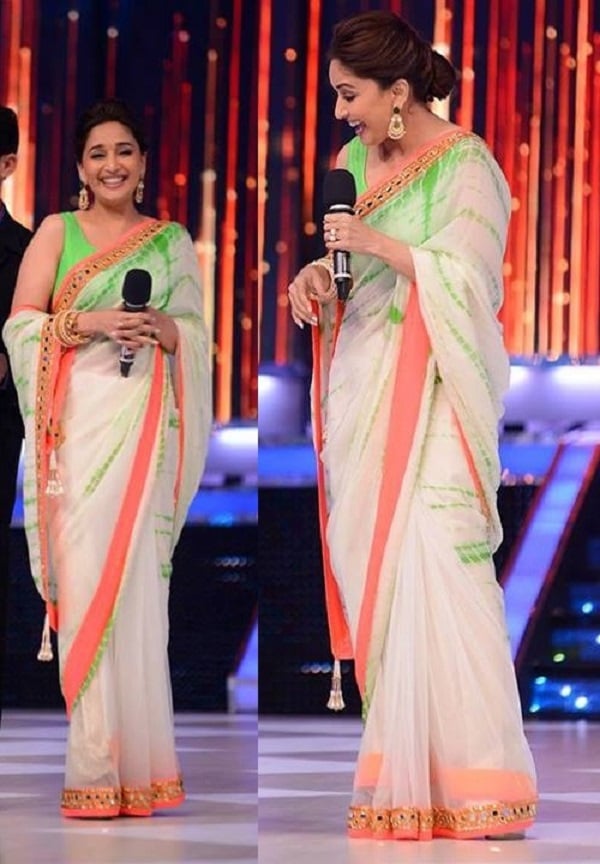 She looked fabulous in this Arpita Mehta's white tissue silk saree. The actress had donned bun hair style, which she had paired with smokey eyes, pink lipstick that added glamour to her looks.
She completed her look by accessorized with minimal yet matching accessories. Her huge green earrings and golden bangles complemented her fresh look and perfect updo.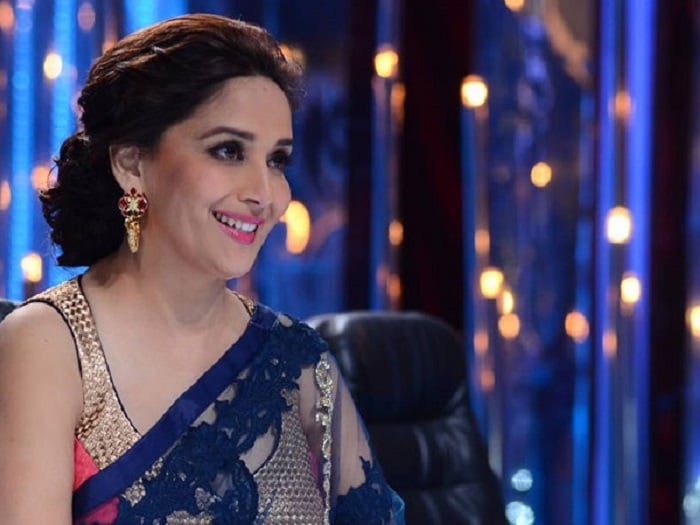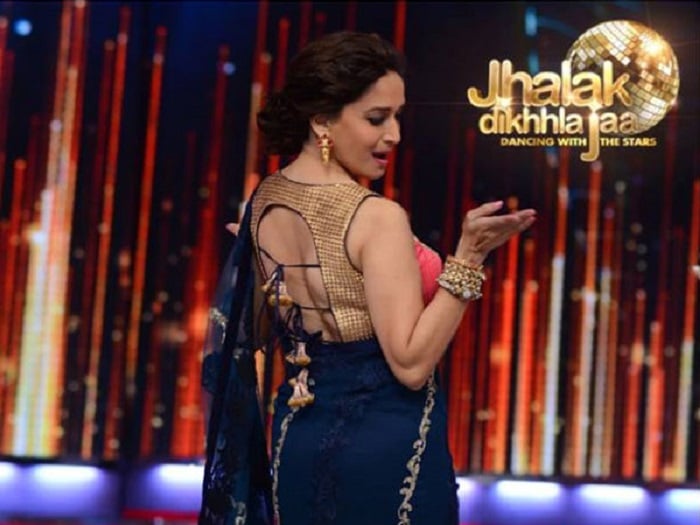 Here is another great number gracing completely Madhuri's style quotient. The actress here wears a navy blue and gold sheer sari by 'Jade by Monica and Karishma', which she has paired with a sleeveless gold and pink embellished blouse.
The fabulous design of her blouse with intricate gold detailing on the bodice of the blouse with contrasting dash of pink dramatically enhanced the beauty of the navy blue net saree. Madhuri's pink blouse was completely embroidered with golden work in the back, and had a deep scooped cut with doris and latkans.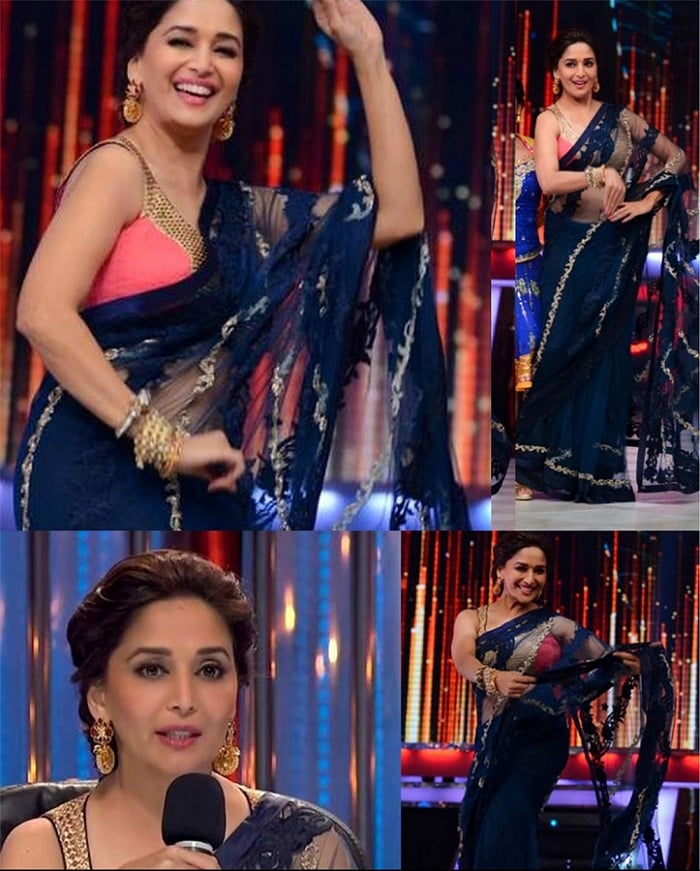 All those Fashionlady readers, who are looking for some tips for their blouses can take a cue from this designer wear. Apart from copying the style, you can always go for a contrasting shade for the blouse. And never forget to wear some statement-making jewelry pieces as the actress is always seen with some great accessories. The gold accessories like earrings and kundan bangles add glamor to your look. Just see how graceful she looks as she shows some of her dancing skills on the set.
[sc:mediad]
As I had already told you people just anxiously wait to see what Madhuri is going to wear in the next episode; her attires have been actually a treat for eyes whilst her blouses being always impeccable.
The diva is never wrong with her choice of blouses that she pairs with her elegant sarees.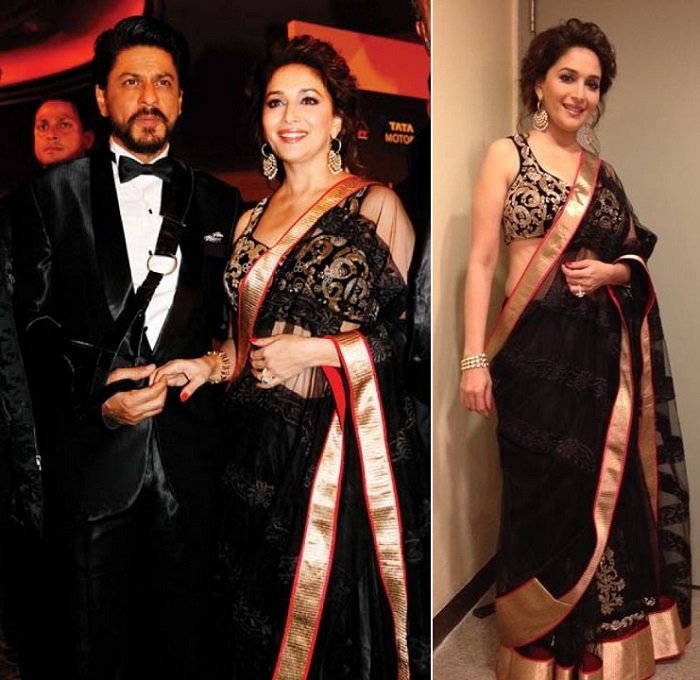 Just as she had worn a black and gold heavily embellished brocade blouse with her black and gold lehenga saree designed by Monica and Karishma of Jade for IIFA.
I don't think if there is any color or fabric that doesn't go with Madhuri's undertone and personality. Here is a fitting example – she cannot only carry bold and vibrant traditional shades, but the Saajan actress is also capable of pulling off soft tones with elan.
Tarun Tahiliani's ensemble is not everyone's cup of tea. Very few like Madhuri can carry off his creations with utmost ease and grace. This nude net embroidered lehenga saree looks blissful on Madhuri. And if you thought only sleeveless designs is her taste then better have a look at this full-sleeved matching net blouse which she had paired with her lehenga.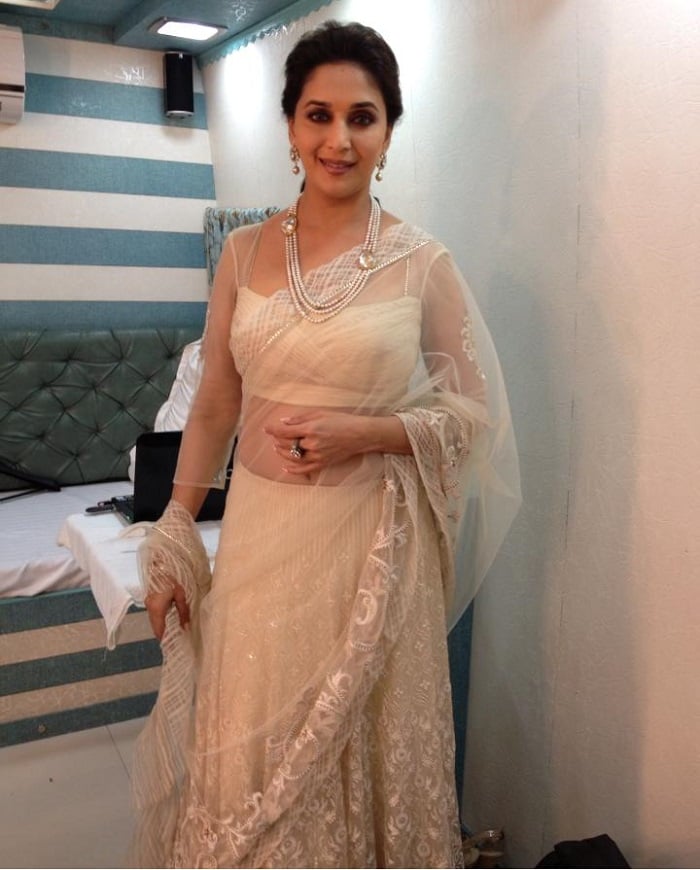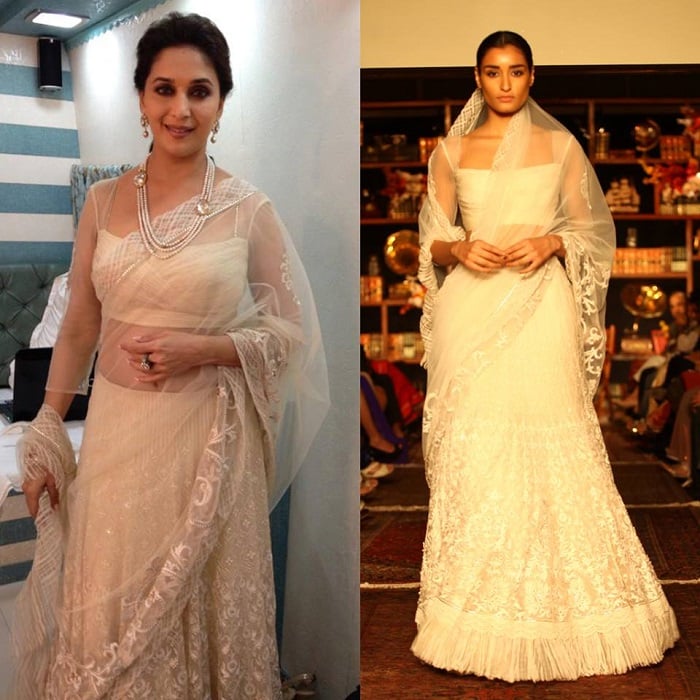 While the body had a criss-cross design; the sleeves were encrusted with a single layer of crystals and not to mention the fringes at the end. Even though I'm not a big fan of fringes, the fringes at the hemline of the lehenga and sleeves made her look even more graceful in this soft number.
Her perfect updo, smokey eyes and warm pink lip color complemented her look. Furthermore, the actress had finished her look with some understated jewelries – pearl necklace and ring by Roopa Vohra and bracelet by Anmol jewellers.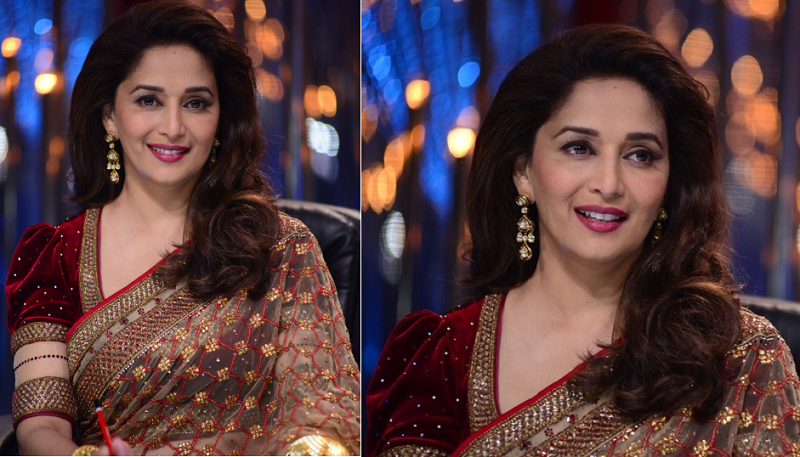 Here is another winning number by Tarun Tahiliani, which Madhuri had worn in an episode of a popular dance reality show.
The actress had paired the saree with a velvet red blouse with matching sequin work on the neck and the sleeves. The major highlight of the blouse is its double sleeve borders separated with a single layer of sequin. You can even have your blouse customized in this style to give an edge to your look.
Her jewellery is by Gehna Jewellers and Aquamarine.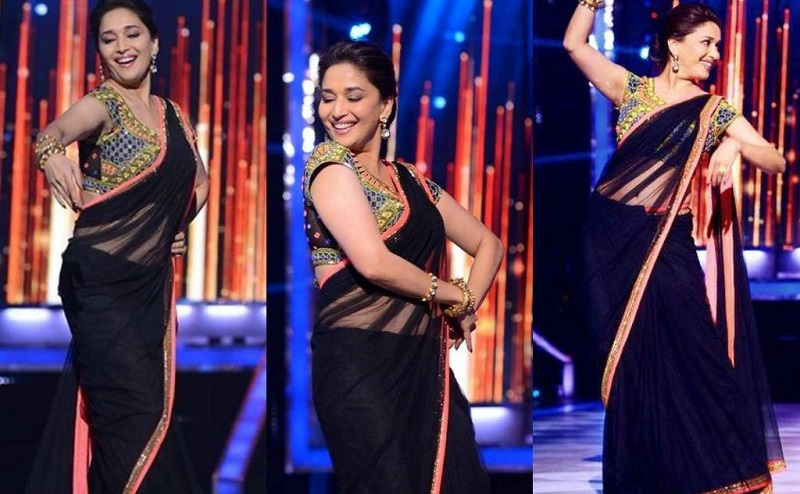 In this black number with contrasting pink border by Arpita Mehta, the actress opted for a heavily embellished colorful blouse with mirror works on it.
This is one of Madhuri Dixit's common saree blouse designs in net. If you want to play it safe try this style. The blouse has short sleeves and the sleeves are made of transparent lace.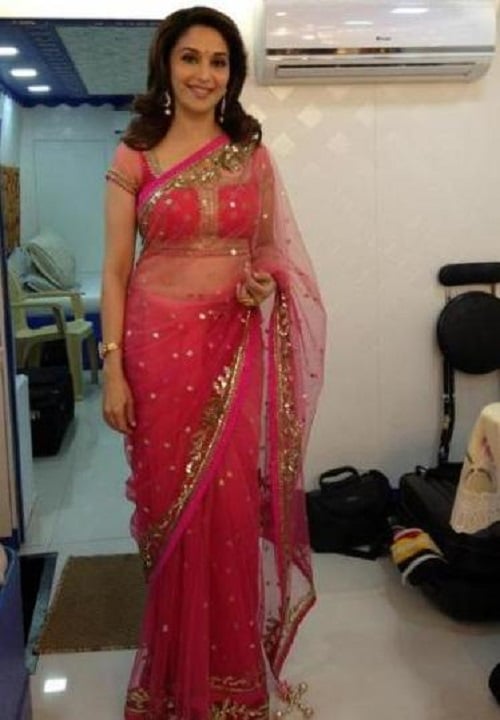 This is one of my favorites from her wardrobe collection so far. The sleeveless embellished blouse comes with a saree holder, which is the major highlight apart from the silver crystal work on it. The actress wore it smartly, as she preferred a plain chiffon saree in lighter shade to keep the focus on the stylish blouse design.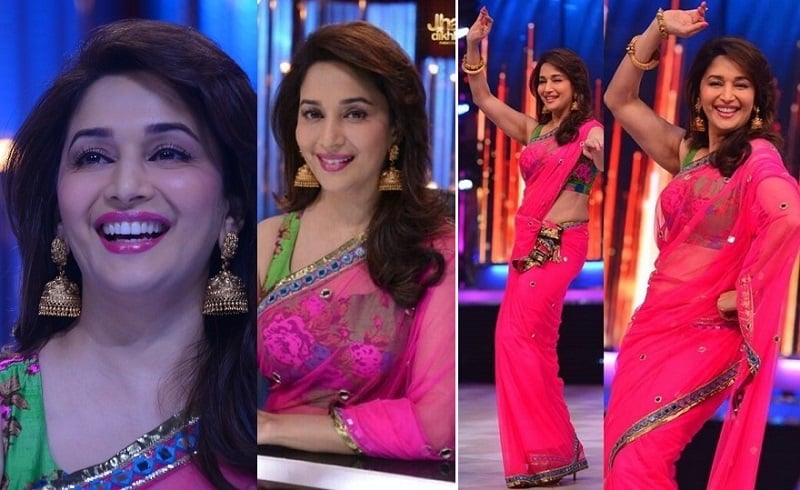 Don't you just love the sweetness of this outfit? The pink saree is only accentuated with random mirror works on the bodice along-with matching mirror brocade. In order to keep up the beauty of this saree, Madhuri has paired it with a sleeveless blouse in neon pink and green flanked by floral patterns all over. I just loved the feminine element of this Indian ensemble.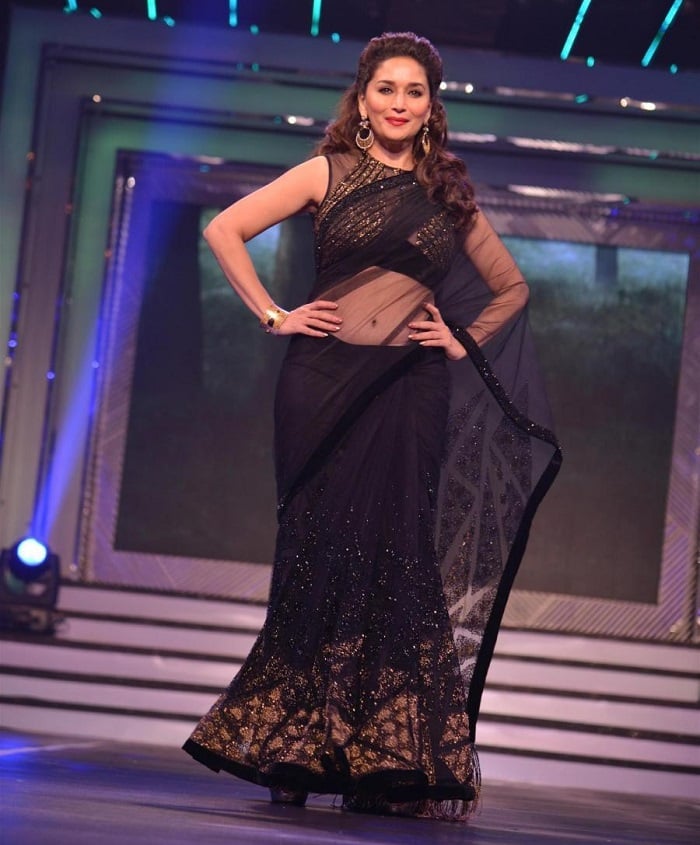 How about this beautiful black designer embroidery shimmer faux georgette saree, the actress had worn at the Late Yash Chopra's Birthday Anniversary. Small embroidered crystal work and crisscross thread work at bottom of the saree made this saree look extremely sophisticated. You can take cues from the sheer embroidered sleeveless blouse, which had crystal work on it.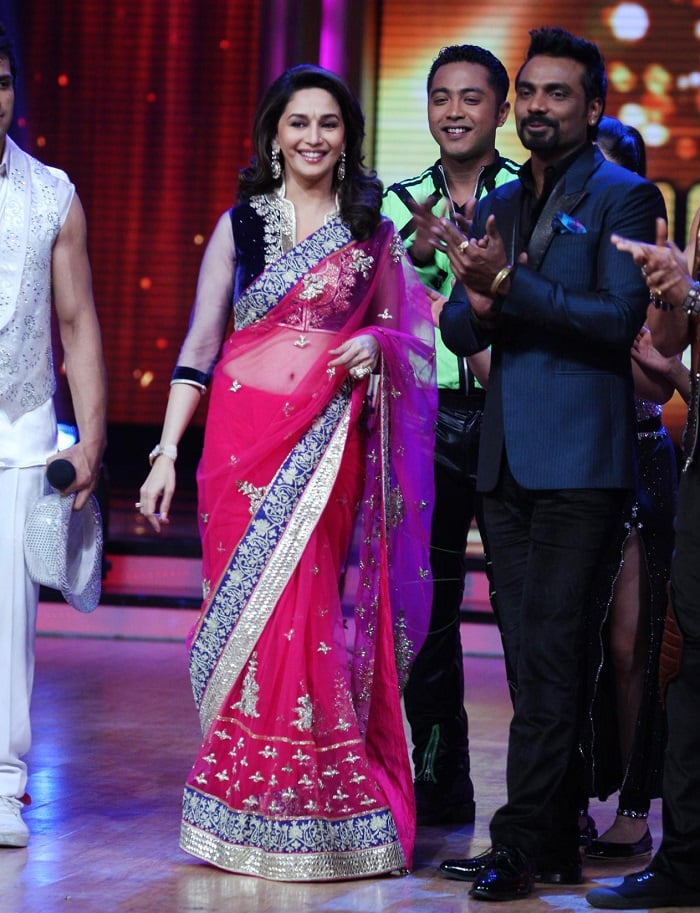 Velvet is never out of fashion and this is proved from Madhuri's velvet blue 3/4th blouse. The blouse has net sleeves and has heavy embroidery on the neck. With V neckline, the embroidery work perfectly sits on the structure, making the pink saree even look more graceful.
Hope you enjoyed this post!
Recommended Articles
How to Wear Chanderi Cotton Blouses for Different Occasions
Ways To Pair Your Saree Blouse With Different Outfits
How To Wear Crop Tops As Blouses
Remember These Tips While Getting Your Blouse Stitched
The Art of Choosing Blouse Design
What Type of Blouse Suits Your Body Shape?
Bollywood Blouse Designs
Where to Buy Designer Blouse in Delhi
Where to Buy Designer Blouse in Hyderabad