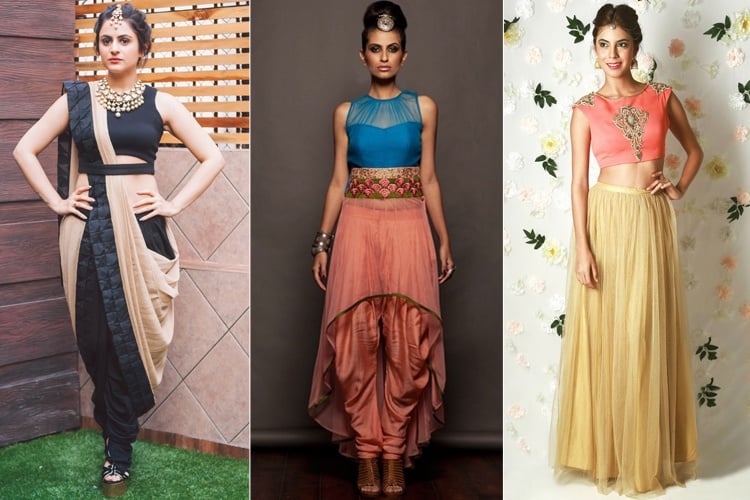 Saree blouses- the quintessential wardrobe item that is designed to wear with a saree. But this is 2016 and people are taking fashion to entirely different levels. So are there any other ways you can style the saree blouse?
How To Style a Saree Blouse:
Well, we have some ideas up our sleeves. They aren't entirely radical though and many fashionistas have already trodden the territories of saree blouses being worn in different ways. So, let's give you some ideas:
[Also Read: Latest 35 Embellished Saree Blouse Designs And Patterns]
1. Wear Them With Pants!
Yes, you heard us right. Fashion designers have actually made their models wear designer blouses not just with sarees, but with beautiful pants too. Slim pants look great with a saree and a saree blouse and this fusion style is actually taking over the fancies of many designers. Here are some glimpses of a saree and pants: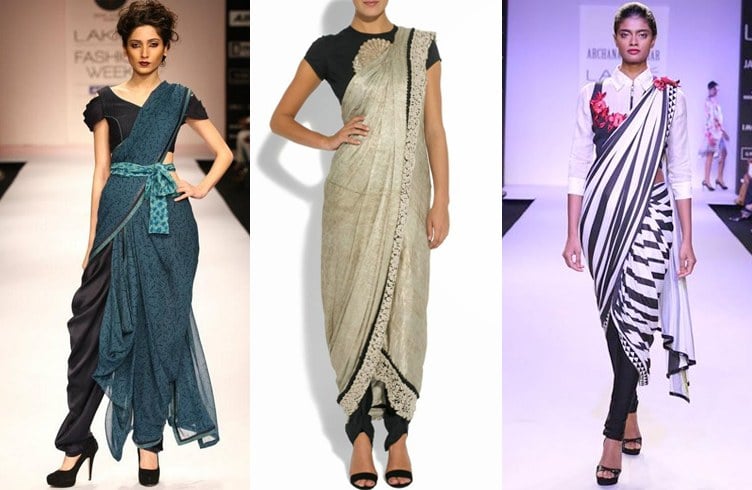 2. Wear Them With Dhoti Pants
If you thought wearing saree blouses with slim, formal pants was a good idea, then wearing them with dhoti pants looks equally gorgeous by the way. We saw this look on runway too and a few actresses have also worn a saree blouse with dhoti styled pants. It's quite a fusion style and looks great with some heavy jewelry. We would say it's a very contemporary style and you can carry it off at weddings or a fashion event. Just keep in mind to secure the dhoti in place before strutting!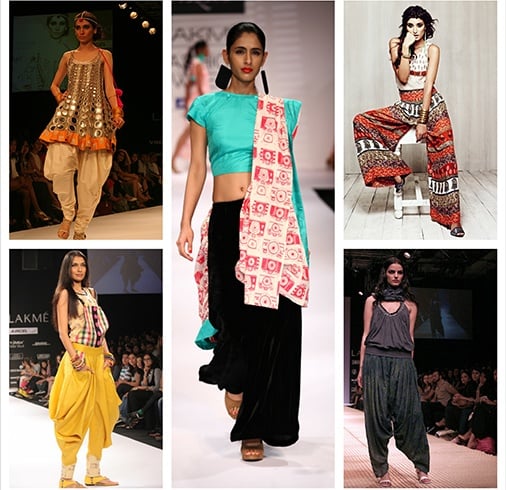 3. Pair Them With Skirts
If you are keen on a not-so-conventional blouse like a wrap-around blouse (and if it is not too blingy), you can pair it with sarongs or long skirts. If however you would like to bling it up a little, you can always add some jewelry with the skirts. The design goes well with plain skirts too. Check out this blouse: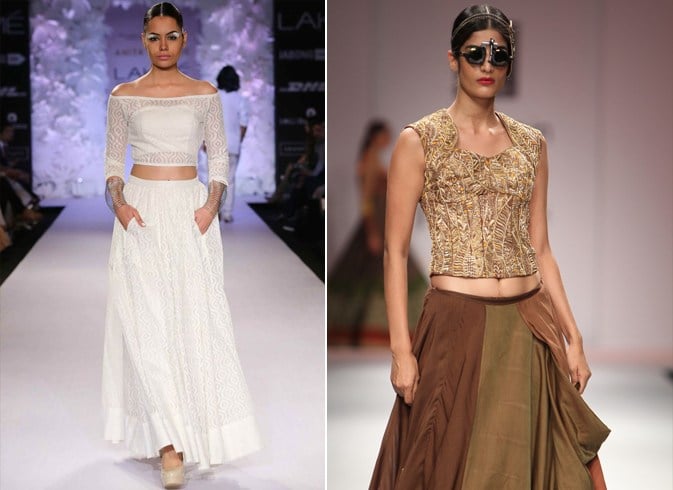 This fashion blogger takes sarees and skirts to an entirely new level with her fusion outfit. You can too use this idea and add a saree or dupatta pallu to enhance your fusion quotient.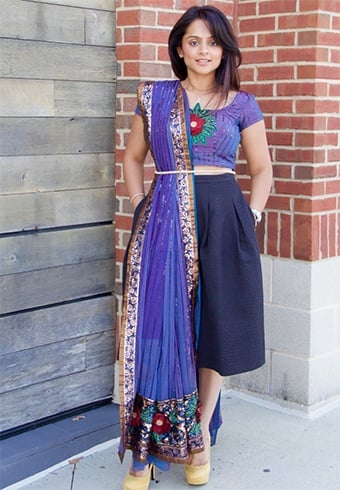 4. Pair Them With Your Lehenga
If you already have a beautiful lehenga but you don't know what to pair it with, you can use one of your blouses to go with your lehenga. You can choose to have a dupatta or you can go bare too, all depends on the kind of style you wish to have. This is actually one of the best ways to utilize the saree blouse. You can go with colour blocking or even contrast colours. The point is, you can rock your saree blouse with almost everything!
Take a look at some of the popular lehenga and saree blouse outfits: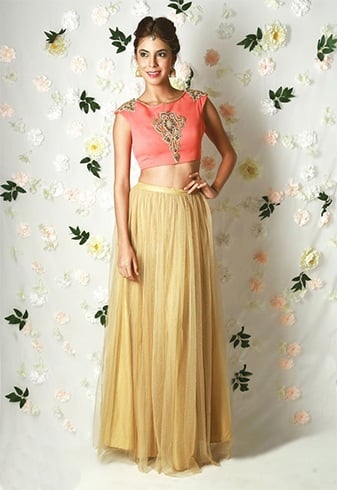 Neha Dhupia keeps it simple with a black plain blouse and a beige tulle skirt.
[sc:mediad]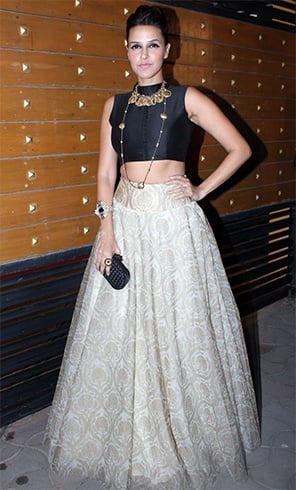 Looking for an inspiration for your floral lehenga? Take cues from this fashionistas who styled her floral lehenga (mind you, floral designs are another popular territory here) with a black simple saree blouse. She added a brocade gold pallu to bring some bling to her attire.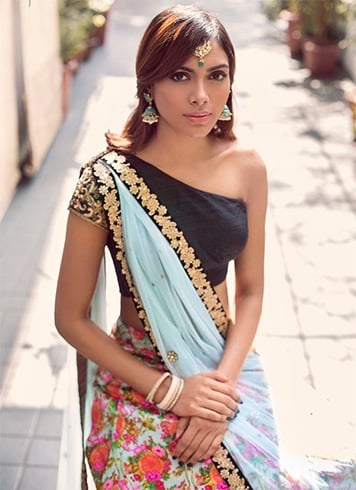 If you want to keep it simple, use your blouse and style it with a plain skirt like this fashion blogger: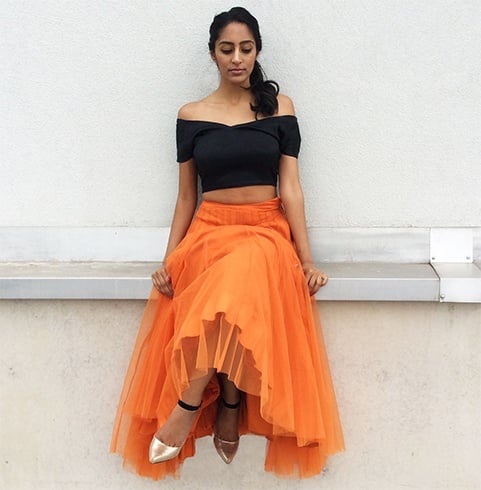 Since patchwork is a pretty popular trend too, you can use your plain blouses for patchwork lehenga. Take a look at this!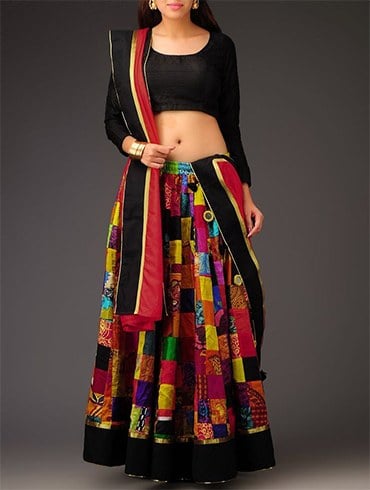 5. Give Your Blouses A Denim Dose
For those ladies who can't live without their denims, give this style a try and fashion out an outfit by pairing your favorite denims with a saree blouse. You can choose to go lowkey with a simple saree blouse or you can be a little bold with this look. The choice is yours!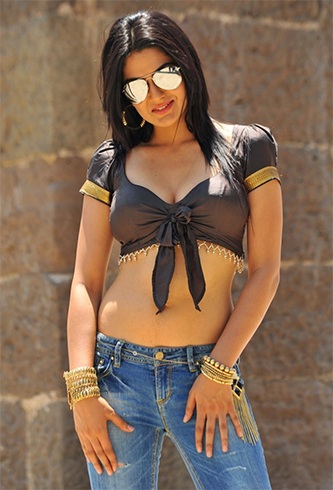 So, that's all from us. Now aren't you amazed by the sheer number of ways you can style your saree blouse?
Images Source: pinterest.com, blogspot.com
Recommended Articles
How to Wear Chanderi Cotton Blouses for Different Occasions
How To Wear Crop Tops As Blouses
Remember These Tips While Getting Your Blouse Stitched
The Art of Choosing Blouse Design
What Type of Blouse Suits Your Body Shape?
Bollywood Blouse Designs
Madhuri Dixit Blouse Designs
Where to Buy Designer Blouse in Delhi
Where to Buy Designer Blouse in Hyderabad