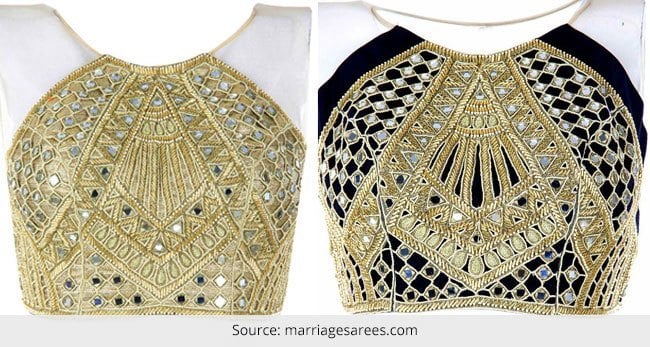 On popular demand, I am back with another review to help my readers find a fabulous boutique in the city of Hyderabad. I have already reviewed on Delhi's one of the most popular boutiques for designer blouse in Delhi.
Here is an edition on where to buy designer blouse in Hyderabad. Do have a read!
There is no denying of the fact that Hyderabad is one of the fastest growing metropolis and already a renowned cosmopolitan.
Like Delhi, Mumbai and Bangalore, women here are extremely fashion-oriented. You can easily find women and girls high on fashion with an elite taste. I don't think there is any designer flagship store left which is found elsewhere but not in Hyderabad.
With world's high end brands found here, it's quite obvious to find some of the best ethnic wear stores of the country. A luxury saree needs a superb blouse design.
You have bought a fabulous saree of latest design, but now what?
Where should I get my blouse stitched? – this is one of the most expected questions to ponder.
From your past experiences, you have now become more cautious than ever in choosing a tailor. Because when you had approached a nearby boutique on your friends' reference, they had completely ruined your 80-cm cloth and you had to make last-minute arrangement to maintain the grace of your saree.
[Also Read: How to Look Slim in Saree]
There is a genuine and trustworthy store Anagha Store, located at Road No. 1, Banjara Hills.
For those, who are looking for designer and fancy blouse designs, this is certainly their one-stop shop destination. I had visited this store last week and was amazed to see their latest collection of handloom, traditional and party-wear designs.
Apart from the stitching work, the boutique also deals with ready-made blouse pieces of various patterns and colors.
Apart from an array of neck designs, which are already displayed, you can customize your piece by explaining them your requirement and likeness. However, their ready-to-wear blouses reflect a perfect blend of mix-n-match creativity, aesthetic design and comfort. Their range covers from regular to designer wear.
[sc:mediad]
They can create almost any design, provided you have got the idea. And if not, they will help you get an appropriate design suiting your personality and event.
This is not a regular boutique, but there is a story to be inspired from behind its establishment. The store owner, who is now a successful entrepreneur in Hyderabad, narrates how it was never so easy to reach here.
Sarvamangala, the owner of this designer boutique, is a recipient of the Outstanding Woman Entrepreneur Award instituted by the AP Chamber of Commerce and Industry – FAPCCI.
When asked about her success story, her reaction was,
"Top challenge is to maintain consistent quality – which sometimes is tough given that I work with handloom weavers – but which has been the strength of Anagha – combined with innovative designs and fusing two different genres of weaving – and coming up with something absolutely new!"
Let's look at some designer blouses that she has contrasted with some sarees.
Designer blouses for silk sarees:
Designer blouses for Kalamkari sarees:
Designer blouses for Chanderi sarees:
Designer Kutch work blouses:
About Anagha Store:
Blouses range from Rs.700 to Rs.4000. Embroidery and sequencing will be charged extra
Address: 6-3-251/2/1/b, 1st Floor,
Lane between Post Office & GVK 1 Mall,
Road No. 1, Banjara Hills,
Hyderabad
Contact no: 040 66252911 & 64607711
Website: http://thestoryexchange.org/sarvamangala-anagha/
Hope you found this post useful!
Recommended Articles
How to Wear Chanderi Cotton Blouses for Different Occasions
Ways To Pair Your Saree Blouse With Different Outfits
How To Wear Crop Tops As Blouses
Remember These Tips While Getting Your Blouse Stitched
The Art of Choosing Blouse Design
What Type of Blouse Suits Your Body Shape?
Bollywood Blouse Designs
Madhuri Dixit Blouse Designs
Where to Buy Designer Blouse in Delhi