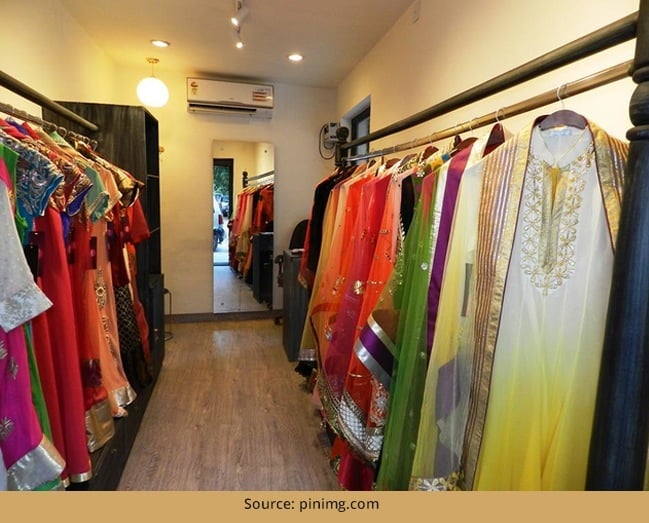 Will you argue if I claim Delhi to be the Mecca of Indian shopping? Apparently not, provided you're aware of the Indian fashion history and women clothing. Just as Mumbai is motherland of Bollywood, Delhi we can say is home to Indian fashion. Almost every vicinity of Delhi are beaming with shopping arcades right from high end malls, boutique shops, designer stores in Delhi including luxury boutiques to thrifty stores and not to mention great bargain haunts.
In this post, let's only focus on the top boutiques in Delhi.
If you've been looking for the same then you are at the right place. That's because the boutiques listed here offer some of the best wedding items available in the capital and also the perfect tailoring you will get anywhere else. While most of these top boutiques in Delhi are from the Hauz Khas area, others are from GK. Do have a look!
delhi designer boutiques
1. Shivan and Narresh
SHIVAN & NARRESH, 12
Hauz Khas Village
Delhi
If you are looking for high-end apparels with a designer tag then this is your one-stop solution. Right from beach wears to modest and classy items, you'll get everything here. Shivan and Naresh are among the country's mainstream fashion designers who are official swimwear partners with Ford. So, if you are looking specifically for stitch-free swimsuits then this can be your ultimate destination.
The reinvented saree for beach wear has been specially designed in such a way, that it also have provisional pockets for the sunscreen and a cellphone?
Kareena Kapoor was spotted in a Shivan and Narresh designer saree at an event.
2. Lola's World
Hauz Khas Village
Delhi
Named after her daughter, Chloe Le Bonnois, a French globetrotter's boutique shop is a fun to visit. It's loaded with an array of varieties from kids and teens to adults. Apart from apparels, the boutique also offers accessories and toys from international brands. So if you visit this store, you can also pick some gifts for your little ones. The main highlights of this Delhi boutique however includes delicate chiffon apparels, cotton kurtas, silk skirts, pashmina leggings, cardigans, and trousers to name a few.
3. Nappa Dori
Nappa Dori, 4
Hauz Khas Village
Delhi
Did you know India's first boutique was established by NIFT alumni? Yes, it's Ensemble in Delhi. The founders are also among the first fashion designers of the country. Now walking the footsteps of his seniors, a NIFT graduate Gautam Sinha has established this fabulous boutique by the name Nappa Dori which means 'leather and thread'. They offer items crafted out of hand-made fabric prints and vintage graphics.
4. Eve's Tailor
GK I M Block Market
Delhi
This is a popular name among the Delhiites, which is mostly famous for fabulous looking latest designer blouses in cutting edge styles. They even customize the blouse designs as per the customer's preference. All you need is to explain them your requirement and you'll get exactly what you had expected. This boutique in Delhi gets flooded with orders during wedding and festive seasons.
5 Purple Jungle
PURPLE JUNGLE, 16
Hauz Khas Village
Delhi
Here is another French couple who has also established a superb fashion boutique at Huaz Khas in Delhi. Apart from the apparels, the store also offers an array of items such as digital prints, cushions, bags, accessories, soft toys etc.
The rest of the boutiques in Delhi which are equally popular and offer all the latest trends include the following –
[sc:mediad]
6. White – The Store
31, Hauz Khas Village
Delhi
This boutique sells all the high end items by top designers including Rajesh Pratap Singh, Gaurav Gupta, Siddhartha Tytler and also beach wears by Shivan and Narresh.
From fashion accessories that includes funky earrings, bedazzled bracelets, charms, cocktail finger rings to designer LBD's cocktail dresses and gowns are seen in this exclusive designer store in Delhi.
7. Regalia
51-A, LGF, Uday Park,
Opposite Ansal Plaza
Delhi
It is among the top boutiques in Delhi that deals with an exclusive line of designer wears such as designer anarkalis, gowns, designer lehengas and sarees. Besides, the boutique also offers some of the luxurious bridal items including both Hindu and Christian wedding items.
Designer Clothing:
Bridal Collection:
8. Sarojini Market
Delhi
Well, this market is certainly the mecca of shopaholics, especially who can brave the scorching sun followed by dust and crowd. This is a perfect place for street shopping and right from thrifty items to high end international brands, you will get everything here.
9. Lajpath Nagar Market
Delhi
The same case is with this market arcade as well, which is loaded with all the right kind of boutiques you would love to explore.
So those were the following top boutiques in Delhi you can go on a shopping rampage!