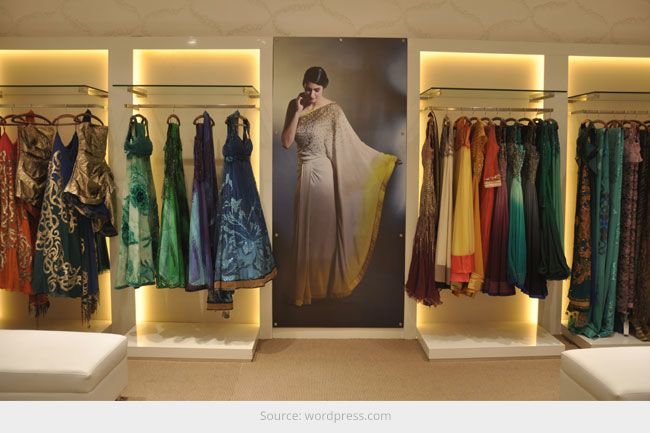 Here is another important addition to our list of top 10 boutiques across India. With the two most esteemed fashion institutes including NIFT and Global Institute of Fashion Technology and home to India's some of the most prominent fashion designers including Sabyasachi Mukherjee and Jaya Misra, Kolkata is certainly the melting pot of fashion in the eastern region of the country. Let's have a look at the top 11 boutiques in Kolkata and admire the Bong fashion!
Top 11 boutiques in Kolkata
1. Arushi Boutique
Address: (A Division of XPORT AGENCIES)
BC 78 Salt Lake City
Kolkata 70006
Contact: 091 33 23344871
A branch of Xport Agencies, this fabulous boutique is based in Salt Lake City and is specialized in customized kurtas, sarees, tops, blouses, scarves, handkerchiefs etc. The boutique is mostly popular among customers as they accept orders with personal requirements, whilst meeting up to their customers' expectations.
Apart from adding embroidered brocade to plain chiffon sarees, they also accept orders for customizing blouse designs – from jacket blouse to mirror work patterns, dupattas and Kurtis alike. Their wide range of customization extends to Kundan, batik, embroidery, fabric painting and mix media to name a few. Their elaborate patchworks have been widely appreciated both, locally and globally alike. Foreign tourists, who have visited this boutique once, have now become their frequent customers.
If you are looking for a boutique that can help with your personal preferences then this can be your ideal destination.
2. Agnitaas Boutique
Address: 42 A, Lake View Road
Sarat Bose Road (Near Deshopriya Park)
Ground Floor
Kolkata – 700029
Contact: +(91)-33-66039398
They say a tailor-made blouse makes a saree look perfect and all the more gorgeous. If you too are particular about your blouse stitching then Agnitaas can be your best bait.
Did you know there are a lot of brides-to-be, who fly down to Kolkata specially to buy their wedding lehenga? That being said, Kolkata has become a melting pot of high end bridal boutiques. The following boutiques listed in this blog post will surely convince you and motivate you to shop at any of these boutiques next time when you visit the City of Joy.
3. Vedam
Address: 33, Shakespeare Sarani,
Opposite Rani Birla Girls College,
Near Kala Mandir, Kolkata -700017
Contact No: 033 2280 0131/2
Whatsapp: 8017006200
Website: www.vedam.co
Vedam earns commendable attention with its unique, supreme and top-notch designs and concepts, keeping affordability at the forefront. The store exhibit original designer pieces and the store takes great pride in being noted as one of the best multi-designer stores in India.
Keeping a tag on the latest trends and leaps in the fashion terrain, they head the store with a passion to create garments that meet the refined and sophisticated palette for the fashionistas.
They bring joy to the shoppers, not just with their extravagant collections ranging from ethnic, formals, semi-formals and Indo western, but also with their impeccable client services. The store also specializes in Bridal Lehengas/sarees and sherwanis.
The next time you visit Kolkata, do shop at Vedam for an uber-luxurious fashion experience and surrender your loyalty to their immensely beautiful compilation.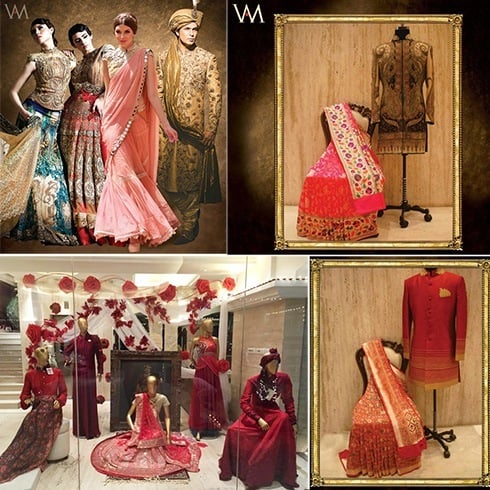 4. Charvi Boutique
Address: Carvi4 B, Near Ballygunge Phari Sitala Mandir
Beside Arambagh Chicken,
Bamunpara Lane,
Ballygunge, Kolkata – 700019
Contact: +(91)-(33)-22800869, 40019045
Founded in 2009 in the City of Joy, Charvi boutique deals with ethnic wear, especially hand-loom materials. If you have an interest in Dupion silk, tussar, Chanderi and cotton handloom (tant and mulmul) sarees, then this boutique is a must-visit. Apart from traditional jaw-dropping sarees, you will also find an array of other dresses including salwar kameez, Kurti, Patiala suits and not to mention bed covers and pillow covers with appliqué designs. This is a one-stop-shop solution for saree lovers.
5. Sasya Boutique
Address: Shakespeare Sarani Road, Kolkata
Contact no: 033 2289 2323
Located in the heart of Shakespeare Sarani, statement of understated luxury Sasya is sprawlingly spread across 10,000 sq ft across 5-floor levels.
Sasya is a multi-designer boutique offering you a high-end collection of bridal lehengas by the country's most prominent designers ranging from Tarun Tahiliani to Sagar Mehra. Not only the boutique is stockpiled with jaw-dropping, most spectacular bridal lehengas and bridal sarees, it also offers you a fabulous range of trousseau for bridegrooms as well. The boutique also offers you a wide collection by other notable designers including Harpreet Narula, Kapil & Monica and Anjali Arjun to name a few.
6. Simaya
Address: 10/4D, Elgin Road, Near Forum Mall, Kolkata – 700020
Contact no: 033 2289 2871
[sc:mediad]
Here is another amazing bridal boutique, the brainchild of designer duo Mayank Agarwal and Rachit, for you, if money is not an object. Even this boutique is a melting pot of bridal collection of different designers including Anjali Arjun, Harpreet Narula etc. The boutique has both bridal wear and also an exclusive prêt section, where you can find some of the best pieces available in the city.
7. 85 Landsdowne Road
Address: 85, Sarat Bose Rd, Dover Terrace, Kalighat Kolkata – 700029
Contact no: 033 4005 1585
Referred as Calcutta's star design destination by The Telegraph, this popup store is your ultimate destination, especially when you're trying to fix your fashion pitfalls. Last year a fire broke out in their original branch on Poila Baisakh that led to a shutdown and thus they have a new address on 21 Park Street that is sprawlingly spread across a 3,500sq ft area.
This high-end boutique offers exquisite creations by Manish Malhotra, Tarun Tahiliani, Sabyasachi Mukherjee, Kiran Uttam Ghosh, Shantanu Goenka, Dev R Nil, Nachiket Barve and Manish Gupta.
The interior of the boutique radiates an NYC-loft vibe and its industrial-themed beams are a far cry from the old Bengali architecture feel of the original 85 Lansdowne that was burned down, both designed by Ajay Arya.
8. Sejal Kanoi
Address: 2A, Sarat Bose Road – 700020
Contact no: +91 98309 19800
With a tagline, "We design lives not clothes, making each customer feel like a star", you won't find their creation anywhere else. So, if you are on a shopping extravaganza in the city then this boutique is a must-visit. Moreover, their collections are much affordable than the above-listed stores.
9. Sabyasachi Mukherjee
Address: Sabyasachi Couture
80/2, Topsia Road South
MarutiBagan – 700046
Contact no: (033) 40316000
Does this brand need an introduction! But yes, all I want to say is that when you're visiting Kolkata for your wedding shopping then it would be a crime not to visit this boutique. The designer who is now in the hot list of almost every Bollywood actress, it is a lifetime experience if you can pick his silhouette for your D day.
[Also Read: Blouse Designs For Silk Sarees]
10. Anushree Agarwal
Address: 3, Flat No 2/6, 2nd Floor, Wood Street – 700016
Contact no: 033-40629368
The above image is one of their clients, Sonam, a bride from Hyderabad, whose bridal trousseau says it all. The designer's taste matches with Sabyasachi Mukherjee and Tarun Tahiliani and can be one of the most prized possessions of your life.
11. Palki Boutique
Address: 118A, Asutosh Mukherjee Road,
Bhowanipur.
Kolkata-700 025
Contact no: 09830882858
Established in 1998 by Mrs Lata Harlalka, this boutique has now its stores in Jaipur, Jamshedpur, Cuttack and Tinsukia. This flagship store offers glamorous sarees for party wear and other fancy events and an extremely popular line of bridal wear lehengas along with an exquisite line of contemporary cuts. It's a must-visit store.
So, these were the top 11 boutiques in Kolkata which you can explore and find your best match.