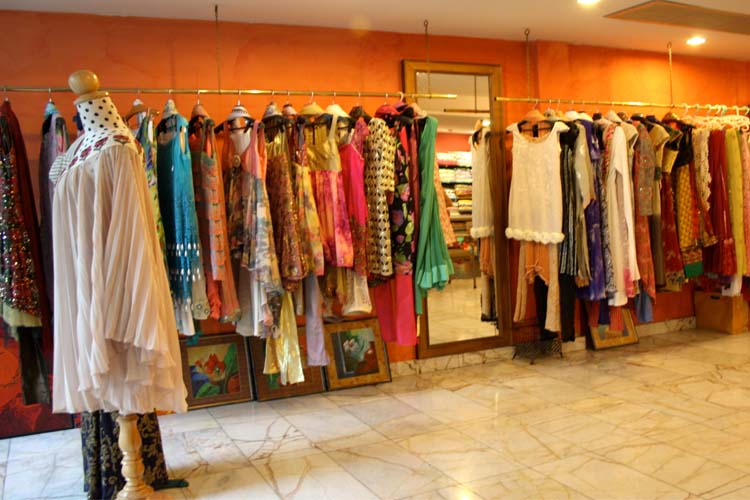 Bangalore is no way behind to any other metro city in India in terms of fashion. Better known as the Silicon Valley of India, this cosmopolitan is beaming with youthful energy and mind boggling enthusiastic vibes.
The Banglorians have a tremendous exposure to the international world. While every international pop icon prefers this city first over other cities for live performance, every high end fashion houses eyes upon this city to open a flagship store. Just like Delhi and Mumbai, people here take fashion quite seriously and this is the reason you'll find almost every high end store that is available in the Indian market.
Apart from these top notch labels, you will also find an array of boutiques at all ranges, from thrifty and kitsch to luxe and sophisticated. Even it's an ultimate destination for bargain hunters, who look around for quirky keepsakes and accessories that are funky and sophisticated alike.
I am sure just like me, there are million other girls out there, who fancy about wearing latest designer dresses and dream about having a wardrobe full of exquisite collections, no matter what the price tag says about the label. I have been receiving mails from my Bangalore fashionistas asking me to suggest places where they can have a delightful shopping and help them locate good designer boutiques in Bangalore.
The good news is there are actually couple of stores falling under various categories, suiting every buyer's taste and budget line.
Let us focus on the top 3 high end luxury boutiques in Bangalore. Here we go!
Saree Boutiques In Bangalore
1. Collage
Wood Street, Ashok Nagar
Contact: 25566818
This is a sprawling 4,500 square feet fashion outlet set in the heart of the city, offering country's top notch designer brands. The moment you step in you can feel that this boutique in Bangalore has an outlandish approach towards fashion. After admiring the lavish interior, you will be then allowed to experience the oodles of styles and jaw dropping silhouettes in a saviour-faire manner. The boutique, as the name suggests, displays a swarm of collection both from popular and offbeat brands ranging from chic, elegant, ethnic, feminine, new-fashioned and even a few funky pieces only to satisfy the fashion conscious astute clientele.
'Collage' offers you a sapid palette of assorted outfits, enabling its customers to pick a creation that best appeals to their fashion statement at ease. The collections are crated out of revival dying techniques, age old traditional craftsmanship and an amazing amalgamation of various fabrics thereby enabling the shoppers to experience a 'Wearable Art'.
2. The Collective
Vittal Mallaya Road
Contact: 67678888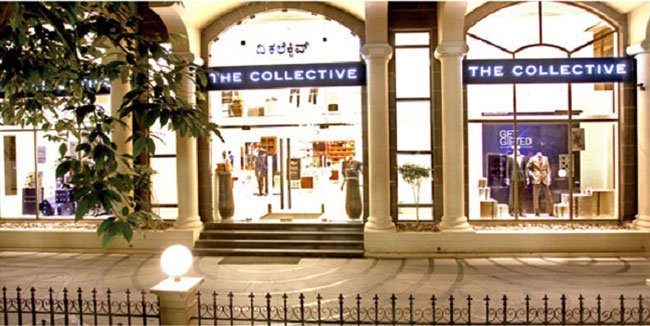 This is another high end fashion boutique in Bangalore targeting both the genders. Apart from a fabulous collection of outfits, they also deal with some splendid accessories as well. Referring themselves as a 'one stop shop solution' for every fashionista, they truly stick to their tagline as their exquisite collection covers all wardrobe essentials.
[sc:mediad]
Their women's section include collections from international brands such as Michael Kors, Alice and Olivia, Armani Jeans, Juicy Couture, Love Moschino, J Brand, Ringspun etc. While this boutique focuses on western fashion mostly, they also offer some fabulous ethnic wears and dresses with accessories that can adhere to lounge and red carpet fashion alike.
The fashion house has also forayed into men's world as well offering formal, casual, semi-formal, ethnic and denim to name a few from top notch brands including D&G, Armani Collezioni, Versace, Polo Ralph Lauren, Hugo Boss, Fred Perry, True Religion and Adriano Goldschmeid.
Their accessories section offer cuff links, belts, watches, shoes, heels, ties, sunglasses, leather items such as wallets, handbags, clutches and also fine jewelleries. As I have already mentioned that these three boutiques in Bangalore aim at opulent class, so their accessories are also from luxury labels such as Black Station, Puma, Momo Design, Church's Shoes, Molton Brown, while home accessories are from Culti and Fornasetti.
3. Kimaya
UB City
Contact: 41738920
The brainchild of Pradeep and Neha Hirani, this is one of the most luxury fashion specialty shops in India, spread across all major cities of India including Delhi, Mumbai, Chennai, Bangalore, Lucknow, Gurgaon, Ludhiana and Surat. Apart from India, it has overseas branches as well in Dubai and the recently opened store at Madison Square and 63rd Street of NYC. While Bollywood's top celebs are invited for the launch of the stores, including Sridevi and Dr Vijay Mallaya.
A pioneer in the Indian fashion industry, this opulent designer boutique in Bangalore offers uber-luxury collections from leading designers not only from India but overseas as well. This haute couture showcases creations by more than 150 fashion designers from India, Pakistan, Sri Lanka, Malaysia, Italy, France, Dubai, US, Brazil and even South Africa. And all of their collections are adhered to global fashion forecasts, thereby satisfying even the most fashionably rigid customers.
Even Ritu Beri showcases her latest collections at their stores, thereby raising their standards quite high as compared to other boutiques in Bangalore.
Their cutting edge fabric creations are coupled with exquisite jewelleries, bags and shoes, thereby offering an eclectic mix of styles attracting a clientele list of industrialists, Bollywood stars, models, entrepreneurs and all other crème de la crème of the circuit.
Some affordable fashion boutiques in Bangalore include the following. Continue reading!
4. Cinnamon
Off Lavelle Road 4, Walton Rd, Shanthala Nagar, Ashok Nagar
Contact: 080 2221 2426
This lifestyle affordable store can set the mood of any customer instantly. The boutique offers a beautiful blend of traditional and contemporary elements thereby satisfying almost every taste. The store deals with some leading names from Indian fashion domain such as Vivek Narang, Hidden Harmony, Jason Cheriyan, Sonam Dubal, Savio Jon, Rasa, Salt and Priyadarshini Rao to name a few.
This designer boutique in Bangalore has never ignored the rich Indian craftsmanship and offers sarees by weavers from Bihar, West Bengal, Odisha and Andhra Pradesh to keep up the dying traditions.
They just flow with all seasons and festivals, so you can easily one that fulfils you wardrobe requirement. Even beautiful jewelries both antique and modern are sold here to complement their apparel collection.
5. Tamanna World
Dispensary Road, Tasker Town, Shivaji Nagar
Contact: 080 42058239
This is a specialized bridal couture store, offering a wide range of bridal collections, including lehenga, designer sarees and even some beautiful pieces in anarkalis for bridesmaid collection. Around 50 young fashion designers' work pieces are showcased here for both bride and the groom.
Their exquisite collection involves Swarovski, Zardozi and other intricate embroideries, suitable for various marriage occasions such as Mehndi, Sangeet and the wedding and not to mention their cocktail collections, which are extremely stylish. On the other hand, the groom's collection includes Sherwanis, Bandhgalas, suits etc.
Let us know if you have a list of interesting boutiques in Bangalore that we must know.