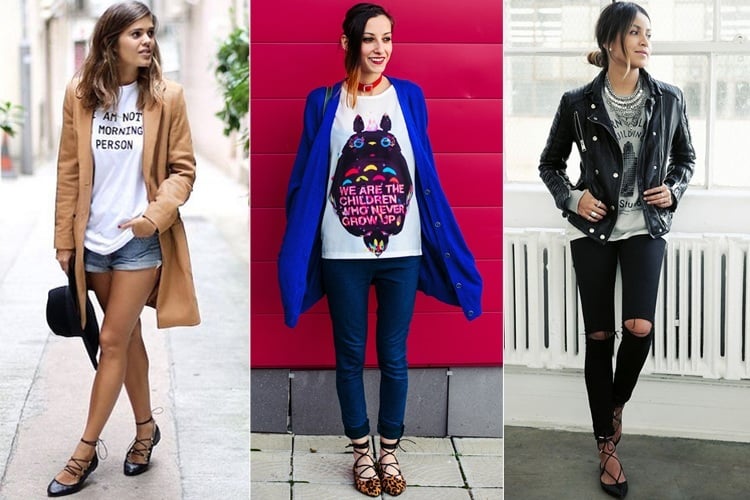 Lace-up Flats are the new cool! Fashionistas, bloggers and divas of the town are filling up their wardrobes with exuberance. Social media is full of pictures of women displaying what to wear with lace-up flats and making it look cool. Pretty, feminine and offbeat- it's your best bet to induce a statement amidst dying trends. These aren't as constricting as boots or open as strappy sandals. Plus, summer gives you the chance of experimenting with open shoes!
[Also Read: How To Wear Lace Up Flats]
How To Style Lace Up Flats
Discover plenty of ways to make this look interesting, dear fashion reader. Skip following the herd and give us the chance of "oohing" at you too! Draw inspiration from some superb outfit ideas to rock the trend! Here's how to style lace up flats.
With Shorts And Shirts
Want to keep it uncomplicated? Go for a classic summer pairing like a white shirt and blue jeans shorts. Keep your hair loose and messy or tie a chic high-ponytail to bring out the young vibrancy in you. It offers sheer comfort and flexibility of movement on an adventurous day out. A nice belt with a matching sling back would round up the look with added smartness.
All Black
Ever faced a problem in choosing work clothes that would go well for the office party afterwards? This look could be the answer from god's heaven. Wear a simple black dress with a bag and shades of the same colour. Dramatic lace-up flats outfits are just-so-sexy!
Coloured Lace-Up Flats
Coloured outfits with black lace up flats get boring for the free-spirited trendsetter in you. Get bright red lace-ups instead and pair it with simplest of jeans and shirt pairings. This redefines smart and makes you look just cool! Wear it to casual get-togethers or garden parties during the day.
Soft And Girly
We can't tell you how to style lace up flats without presenting the fantastical sweet-girly look. A feast for the eyes, it gives you that automatic sensual and glam appeal. As shown in this picture, the chunky gold bracelet adds the much-coveted zing and completes the look. Carry off the look for a walk-down-the-beach or all amazing dates that you are invited to.
Rolled-up Jeans
A simple difference can make drab look just fab! This look is the perfect example of how rolled-up jeans can enhance your look in a jiffy. Tuck in a loose shirt over it to complete the careless-rebel look. Wear this just about anywhere by choosing colour combinations to suit the occasion.
[sc:mediad]
Ripped Jeans And Blazer
A lady with an attitude of her own deserves to own this look! Wear trendy and loose ripped jeans with lace-up flats to look glorious. This can be paired up with a blazer if you want to look like a boss who stops at nothing. It's the go-to combination for semi-formal meets and lounge nights.
Casual Dress
Sexy mommies and curvy ladies can opt for this look because it will bring out their very best. The picture shows good example of such comfortable clothing with long rolled up sleeves. You can all pair it up with a great shade of gloss to add an appeal to whole casual get-up.
Edgy Leather
When things start to get boring and bland, leather comes to the rescue with effect. This look is casual without being exclusively so. The statement necklace makes the whole getup look dressy while the cut-out pants add mystery. Wear it whenever you feel like flaunting the sexy bad-girl look like a pro!
Complete Funk
Check out the complete personality-change look for fun times. Notice how the contrasting graphic tee and blue cardigan make for an excellent combination with the leopard print lace up flats. The pair is an excellent find for the boho-chic look.
Embellishments
The gold embellishment strapped on the ankle is striking and makes the accessory look complicated. It's attractive because it makes a statement and also makes the simple white jumpsuit look extremely style. Want to be the bombshell on the block? Go get this pair!
[Also Read: Lace up Sandals: Fashion Decoded]
Style tips for lace-up flats offer substantial inspiration to enhance your entire summer wardrobe. It matters that you choose a look that compliments your body and persona. Buy shoes that aren't constricting in size or you might squirm with discomfort. Your social media followers will be treated to a dream if you keep it simple and smart with your styling. Turning heads on the streets is something that will happen instantaneously if you believe in yourself! Keep the smile bright and create new trends of your own. We love to admire the outgoing woman that is you!