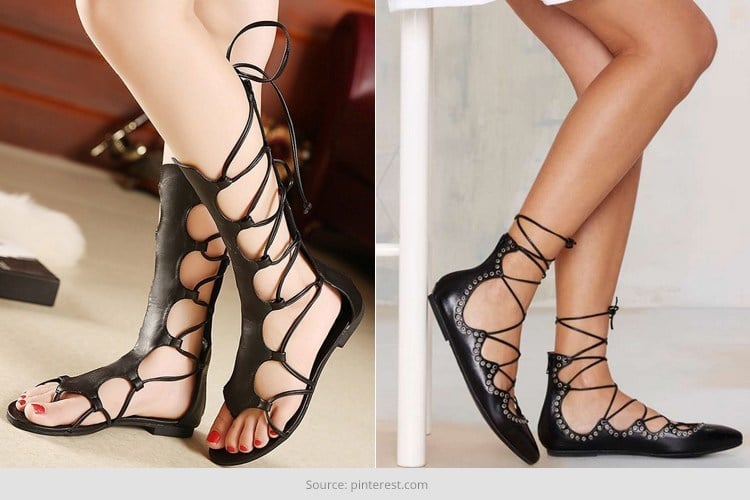 Ask any woman – chances are you would find her stating flats as 'boring' and for the old and totally unfashionable people. Well, we are all set the break the myth with lace-up flats, which are all over the place, this fashion season. Superseding slip-on sneakers and pool slides, these are the ultimate delicate and feminine footwear to adorn this summer. Thus, let's check out the fashion bloggers approved ways of how to wear lace up flats and rock this season!
Lace Flats To Spice Up Your Boring Outfit
Looking simple and laidback on one side, these ballet inspired lace flats definitely look polished, edgy and oh! So sexy! The feminine laces criss-crossing your ankle and even up to the knees look adoringly glamorous and easily blends with almost any outfit seamlessly.
Pair With Clothes That Show-Off The Lace-Up Flats
The most glamorous part of the lace flats are its laces criss-crossing your legs. Entire look gets killed and the focus eliminated from these sexy flats if they are paired with outfits covering the whole of your legs. Make them the focal point and 'the show stellar' by teaming them up with gorgeous summer dresses, cute shorts, and skirts and even cropped up pants. Cropped jeans, ripped jeans look so much more bohemian with this lace up ankle flats. You have endless possibilities to pair them with number of outfits without missing a beat. They look so dressy and chic that you can even pair them with a cocktail dress. Oodles of zing and edge can be added to you look with them even if you wear a simple and not too dressy outfits with it. Experiment liberally with your wardrobe pieces and revel in the magic getting created with your own ideas of how to wear lace up flats.
Play Around With Lace Heights
Depending on your outfit, play around with lace heights. For instance pairing mini-skirts or shorts with Knee length lace flats look real glam and sexy. For almost all other outfits ankle length or just a little over ankle criss-cross lace patterns looks ultra-chic.
Opt For Complicated Look
We have already established that the glam quotient of the lace flats is its criss-cross laces. Hence the more complex is the lace design; the sexier it would look on your legs. Hey! Don't panic! The complicated look need not equate to complex ways to wear lace up flats. You can always go for the flats with crisscrossing straps in front and zip-up closure at the back. This really makes getting in and out of them super easy. Tiny scallop like detailing or other delicate feminine detailing can ooze real sultry and sexy vibes from the lace flats. Shop around and go for details that best suit your legs. Endless possibilities are there up for grabs!
[Also Read: Lace up Sandals: Fashion Decoded]
Be Mindful Of Colors
If the complex designs of lace flats are making you feel little flustered and intimidated, you might prefer resorting to safe colors like black or brown which can easily blend with any outfit, regardless of its color. However, if you are feeling bold and brazen, the color choices are endless. Go for the one that matches your maximum outfits, thereby giving you plenty of opportunities to flaunt this trendy item before it actually becomes passé. In case you have short or heavy legs, opt for color which matches your skin tone. The result is a longer and slimmer leg silhouette with no contrast against your skin. Neons are terrific summer colors still in vogue while colors like red, orange etc are for those of you who are the bold and the beautiful confidence types.
[sc:mediad]
Opt For Slight Heels
For those of you who are die hard heel lovers, there is good news! Lace up flats does not necessarily mean the completely flat feel. A wide plethora of styles are available with just those little hidden heels which ultimately makes that big difference! They not only make your legs look leaner and longer but also mitigate the short leg look that oozes out due to the laces on the flats.
[Also Read: Yellow Footwear Trend]
Currently, the comfy and chic ballerina flats are making quite a few of fashion headlines. Oozing a girlish cute vibes, they are terrific daily wears as well as special occasion wears. Providing endless options, these are definitely fun to wear and offers various innovative ideas to glam up the overall-vibe.. Finally, lets us know your take on how to wear lace up flats. Has this become your favorite look or are you still loyal to sandals and sneakers. Do share your thoughts with us!