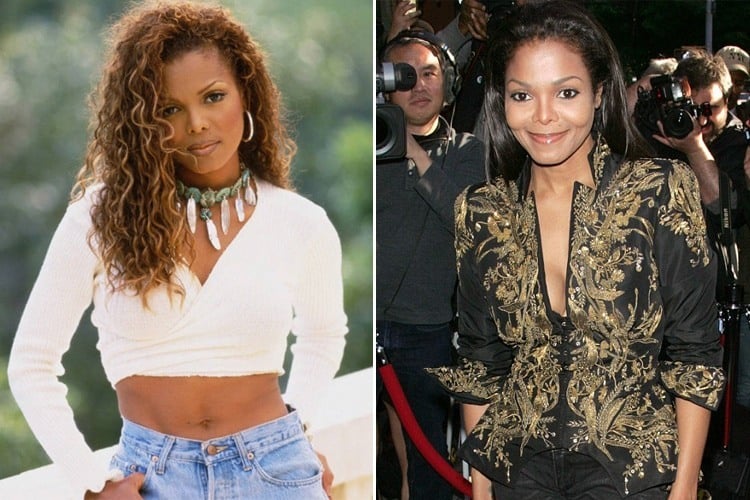 There is always a long list of female fashion icons from various walks of life, artists and musicians alike that stirred fashion statements back in the 90s. And saying more about the same would bring us to the Janet Jackson costume ideas by singer Janet Jackson, sister of the late and very famous Michael Jackson that showed us women how to be a part of the 'rebel nation'.
[Also Read: Bollywood Celebrity Fashion While Travelling]
Janet Jackson Fashion
Here are a couple of Janet Jackson costume ideas worn and flaunted by the quirky singer that set the ball rolling for girl power believers. We can and should emulate some of them for our clubbing and partying nights, flaunting Janet Jackson fashion, what say?
Let's Be Part Of The Rebel Nation
Janet Jackson showed us women how to be comfortable in our skin and how to up the ante with self-esteem and confidence too. Janet is one of the solo female singers and along with her band, she defined beauty and style of the happy glorious nineties. Quite nostalgic as it is, from her red lips to quirky ponytails, military fashion styles to ubiquitous braids and more, she defied norms and defined her sense of fashion.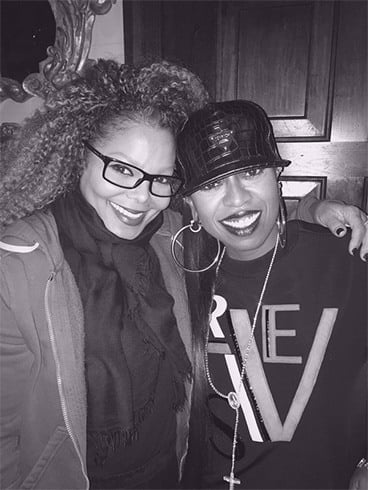 Janet Al Indianised
One of the videos that caught our fancy and any Indian woman would agree with this, is when Janet in one of her videos went all Indian and desi in accessorizing her look. From temple bangles for the hands to the chic hair accessories and the nose pendant and nathu too, an embellished choli in black and a dhoti pant to flaunt, Janet made us swoon to the video.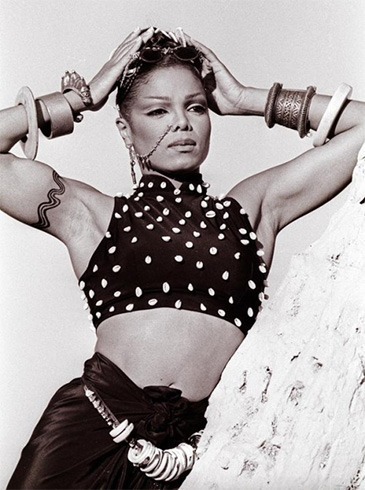 Love Your Leather Much?
While leather seems to be the ultimate fashion statement to wear for partying and clubbing moments, learning how to wear it with a look so sexy in crumpled tops as worn by Janet, should be the norm. simple, sexy and very gorgeous, the dark sultry diva once again rocked the fashion statement in the 90s!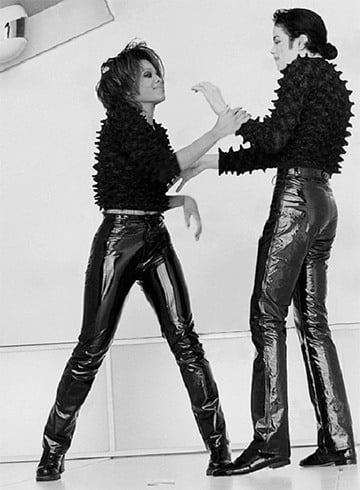 Signature White Head Bands
Wanting to know how to style your braids to get a cute feminine look? Here's a look from the diva herself that can make knees go weak when you wear it sassy and cute.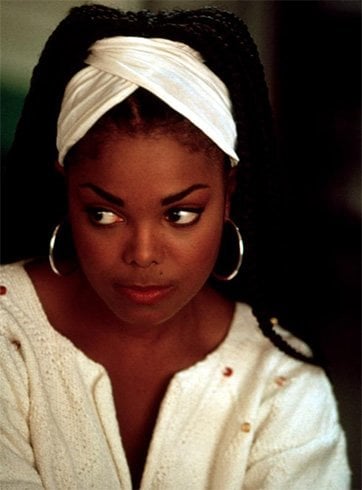 Leather Bras And Plaid Shirts
The ever daring Janet taught women how to flaunt their feminity with utmost elegance and style, even in street fashion or what is known as lady thug fashion. Leather bras and loose denims with plaid shirts wrapped around the waist; a total 90s street style we say!
[Also Read: Plaid Fashion & Ensembles That You Could Wear This Season]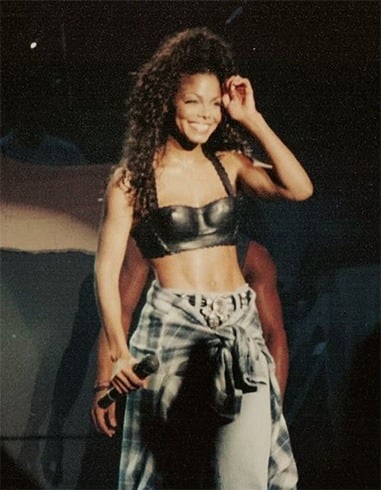 And That's The Way Love Goes
The video THAT'S THE WAY LOVE GOES, where for the first time we see singer J.Lo as a second fiddle to Janet's group, shows us PYTs how to wear long midi skirts with accessories in pearls for the waist. She also shows us how elegant you could look in a deep plunging V Neck top!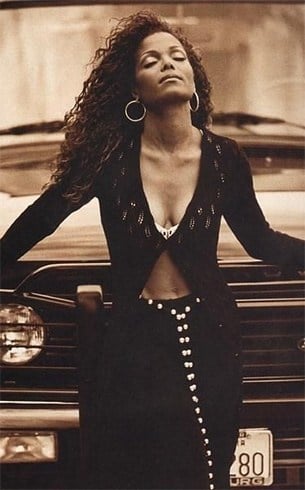 Ripped Denims And The White Tanks
Tank tops were the fashion statement must-have's of the 90s, and with the ripped jeans worn to complete the look, most PYTs swore by the fashion statements made by Janet on the same lines. Notice how the diva wore her curls; top curly ponytails were her signature statement.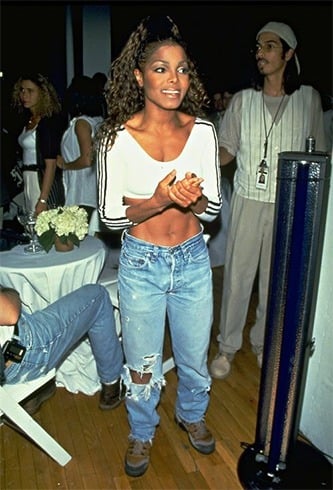 [sc:mediad]
Embrace Your Curves
Janet wasn't a size zero and she wasn't too athletic too, which is what made most men swoon over her sultry sensual body. Janet dressed to impress the world and her stance on flaunting thy curves came through in tight tops and figure hugging denims.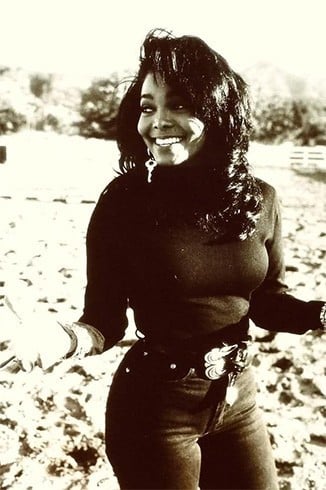 A Striped Blouse And Dress Pants
A quirky way to make an entrée at a red carpet saga, and who other to make a rebellious statement than the pretty Janet Jackson herself in a striped blouse and tailored dress pants.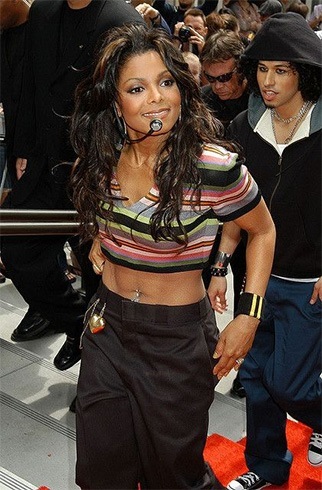 Cropped Formal Coats And a Black Bra
Once again a very rebellious statement, Janet in a cropped coat over a black bra and black ciggy pants spotted at an awards function made the paparazzi go crazy over her fashion sense!
[Also Read: How To Wear Crop Tops For Different Occasions]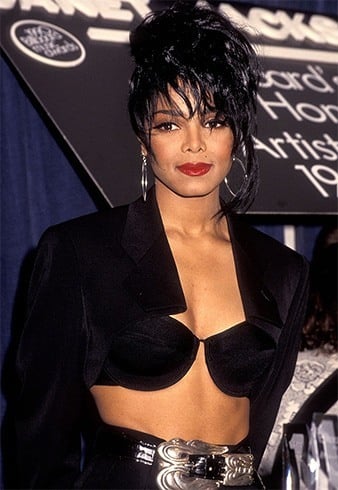 Chic And Formal In Military Wear
What comes to mind when we say 'military wear'? the buttoned olive green clothing right? But with Janet the rebel heart, it had to be sleek, shiny and with a formal touch and that is exactly what our diva sported at one of her shows!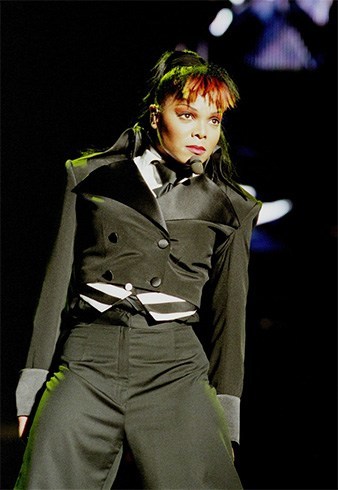 Loved the looks of Janet Jackson fashion? Why don't you emulate and dress up Janet Jackson for the weekend bash, and send us some fashion styles of your own too?
Images Source: pinterest.com