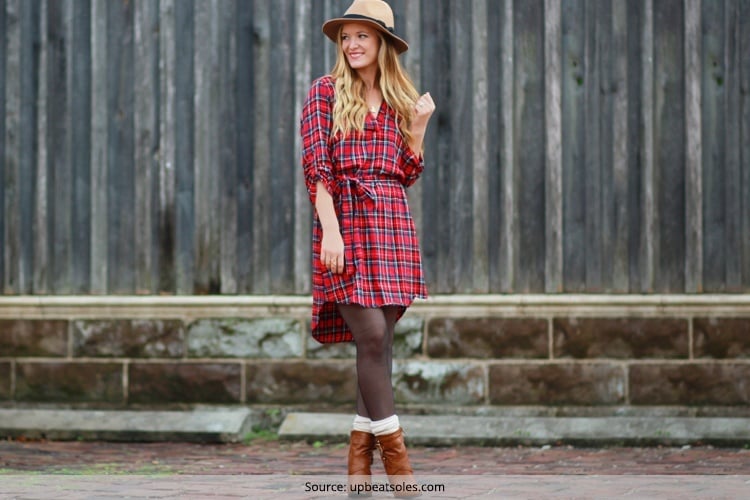 You know what's back on the ramps and across the fashion weeks of the world- plaid fashion! Grid, gingham, tartan, you name it and they are back on the ramps and showing us how to doll up for autumn and winter.
Let's now observe how to doll up in new ways wearing plaid, tartan and everything in between, and to bring in the bright and very colorful interpretations from the basics to the very elegant styles galore!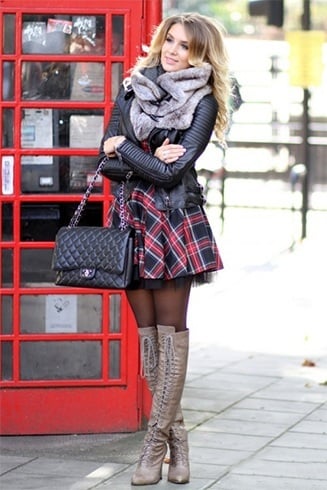 [Also Read: A Sneak Peak At Prague Fashion]
Plaid Fashion Trend
What we simply love and adore about the plaid fashion trend is that they have a very modern appeal, which can be worn for any occasion or event. What we have noticed is that the traditional checks and prints have moved on from the elegant tartan look to a very modern amalgamation.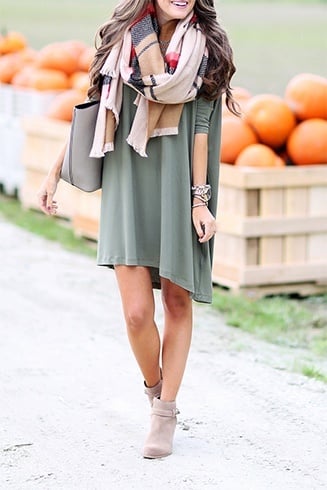 The look now on the ramps is more of a minimal appeal, very polished, chic, stylish and to say sophisticated as well. Designers have thought out of the box it seems, and have brought in very masculine touches to the feminine domain in fashion.
The tailoring of plaids across NYFW ramps showed us very mannish type plaid fashion this time, and the checks have been updated too.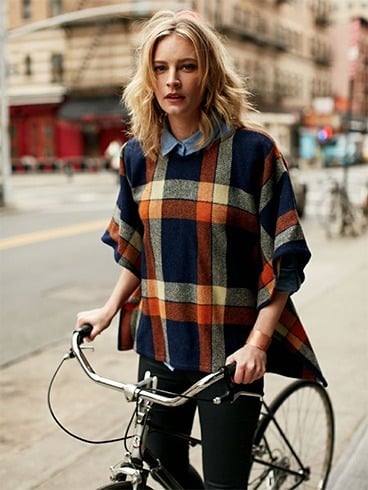 The outfits for fall-winter 2015 are a wide range for you to choose an doll up in, and in a variety to flaunt that too. Suits, skirts, dresses, shorts and more, plaid fashion has brightened up the wardrobes to beat the wintry blues and greys like never before.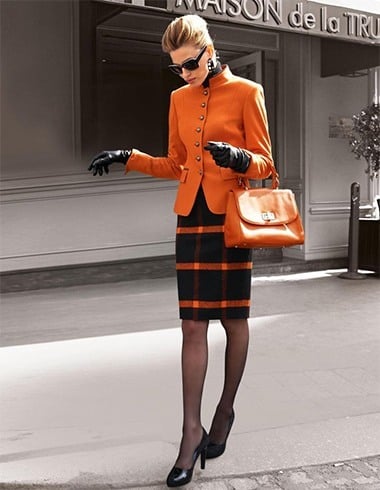 Another Form Of Tartan
Strictly saying, plaid fashion trends are in for 2015-16, and they are much on the same lines or maybe another word for the good old tartan. Hence, be very open to experimentation and interpretation, and you don't need to be Scottish to wear plaid in India.
[Also Read: Plaid Shirt With Leggings]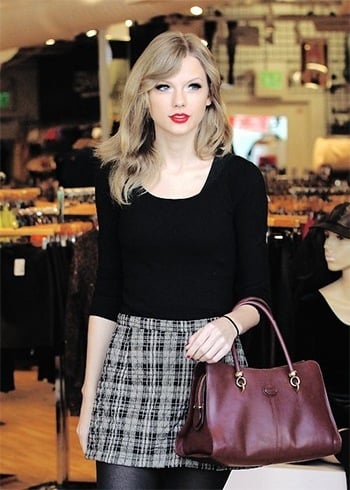 Wear them with flannel skirts, ripped denims, tie a shirt around the waist with plaid and wear them bold and large too, the textures and contrast would come about as eye-catching for sure.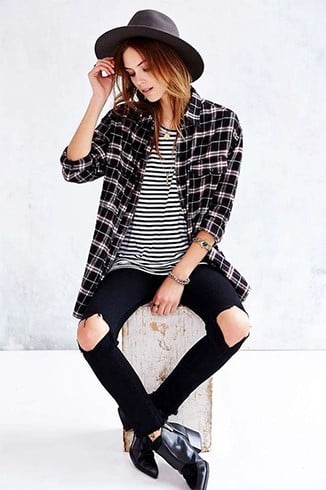 [Also Read: The Vietnam Fashion Looks For All Occasions, Seasons And Reasons]
A Few Ways To Wear Plaid And To Look Haute And Stylish Too
Let's now and without much ado learn how to doll up and indulge in a few ways to wear plaid.
1. Get Ready To Go Out With The Girls
Holiday and parties galore, you wouldn't want to be the run-of-the-mill lass, dolling up the same way as other PYTs would. Here's a style that would make you look haute and stylish, and also pretty chic too!
2. Plaid Scarves
Should you not want to wear plaid all over on you, what you could do is to wear denims with a long top, a chic bag in hand and a sensual plaid scarf to bring in some colour to your look!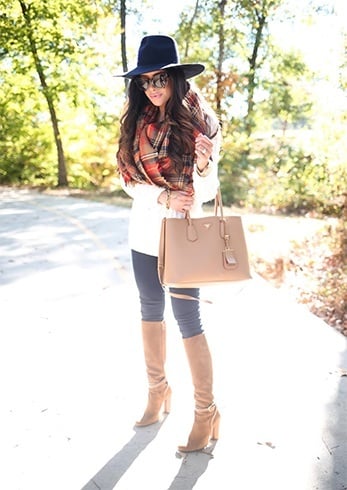 3. Printed Ties With Plaid Office Wear
A very formal yet stylish look, the plaid office suit in any colour would be a haute statement to wear at work. Your boss would be impressed and your clients would drool over the fashion saga created.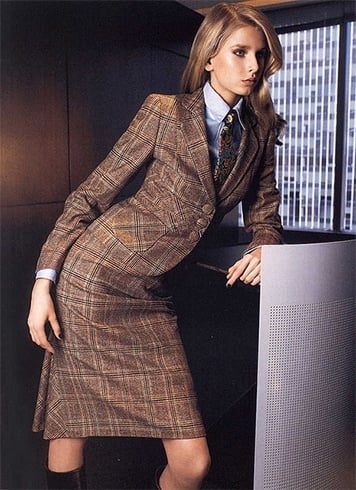 4. Ripped Leggings And Plaid
To look utmost casual on a bright winter morning when going out to pick groceries or your child from school, you don't have to be the boring mommy on the streets. Doll up and go out to make a statement, in a
plaid shirt and ripped leggings!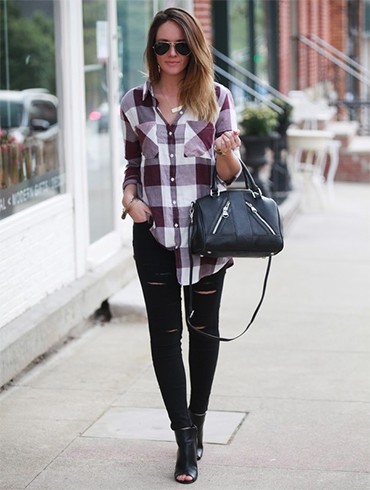 5. Plaid Skater Skirts And Leggings For The Evening
Cute, chic and very comfy for the plus size girl, a pair of black opaque leggings with a plaid skater skirt brings on the oomph innocence and sensual touch!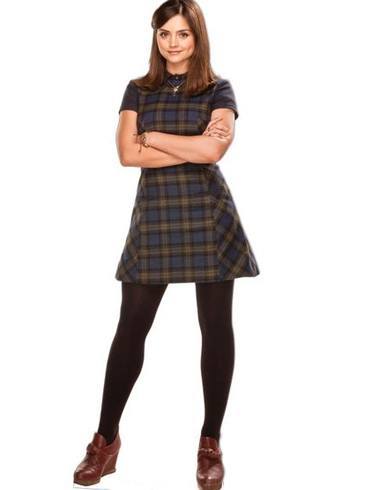 [sc:mediad]
6. Plaid Midi Skirts And a Knitted Cardigan To Keep Warm
Meeting MIL? Do you want to wear something western that wouldn't raise her eyebrows when the coffee meet happens, think of plaid this time.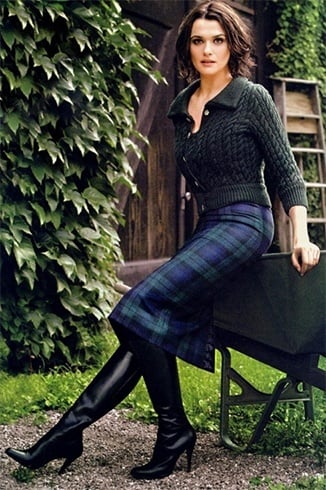 7. Beat The Winter Cold Days In Plaid
Long plaid jackets that fall to the knees and flow through the front part of the body, can be paired with leather pants or skinnies and a halter top inside.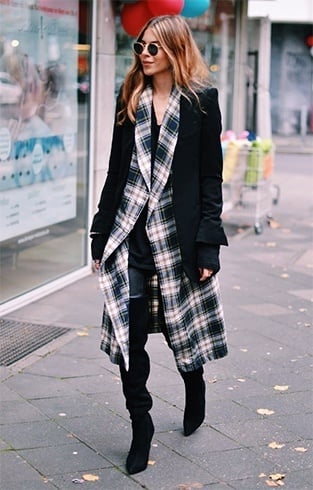 8. Tunic Tops And Plaid Scarves
Tunic tops in bold colours are a rage this season, and when coupled with a nude shaded leather jacket, you not only stay warm, but stay stylish all throughout. Enhance the look with a plaid scarf- large and bulky!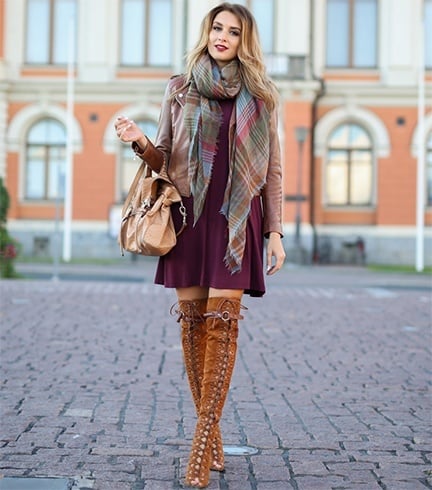 9. Plaid Frocks
Pick them bright and vibrant and pair the plaid skirts with boots or heels- you don't have to try anything else to make a fashion statement!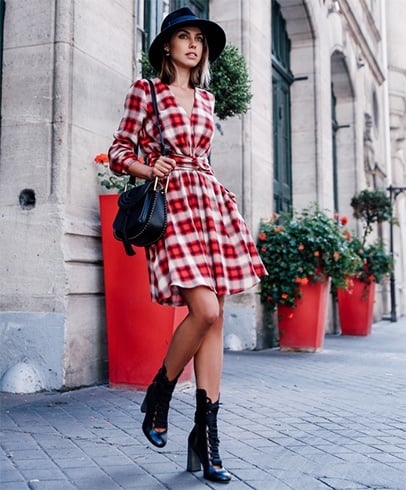 10. Plaid Peplums
Grand and very sensual, the humble peplum skirt can be dolled up in plaids too- take a look!
[Also Read: Coming Back With A Bang Of Peplum Style Dresses]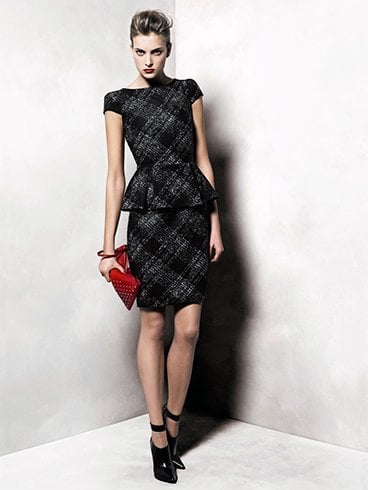 Plaid is versatile and can be worn outside as well as at home, at work or at play, and with oversized coats as seen on many ramps at fashion weeks across the globe, how to wear plaid shirts was shown at its best.
Image: Source: pinterest.com