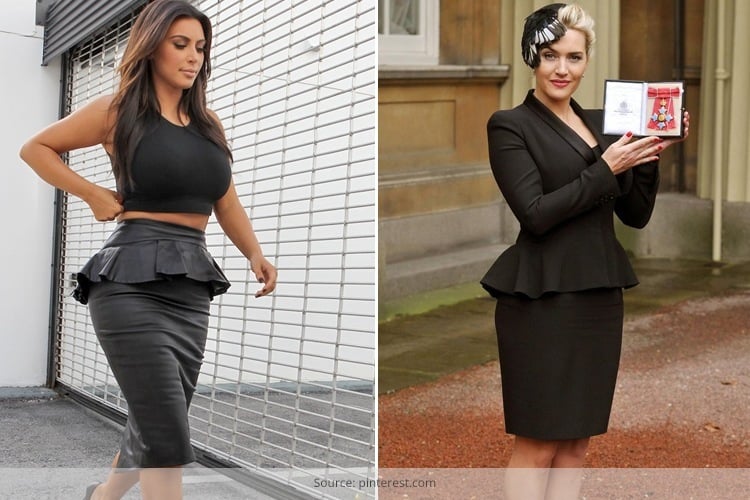 Of late, the rage of Peplum Style Dresses has been noticed on fashion weeks across the globe, since the beginning of the new-era. We thought the style was buried way back in the 1990s, but the ever-classic circle of fashion as we know of, has rejuvenated the style.
What should I wear for the Christmas parties this time?
Peplum Style Dresses if you can think of sporting one, because fashion has evolved and so has the style with these precious little ones too! Let's just say, peplums speak of posh lifestyles, elegance, grandeur and grace, and all put together, they are trendy as well. No boundaries to adhere to, no body shapes that cannot wear them as well, and you wouldn't want to roll your eyes; the peplum rage is on and a big one that too.
[Also Read: Sequin Dresses]
Mix And Match
Mix them and flaunt the matching styles, wear them with pumps, team them with ripped denims, flowy skirts and more, we leave the iconing of peplums to your imaginative best.
The Coming Back Saga
Peplum Style Dresses have been around for long, and they refuse to leave the fashion scene no matter what. Back in 2013, the spring-summer collections on the ramps across the world had a lot of peplum touches to almost every silhouette shown, and the impulse is back again with a bang.
Back in the 1800s
Peplum dress body type and dresses for all age groups was the norm, and it showed itself back in the early 1940s too, thanks to designers such as Christian Dior.
[Also Read: Chic Looks From Sex and The City]
In this day and age, a celebrity such as Kim Kardashian is known for her love for clothes for different body shapes, and she shows us how to wear peplums with aplomb as well. Now this is a lesson to learn for good, especially for women in India who have very curvy bodies and the plus-sized figures to flaunt.
[Also Read: Kim Kardashian For Hour Glass Women]
Seek inspiration
One look at the creations from Alexander McQueen, Balenciaga and even the famous Dries Van Noten, and their creations tell us how to wear the peplum dress or what to wear it with. Street style to an elegant cocktail look to adhere to, peplums are making a comeback in every closet.
[sc:mediad]
How to Wear a Peplum
You could use your imagination and have huge folded circles sitting pretty at the hips and the waist, or wear peplums with minimal designs for a glamorous cocktail event too. Wear them in prints, navy or more, and the elegance wouldn't be understated, but would bring about a very classy vibe to the designs flaunted, so edgy and avante garde we tell you! Kate Winslet wore them too!
Don't understate its elegance
Never ever understate the elegance of peplum style dresses and tops, because a ladylike ensemble such as these would come by few and far between. There are various shades, colors, styles and designs to choose from, which makes every body shape, size and figure flatter and flutter at their best; win-win for all!
[Also Read: Fashion at The Races]
Can peplum tops match peplum bottoms?
Why not? However, tops with peplum dress body type you have should be easier to pull if you learn to mix and match prints and monochromatic tones. From maxi dresses to minis, A-Line silhouettes to super statement cut-offs and more, clothes for different body shapes on the lines of peplums are in and haute!
Worry no more and start experimenting from today; you still have time for all those Christmas parties and events to attend. Speak to a fashionista friend and ask her to guide you on choosing peplum bottoms and tops, or on how to wear peplums too. The world is waiting for the diva in you to make her grand entrée!