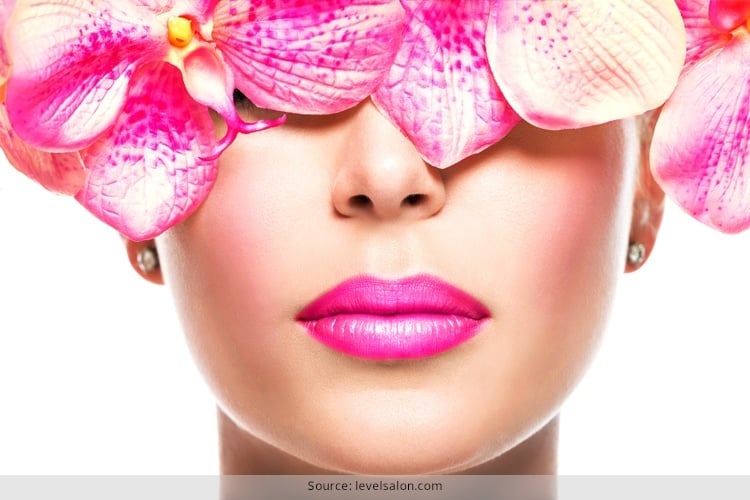 Various shades of red, maroons and shimmery glossy lipsticks in other hues be so last century and passé, think on the lines of all things pink for the lips this Durga Puja and Dussehra. While the Mother Goddess across the east of India and in many parts of the nation is being revered and adored, allow the Goddess touch in you to spring forth and with utmost style that too, go with Pink lipstick makeup on those lovely lips!
Let's see which Pink Lipstick from our list below catches your attention
1. Maybelline Color Sensational Lipstick Pink Petal
[Also Read: Durga Puja Fall Outfit Ideas]
Sensational for sure, the pink lipstick makeup would look hottest at the parties when worn with minimal embellishments and a chic ethnic number. Worry no more about what MIL has to say, because the sensual neutral to Pink lipstick makeup ideas using a shaded Maybelline number would steal her heart for sure.
2. Chanel Coquette Rouge Allure Lipstick
There is always something very sexy with all things Rouge, and the Allure collection from Chanel proves just that this time. The casing is glossy black which talks of luxe touches, and embellished with vitamins, the lip shade keeps the skin hydrated for a long time too.
[Also Read: Pink Lipstick For Dusky Skin]
3. Bobbi Brown Tawny Pink
True pink at its best, and can suit Indian skin tones too, BB Tawny Pink is what you would need to match that lehenga or saree with for the evening parties. Doll up with a little translucent powder on the lips for the pouty Marilyn effect.
4. Lakme Royal Rouge
A luxurious touch with high-quality colour for sure, wearing the Lakme number for the event tonight would be an epic fashionista tale to speak about for a long time to come. Pretty and casual, but with a very elegant note, Lakme has Royal rouge touches for your lips to flaunt. Learn how to how to apply pink lipstick first and then experiment with the looks!
5. Rimmel Heartbreaker
Long lasting and very sexy, the Rimmel heartbreaker is a shade for girls who like it long and strong on their lips- with their lip shades we mean. Sassy and very rich in colour and texture, the Rimmel heartbreaker is a must-have for every special occasion to wear!
[Also Read: Pink: A Girl's Best Friend]
6. Inglot 419
With plenty of vitamin E and macadamia oil in it, Inglot 419 doesn't dry the lips and make the flaky appearance come through. One could pick up a range of pink lip shades from Inglot, depending on the choice you prefer to flaunt!
7. MAC Pink Pigeon
Love it matte, bright and always pink, you then need the sexy Mac pink pigeon lip shade to doll up those lovely lips with. Wear the look with the best ethnic shade you decide upon and even for the night cracker parties, your lips would go boom-boom!
[sc:mediad]
8. Chambor Rouge Plump+ 748
Two words to describe the Chambor rouge plump+ 748 collection – BUTTERY and PLUMP. It is a simple equation here, if you want those lips pouty, hot and pink, your haute effect comes through with Chambor rouge plump+ 748.
9. Revlon Super Lustrous Berry Rich
Soft, feminine and very sexy, the Revlon super lustrous berry rich lip shade is all about shine, sheer and lustre, a perfect combo for the PYT who loves her lips to do the talking.
10. Coloressence Pristine Pink
For girls who have a very fair to wheatish complexion and living in India, celebrating Diwali and Dussehra with Coloressence Pristine pink to doll up their lips would be the best option to think off. Quite a feminine appeal this shade is!
We hope you loved the 10 shades of pink lipsticks which we found from various companies and brands of repute, to wear and flaunt at this festive season. Do let us know your style and choices too. Hope we have helped you with when to wear pink lipstick!