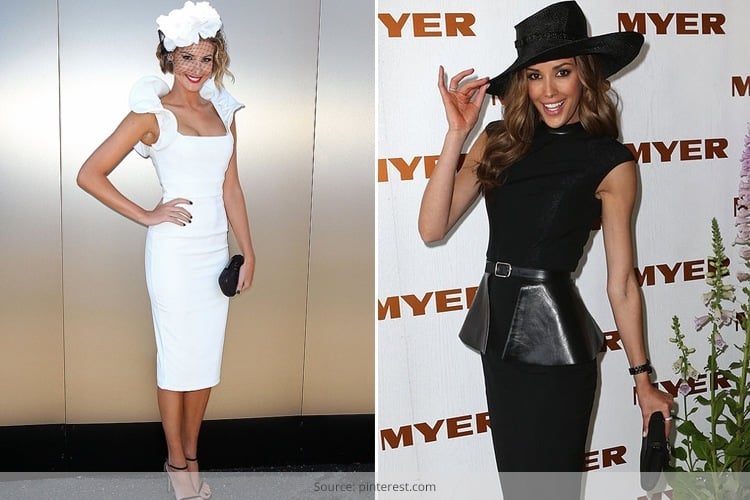 Horses, gambling and big hats are what define the Derby races. If you are set to go to the uber stylish races this season, make sure you show your royal fashionable side, complete with millinery, elaborate hats, eye-catching fascinators, headpieces, designer dresses et al.  Derby signifies high taste, fashion statements and tons of creativity to showcase your fashion on the field. In simple ways you can transform yourself into a Derby diva, read on how!
Pretty In Pastels
Embrace the most appealing pastel hue in your closet and wear it with a silhouette that excites you. From a minty green board shorts suit to a sexy CEO lilac dress to sporty bombers, the sky's the limit on how pastel happy you want to be this derby season.
Headgears
Hats are a must at any race, and why not, it's not every day that one gets to wear these ultra stylish pieces. Today women are experimenting with colour blocked hats, along with monochromatic ones. Get inspired from the vintage oversized hats with a covering or veil, however try to own more hats that suit the outfit to give out an understated and classy look. The big brimmed hats are more fun and risqué, especially if you happen to have beads, feathers, silk flowers, decorative scarves or quirky additions as small crystal horses, bells, snakeskin or stuffed birds in them.
[Also Read: Headgears you Must Own]
Cropped Jackets
Make sure you wear a non-moto jacket to your layering arsenal. Boxy, cropped silhouette come in a plethora of prints and textures to pair easily with a fit and flare or bodycon dresses, tailored trousers, office-ready skirts, and your staple go-to jeans.
Wide-Leg Trousers
Easy to wear and ultra-chic, billowy wide-leg trousers are huge on the spring runways across the globe.
Tea-Length Skirts
And they are back! The midi skirt may be the ultimate transition piece, the tea-length between midi and maxi is the statement piece this race wear. The ladylike hemline can be just as contemporary as a mini; pair it with a cropped top to offset the length and make you look tall. Wear these in light fabrics which are well tailored, nothing too voluminous though.
[Also Read: How to Style Midi Skirts]
Dainty Dresses
Vintage inspired over-the- top loud dresses in classic shapes and sizes can be worn for fun, but the new age divas prefer stylish numbers in knee length or short flowy pieces. Peplum or sleeveless sundresses, LWD's and printed patterns, maxis are a huge rage on the racing circuit!
[sc:mediad]
Tuxedo-Meets-Athletic-Striped Trousers
Embrace the athletic stripe which doubles up and smartens with tuxedo detailing on the sporty-meets-sophisticated tailored trousers. Just style it well and you are good to go! Or you can just match your man in your tuxedo inspired dress.
The Shift Blouse
Again a rage on the runway, more or less a dressy version of a T-shirt, the shift blouse is easy & urbane! A typically understated look if you want to go cool and casual on your look. Pair it up with a pencil skirt or culottes and just like that you will become fashion's favourite.
Collarless Coats
A strong layering piece: the long, streamlined coat, minus the collar or lapel. Team it up with a lace dress and you will be on your way to being the cynosure of all eyes! You could always go safe with a neutral or solid color, however take a risk with fun prints or embellished bottoms. Embrace hues like fruity colours like orange, mint green, peachy pink, canary yellow and pistachio green.
Amp Up The Accessories
If you want to get inspired by the ancient over-sized sunglasses and lace gloves and sun umbrellas, go ahead and do it. And the modern world would be seen killing it in wayfarers and aviators. Today's go-to accessories include gloves, lace or biker-leather, statement necklaces, and bold colour bags and clutches to compliment the outfit. Pick fun wedge or platforms/stilettos heels, do consider the long yet fun day in the sun, let the heels not slow you down. Beyond the obvious, the dainty ballet slippers, strappy sandals or killer heels are also making a mark.
Happy Dressing & Happy Racing! Share your experience with us! We'll be glad to hear.