Are you a makeup junkie? If you are one, you probably already know the degree of importance a makeup palette holds. Well, even if you aren't, here you go.
Makeup palettes are wonderful little boxes full of colour that can create an entirely different look with a few brush strokes. Whether it's the eyes that need definition, or the cheeks that need some strobing, different makeup palettes can help you achieve the look you are aiming for.
For the Indian dusky skin, it is difficult to choose the best makeup palettes mainly because all the colours in the palette may not really suit your skin tone. This goes for all skin tones, as every skin tones have different shades that go well. The key is to settle for those different makeup palettes which have colours to suit our Indian shade.
[Also Read: Basic Makeup Tutorial]
There are different types of makeup palettes available in India, starting from Avon to Naked to Urban Decay and most of them are available in makeup stores as well as online. For more specialized makeup palettes, you should check out M.A.C and Sephora. M.A.C has a gorgeous collection of colours and Sephora stores have a varied collection of the best brands.
Check out some of the best makeup palettes available in India
Makeup Palettes prices depend on the texture of the colour and also the different range it has. If it has a few shades, it won't cost you a bomb!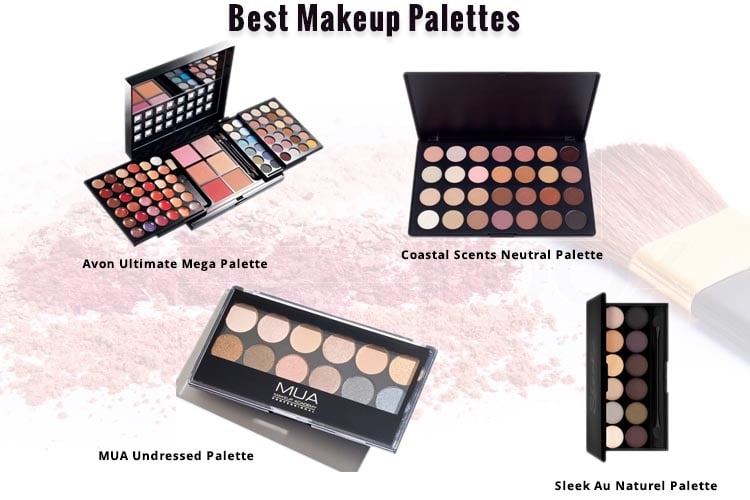 1. Avon Ultimate Mega Palette
Now this one is the palette you have been waiting for all your life – It is cheap, it is mega big and it is easy to apply too! One of the best makeup palettes available, this one is a real catch and has 36 eye shadows, 36 lip glosses, and six blushes. The pack also comes with a blush brush, double-ended eye applicator, a mirror and double-ended lip applicator. For someone who is going on a holiday or for a short stint, this is something you should definitely carry!
[Also Read: How to do Chola Makeup]
2. Coastal Scents Neutral Palette
This is a boon for Indian women all around the world. This one has some of the best nude and neutral shades that look great on the Indian skin tone. Most of the colours on this palette also mimic the ones in M.A.C and mostly has dark browns, burgundy and neutral browns. There are 28 colours on this palette and besides using them on your eyes; these can also be used as highlighters and bronzers. There are equal numbers of shimmery and matte shadows and has a good lasting power too.
[sc:mediad]
3. Sleek Au Naturel Palette
Cheaper, sleeker and much better for the girl on the go-It has 12 different shades in different browns and nudes and is housed in a thin rectangular box which makes it very easy to carry around. Unlike most of the palettes, this one comes with a beautiful double-ended applicator which makes the process of using the colours on the palette much easier, especially for the eyes. These stay on the face for at least 5-6 hours and that too without the use of any primer. Shimmers are there, but they are mostly very mild which makes this palette a favourite with many ladies.
[Also Read: Best Eye Shadow Palettes]
4. MUA undressed Palette
This is by far the winner of the best makeup palette in India. Loved and adored by all Indian artists, this one has colours which suit the Indian skin tone very perfectly. The application is very smooth and it glides easily too. Smoky eyes are a breeze with this one!
Now, you have all the ammo! Take your pick for the best makeup palette!