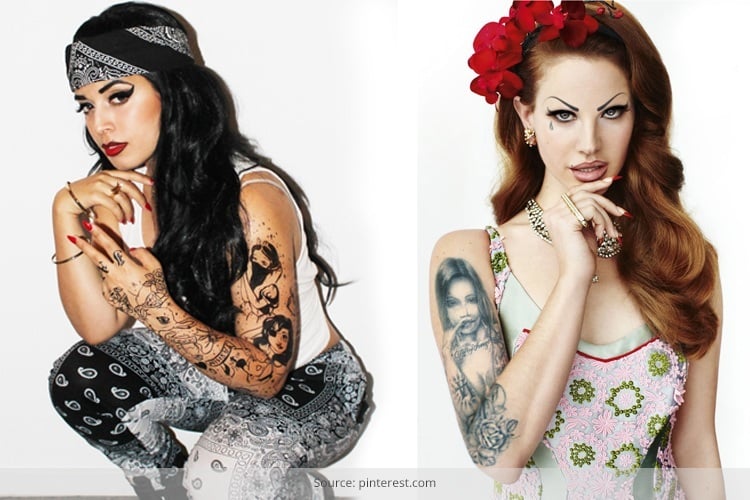 Makeup as we all know is how we express ourselves with products which enhance our eyes, lips and skin. One such way that many Latinas express themselves is by the use of chola makeup. What was once a Mexican American subculture, has now turned into a full-fledged makeup trend. Celebrities and many women of Latin American descent and even non-descents have tried this kind of beauty makeup. In fact, over time, chola makeup has transformed from this harsh form into a cute chola makeup. Wondering how to do chola makeup? Read on!
Chola Makeup History
According to Hellabreezy, an Oakland-based model, chola  "working-class, young Mexican American female from the barrios of the southwest with a very distinct aesthetic, style, and attitude." It came into existence in the 60s and 70 and slowly gained popularity.
Chola Makeup Tutorial – What Constitutes Chola Makeup
If you want to learn how to do chola makeup, you will have to get the basics right. Here is what a typical chola makeup will look like: Bangs, but your hair will be puffed up, extremely dark lip colour but combined with a lighter lipstick. Some of them will even wear cat-eye glasses, baggy jeans and oversized flannels buttoned up to the top. Gold chains with crucifixes or their names written are a must. Your nearest chola girl will probably look like this with the cute chola makeup:
Even celebrities haven't left this trend behind. Have a look at Lana Del Rey's Chola version:
[Also Read: Little Cleavage Makeup]
Now, that you know how a chola makeup trend will look like, let's start with the chola makeup tutorial:
Golden Rules
Chola makeup is all about the eyes and lips, so you have to have very good eyeliner and a light or even dark coloured shiny lipstick. Choose a lipstick which does not have matte effect. The essence of chola makeup is to have shiny and very puckered lips. Eyebrows of a chola girl are arched and very high, as well as pretty thin. If you don't want to mess with your eyebrows, you can easily create the illusion of shaved eyebrows. Here are some of the products you can use in this how to do chola makeup tutorial:
Eyebrows: Avon blackest black E/L, M.A.C Carbon
Your eyebrows should be on focus in this kind of makeup. Once you have covered the most of your eyebrows with foundation (to create a shaved look), start drawing a thin and arched eyebrow. Make sure you have a very surprised look. We can't help you here-that's the way a chola girl rolls!
Mascara: Maybelline Colossal
Now is the time to dress up your eyes right. Use generous amount of Mascara to really define your lashes
[sc:mediad]
Face: Artistik 88 pro palette Black, Airbrush foundation, concealer
Your foundation should be flawless and pale. Hide all blemishes with some good amount of foundation and concealer.
Cheeks: Revlon merlot at midnight
Use some blush on the apples of your cheeks to give that rosy and dewy effect. Some chola girls tend to have a lot of blush for an exaggerated look. You can choose to have it or not, it all depends on you!
[Also Read: Zendaya Makeup]
Lips: NYC plum lip liner, MAX Pink lip-gloss (These both have a plumping effect which is very essential in a chola makeup)
Plump up your lips girl!
Hair: If you are not comfortable with the idea of chopping off your hair to form bangs, then you can just let it be in loose curls. So as soon as you come out of your bath, shake your wet hair and let it dry on its own.
In the end, your chola makeup should look like this:
Here are some more chola makeup looks to get inspired from.
Chola Eye Makeup
Chola Clown Makeup
Chola Makeup For Halloween
Mexican Chola Makeup
Chola Makeup Tutorial
Old School Chola Makeup Styles
Get your brushes and let's start already!