Eyebrows are something which we can always work on. We may or may not have a decent eyebrow shape, but we can always make it better. That is what eye shadow palettes are for, right? So what is a good eye shadow palette? How do you determine the most popular eye shadow palettes? Well, don't fret because we have curated some really good information for the best eye shadow palettes. Read on to know more!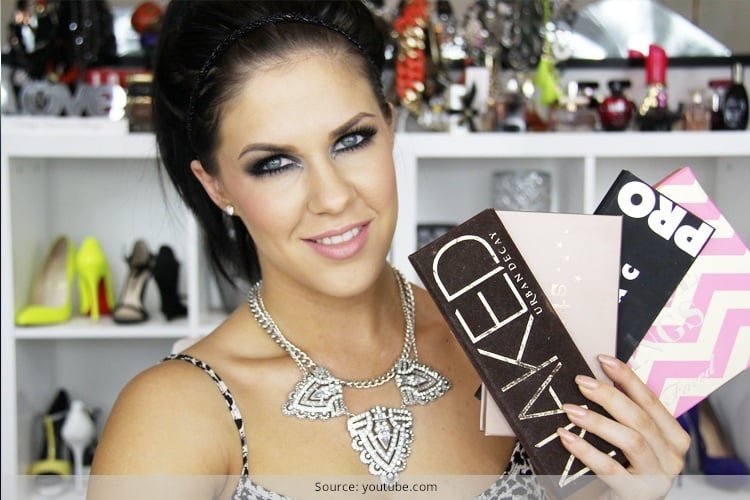 [Also Read: How to Choose the Right Eye Shadow]
Most fashionistas will agree that brow pencils are actually a waste of time. They do not really give you many options to experiment and at the end of the session, your eyebrows still look dull and unnatural. Sometimes they are too dark, sometimes too light and blotchy, the problems are endless.
Here are some eye shadow palettes that a beginner can start using. These colours are very simple and the gradients will help you choose your eyebrow shape and colour better. Most of these palettes will not come with a brush and it would be wise to invest in a good angled brush. This brush will help you create your look in a much easier and simpler way.
Best Eye Shadow Palettes:
Let's Make Your Work a Little Easier By Selecting The Most Popular Eye Shadow Palettes For You.
With a large eye shadow palette, you will have tons of options to choose from. And whether it is eye shadow palettes for brown eyes or for lighter eyes, you will always have your options open!
1. Urban Decay Naked Palette:
Price: $54
This one is called the queen of all palettes and is no doubt our choice too when it comes to best eye shadow palettes. It does come with an eye shadow brush, and you can choose to use this one or use an angled brush. The eye shadows are very pigmented and will not fall out from your eyes even if you don't use a primer. Here are the shades inside the Queen of Palettes: Virgin, Sin, Naked, Sidecar, and Buck, Half baked, Smog, Darkhorse, Toasted, Hustle, Creep, and Gunmetal.
2. E.L.F Studio Eyebrow Kit ($3):
Price: $3
Just $3-Yes, you read that right! Among all the best eye shadow palettes, this one is by far the cheapest but also the most effective one. You can find it in any Sephora store and it gives you amazing looking brows. What's another big advantage? It comes with its own angled brush! What more could you need?
[Also Read: How to Apply Eye Shadow for Beginners]
3. NARS Single Eye Shadow:
Price: $24
For NARS fans, this one is like a dream come true. It does not come in tons of colours like other eye shadow palettes, but this is undoubtedly one of the best in the market. These are smooth as butter and all the options are versatile. You do have them for specific skin tones and eyebrow colours, but you can mix and match very easily!
[sc:mediad]
4. Makeup Forever Eye Shadow:
Price: $ 21
Now this one cannot be beaten! With shades like Café Latte and Gray Beige, your brows cannot go wrong!
5. MAC Eye Shadow:
Price: $15
How can we forget MAC! This one has the best eye shadow colours in the range and you can choose one or the other to give your brows that extra enhancement.
We hope that next time you want to fill in your brows, you have the right kind of eye shadow palettes!