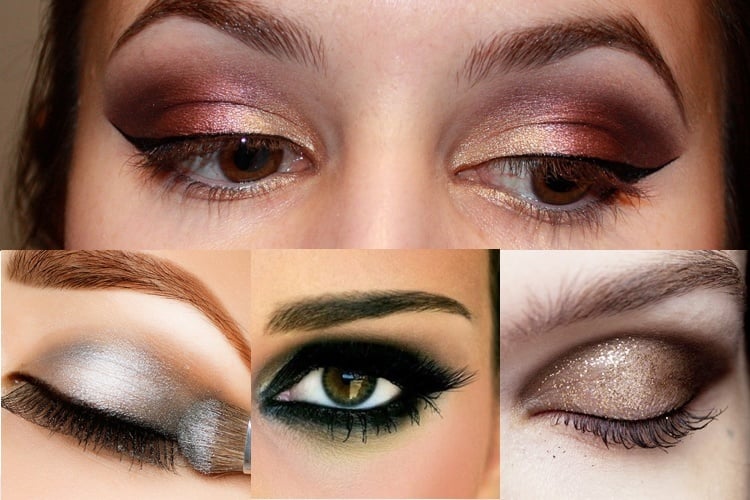 All set to attend a wedding function or a business get together? Wonderful, now make sure your eyes are ready to cast a spell. Eyes, how so? Through Eye shadow, sweetie.
Fundamentals of Applying Eyeshadow
When it comes to makeup, eyeshades are of great importance. After all, if you have a stunning dress, you need an equally elegant eye makeup too, not something dull or boring. Let us familiarise you with tips to apply eye shadow.
[Also Read: Best Eye Shadow Palettes]
Know your Eye Colour
Wondering how to find the best eye shadow shades for your eye colour? Always select your eyeshade colour that complements your natural eye colour. If you have light blue eyes then the colour of your eyeshade should be light blue, not dark blue. Avoid contrasting colours by all means.
Know your Skin Tone
IIt is important to know how to choose the right eye shadow. If you have dark skin tone, then wear eye colour of lighter shades. This will help improve your eye tone. Similarly women with light coloured skin should go for darker shades in eye shadow.
Relation between Eye shadow and Clothing
When it comes to makeup, there is no room for matching its shade with your dress colour. If you are wearing an aquamarine dress, then don't make the mistake of wearing a similar eye shadow in order to complement your dress. It might end up ruining your impression.
Applicator
To make your eye shadow stand out, it is important to use a good and clean applicator. Cheap eye shadow applicators will give a dirty and artificial look instead of natural ones. Moreover, they can mess up the look of the eyes high and dry.
Putting Shadowy Effect
Most women try to give a shadow effect with their eye shadow by using two shades of it. Try to stay away from using the same colours on the spot. The application should be clean, not messy. If you face a situation where you are bogged down with excess of eye shadow, don't make the mistake of wiping it off. Use a cotton swap to remove it.
[Also Read: Nude Lipstick]
Best Brushes for Eyeshadow
Choosing makeup brushes is a challenging task. Here we simplify it for your understanding.
Flat Stiff Brush
Talk of a must have eye shadow brush and MAC #239 is a great tribute. Its main use lies in applying eye shadow over the eyelid. By the way, you can also use the brush tip to apply eye shadow under the lower eyelashes.
Pencil Brush
This brush is good when it comes to applying colour under the eye. Since it has a fine tip, you can well apply the colour to the crease area. It is also good for applying shadow around the eye's outer part in order to darken and further intensify the colour.
Stiff Dome Brush
This is a larger brush used for feathering out the colour in order to create smokey eye. The beauty of it is that it blends in instead of packing on the colour.
Soft Dome Brush
Since it has softer bristles, the brush gives a delicate blended effect to the eye.
[sc:mediad]
Eyeshadow Shapes
Now that you have got a fair knowledge of the brushes, let us know more about the shapes of eye shadow.
Cat Eye
Get prepared for an almond eye effect. The cat eye can be achieved using anything between the two – eyeliner or eye shadow and is ideal for girls having rounder eyes. Using the eyeliner, you can take the lower lash line upward towards the outer part of the eye. Apply the darkest eye shadow to the outer corner in a large winged shape. Use the pencil brush to bring out the colour over the top half of the eye.
Smokey Eye
This is a popular look. To get this, just pat a dark colour on the entire of the lower eyelid by using a flat stiff brush. Then use a soft dome brush with a light colour and blend out the crease to soften up the look and appeal.
Eye shadow Colours
On an average, following are the colours that are used for purpose of eye shadow.
Light Shimmery Colour: This is used under the brow bone in the form of a highlight shade and in the inner tear duct.
Light Matte Finish Colour: Used under the brow bone to soften out harsh lines, if any.
Medium Colour: Used in the crease to blend out the harsh lines.
Dark Colour: Used on the lower lashline and sometimes under the lashline in order to create a smokey effect.
Start trying out these tips at home and get ready to make your eyes talk.
[Also Read: How to Apply White Makeup]