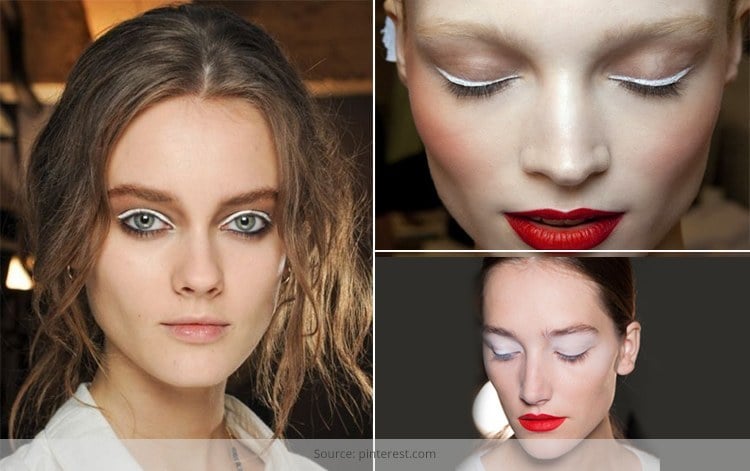 Bold looking colour cosmetics are always there to give you a feeling of the latest fashion and trend worthy. There might be pots and pots of hot pinks and blunt reds in powder and foundation. But if you are a girl of the experimental breed, then White is here for you babe.
Here's How to Apply White Makeup
[Also Read: How to Wear Bold Colours – Fashion Tips]
White is the hottest colour trend of the year in makeup despite lack of colour in it. White face makeup is not only simple, it is cool and versatile as well. A lot of international makeup brands such as YSL and MAC have already brought in their white products to help you get that cool look effortlessly.
The cool looking neutral white has loads of benefits. There are White eyeliners that can be applied on the waterline so that your eyes look bigger. White is also used as a primer in order to allow your eyeshadow to last longer.
White can also act a good replacement for your concealer in order to get you that flawless complexion. Taking it one step ahead, white on nails looks super stylish and chilled. So young ladies, white face makeup is here to stay.
White Eyeliner
As a fashion statement, this look was quite famous in the '90s. Good news is that this cool trend is back. To amp it up, you need to combine white eyeliner with a pink or orange lipstick to get that trendy makeup feel.
Whenever you line up your eyes with white eyeliner, it creates such an impact that it might make you a girl belonging to a different galaxy – a girl everybody wants to stare and look up in awe.
[Also Read: Diwali Makeup]
When you are applying the white eyeliner, smudge a bit of it in the inner corner of your eyes. This will make you look more awake, youthful and conscious of your sex appeal. Make it a point to apply it across the upper lid as well to get that complete nouveau look.
This one is haute treatment for your eyes. And the best part is that it's simple and beautiful and 60's inspired. Yes, it is the double eyeliner we are referring to which gives you a monochrome look. Worth trying it out!
[Read More: How To Apply Mineral Makeup]
White Eyeshadow
White is a colour that reflects more light. Keeping this theory in mind, just sweep across a matte white eyeshadow in the following stepwise manner:
[sc:mediad]
Brush the white shadow over your entire eyelid using a base shadow brush. Then get hold of a light brown shadow and apply it into your eye crease with an eye brush. Further, in order to enhance the look, apply a black eye liner and mascara.
White Nail Paint
Wear it or flaunt it, nail polish enhances the beauty of your nails like none other. Moreover, it casts an all new cool impression about you. Swipe a pearly white on your finger nails to get across a classic and nail-biting look.
White Lip Colour
Nude colours are conventional and passé. Try out the revolutionary and cool white gloss on your lips. The good thing about it is that it reflects light and creates a stunning look over the natural colour of your lips. Just layer the sheer white lip gloss on your lips to get a barely-there colour. Watch out for an enhanced lip volume.
[Also Read: Bold Lips: What your Lipstick Says about You]
White Foundation
It gives you no shimmer, but the best highlighting you can ever expect. When you use white foundation, it will be a promising step to get skin that talks. Just tap the white foundation over the concealer without mixing it and you are good to go. Best for light to fair skin types!
Now that we have shared with you cool ways to do makeup in a revolutionary way, start your madness with white and see how you become 'it' girl in no time.