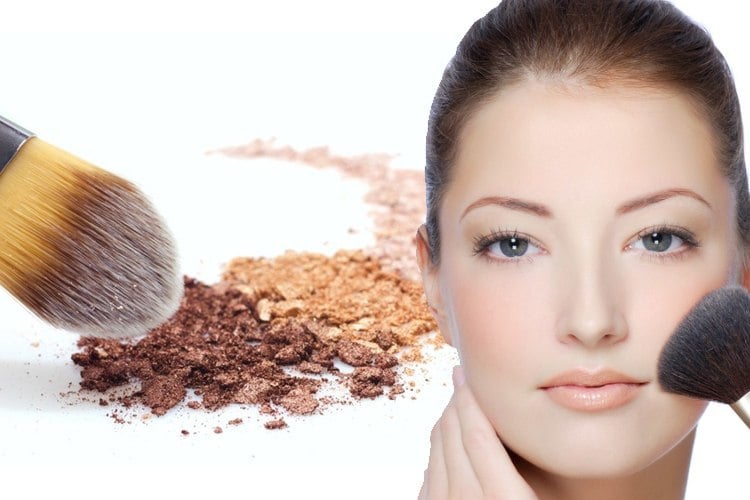 While the consumer market is saturated with cosmetic brands offering traditional makeup products (laden with chemicals and parabens), there is a growing section of the market being taken up by mineral makeup. Mineral makeup differs from traditional makeup, i.e. it is made up of natural ingredients with little or no harmful chemicals or filters in it. This makes it more skin-friendly as issues faced when using traditional makeup, such as clogged pores and bacterial growth, are non-existent when it comes to mineral makeup.
[Also Read: Mineral Make Up Application – The What And How]
With consumers being more aware, and more discerning, than ever before, it is no surprise that mineral makeup is becoming a sought after alternative to traditional makeup. The only hitch in a person's need to shift from chemical makeup to mineral makeup is the lack of knowledge when it comes to the application. Applying mineral makeup and getting it right can be a daunting task in the beginning. If you are struggling with getting a flawless look with your mineral makeup and need to know about how to apply mineral makeup correctly, then this mineral makeup guide is for you.
How to Apply Mineral Concealer
It is crucial to first prep the skin before you start applying your mineral makeup. Prepping the skin involves gently cleansing, exfoliating, and moisturising your skin, getting it ready for the makeup. Once that is done, you can then go on to use your mineral concealer to cover up any acne scars, spots or the dark circles under the eye. If you're wondering how to apply mineral concealer powder, it can be a little difficult, but all you need to keep in mind is to not be too heavy handed with it. Use a brush to pick up the concealer, tap the brush to get rid of any excess powder and then gently tap and swirl the brush on the required area.
There are a lot of videos available on YouTube that show you how to apply mineral concealer powder. How to apply mineral concealer video.Watch.
[Also Read: How To Apply Blush]
[sc:mediad]
How to Apply Mineral Makeup Foundation
Always remember that when it comes to mineral makeup – a little goes a long way. The most common problem that people face when working with a mineral foundation is "too much shine". Since mineral foundation powders contain light reflecting particles, using too much of it can result in you looking like a shiny disco ball. So take care and use a fluffy brush in a circular motion to blend in your foundation to make your skin look healthy and glowing.
[Also Read: Little Cleavage Makeup]
How to apply mineral foundation video. Watch and learn girlies!
How to Apply Mineral Bronzer
Working with a bronzer is like learning a lesson on how to apply mineral makeup. A bronzer is used to give your face that nice, sun kissed glow. You need to take a teeny tiny amount on the brush that you use for your blush and go over your cheeks and forehead and chin with it. Blend it really well to avoid any harsh lines or streak. You want to create a soft, diffused look, so blending is the key. The bronzer can also be used to contour your face to create depths and angles where needed. If using the bronzer for contouring, use an angled brush for a more precise application.
[Also Read: Makeup for Sensitive Skin – 5 Important Rules]
Note: While working with a bronzer, be sure to lightly brush your ears and neck with it to avoid a two-shade situation where your face is all nicely bronzed whereas your ears and neck are pale and colourless.
Once you master the art of applying and working with mineral makeup, you will not want to go back to using traditional makeup. And your skin will thank you for it.