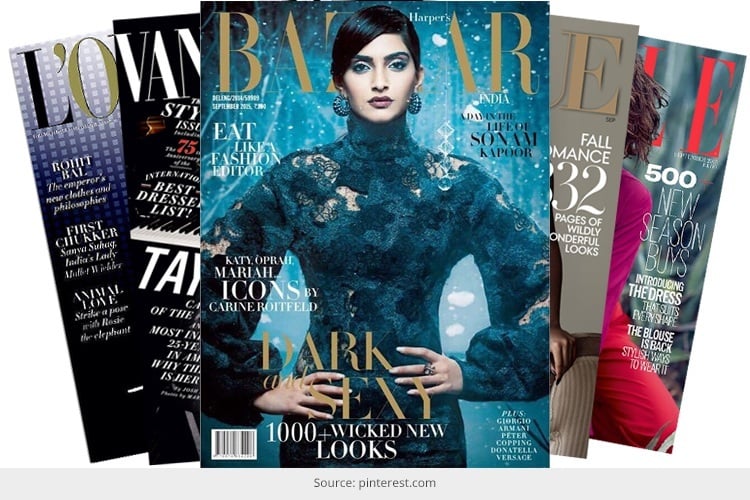 It's become a ritual for me. To be very honest, waking up on the first of every month and browsing through magazine covers and looking at them with awe, and then immediately sharing a few with you guys. Ah. Now that's what good life is!
Despite the last week of August being very hectic with intense deadlines, we all look for a start of a new month. Well, don't we all love fresh starts? We do! It's just fabulous! To start over, learn from previous mistakes and move forward! Eh, too philosophical!
Anyway, September has got us a lot of heavenly magazine covers and we just can't wait to share them with you!
So, without any further ado, let us begin!
Grazia
On the cover of Grazia we have the young and beautiful Athiya Shetty! She made an appearance on a magazine cover last month as well. She's certainly on a roll!! Wearing a Dior Fall outfit with deep red lips, she's giving us a rather mischievous smile. You like?
Harper Bazaar
On the cover of Harper Bazaar India, we have Sonam Kapoor looking rather mysterious! The fabulous electric blue outfit just topped her magazine covers! While Instagram is raving about how electric Sonam is looking, we are wondering how happy her stylist must be!
L'Officiel
We have Twinkle Khanna literally twinkling on the cover of L'Officiel. Again, styled by Namrata Soni, this pretty lady has her makeup game totally on point! Gotta give all the credit to the very talented stylist and her team!
Maxim
On the cover of Maxim was the ever so beautiful Esha Gupta. Just like all the other ladies, her makeup was on point as well! The title said "rebirth of sexy" and looking at Esha Gupta like that, we couldn't argue!
Cine Blitz
Our favourite drama glam girl, Jacqueline Fernandez also made an appearance on the cover of a popular magazine. In this cover also, the outfit is subdued due to the extravagant makeup and fabulously styled hair. We think we are loving this new trend!
Now that we have covered our desi girls on magazine covers, we would like to go west and see what they have waiting for us!
[sc:mediad]
Elle
Elle got us Kristen Stewart on the cover, and wow!!! Can we please stop for a minute and appreciate her makeup? It takes a lot of skill to do that kind of flawless makeup!
W
Well, W took the focus-on-makeup trend to another level when they put up a close up of Gigi Hadid on their cover! The picture is black and white and yet we can see her eyeliner and eyelashes so beautifully done!
Vanity Fair
Taylor Swift went old school with her appearance on the magazine cover of Vanity Fair! Her green eyes were highlighted by her very subtle yet glossy makeup and we have fallen in love with her red lips!
Vogue – Australia
Who better to appear on the cover of Vogue Australia other than Nicole Kidman? Her rugged look really got to us and we can't help but think – does she look this pretty always?
Vogue
While Vogue Oz had Nicole, Vogue US had the Queen of US music on their cover. Any guesses? Well, Beyoncé of course! The sultry singer looked rather beautiful in her well fitted dress!
Which magazine cover got an absolute 10 on 10? We are leaning towards Twinkle Khanna's L'Officiel!
What about you guys? Have any favourites, yet?