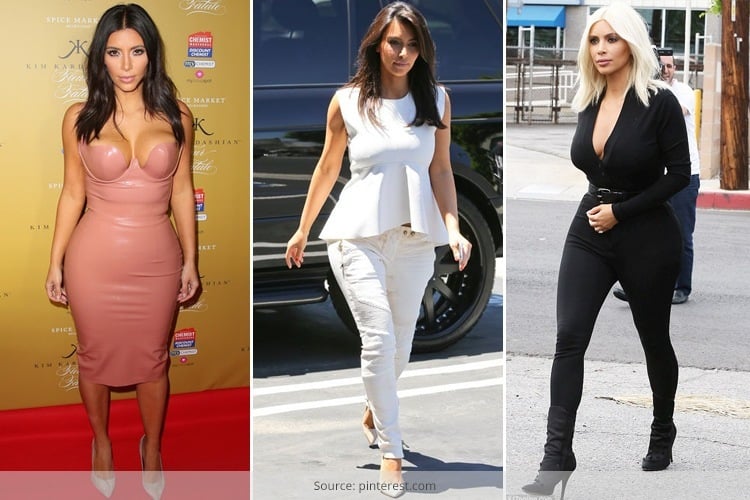 Size zeroes will come and go. But what will never go out of fashion will be the bootie, and that is the exact revelation that has encouraged our Hollywood divas to fill it up with silicon. But one diva we know who has not poured in silicon into her buttock and has proved it through X-ray is Kim Kardashian. Though she claims to have been blessed with that hour-glass shaped body, there are theories of her injecting fat from her waist and stomach into her bums. Now that's something we would call – killing two birds with one stone. Get a tinnier waist to accentuate the curviness of her entire body.And those busts and the bootie – make it an hourglass shaped body famous worldwide.
[Also Read: Does Kim Kardashian Only Own A Handful of Outfits?]
Apparently, Kim is not only famous for that curvy silhouette, but also her fashion sense. The style with which she flaunts her curves comes naturally to her. If you are blessed with or have lately acquired a curvier body with a relatively tiny waist, you may want to follow these style mantras, which are Kim Kardashian's teaching to the world.
1. Flaunt your curves – as much as you can
Kim showed everyone that skinny is so-last-season, and she provided reasons to substantiate her statement. Those curves are something you have, not everyone in the street is lucky enough to have them. They are your assets. Be proud of them. Flaunt them. And flaunt them with pride.
2. Love your Self(ie)
The reality star is known to go a li'l too hard on her waist trainer and looking at her selfies, we exactly know why. That perfect hourglass figure she has achieved is of course a result of her extreme work out. She has become more famous for her regular posts on social networking sites these days, than anything else. While some can call it self-obsession or narcissism, I'd rather say it is her confidence on herself that she shares with her fans. What's wrong in loving oneself? So all you ladies, blessed with those curves, just click a selfie, and let them be jealous!
3. Carry Stylishly
Kim was one of the few Hollywood names who did not hide behind the curtains of her enormous mansion when her body swelled during pregnancy. The reality star was not disturbed by her expanding waistline and fear a crash in her sexy image. In fact she made raptured pregnancy and made it look sexier. She sported those tiny winy swim suits with buoyancy.
[Also Read: Kim Kardashian Pregnancy Fashion]
4. Peplum tops are made for you:
Kim has been seen numerous time in peplums. Not to mention she looks like a killer in them. Going by the cut of the peplums: dresses, skirts, or tops – the broader top and flared bottom with a shrinking waistline, it is safe to say that peplum tops are cut out to be worn by women of an hourglass shape. They are better worn in solid colors than prints or patterns. If teamed up with a like-color bottoms, peplums would also make you look taller.
[sc:mediad]
5. Dresses and Skirts
The reality star who rose to fame with TV show Keeping Up with the Kardashians not only sticks by peplums, but is also seen in skirts and dresses a lot of time. The entire idea of having an hourglass shaped body is to have a comparatively slimmer waist than what goes with your upper and lower body. And the skirts or the skater dresses do a wonderful job in highlighting the size of the waist. Apart from skater dresses, wrap dresses are again, by all means made to bring out the waistline. In fact, we do see Kim in well-fitted bodycon ensembles as well. Bodycons are perfect if you own a pair of perfect rounded booty and are sure to flaunt them. Kim sure knows the trick, so now you know why Kim swears by them?
6. Pantaloons
Women in hourglass shape look great in pants too, but to find the right pair of pants that will do justice to your body shape can be a li'l tricky. Our star here does handle the challenge with panache. Though Jeans might not be the best option, but the high waist denim can perfectly help you get the look. Avoid very low waist jeans if you are heavier at the bottom. Kim generally wears skin tight pants. Given that it could be difficult to find a pair that is broad enough for your bums and slimmer enough to stick to your legs, it is better to get them made to order than to pick up a readymade pair from the mall.
[Also Read:Show Off Your Hourglass Figure – Dress to Flatter Your Curves ]
7. Stick to solids:
As we mentioned above, Kim sticks to solid fabrics more often, than bold prints. The reason being, prints confuse the bust line from the waistline and same is the case of waistline and butt line. They make you look fuller than you are. Given that you already have the size you want, you don't want to overdo it with a busy fabric. However, solids, whether worn in tops, skirts, dresses or pants would make you look fabulous at all the right places.
8. Accessorize like Kardashian:
The lady has her own jewelry line. So, I can't miss to make a mention of the accessories (or may be the kind of) that make up her style statement. Kim has taught us to bling-it-up. And not only jewelry pieces like earrings or bracelets, but she often draws an onlooker's attention to her waist by adding a hint of a loud statement belt in there. This would also help in making an otherwise boring dress, interesting.
To wrap it up I'd say, the hour glass shape was never so much in limelight before Kim showed it to the world the way she did. The star has managed to be in the news for everything she has done, be it her friendship with Paris Hilton, her 10-season-long show, her pregnancy, her wedding, her divorces or the unique name that she has chosen for adorable daughter North-West. And not only the famous-infamous, controversial assets, but her stardom and lifestyle has left much to envy from this babe. Sigh!