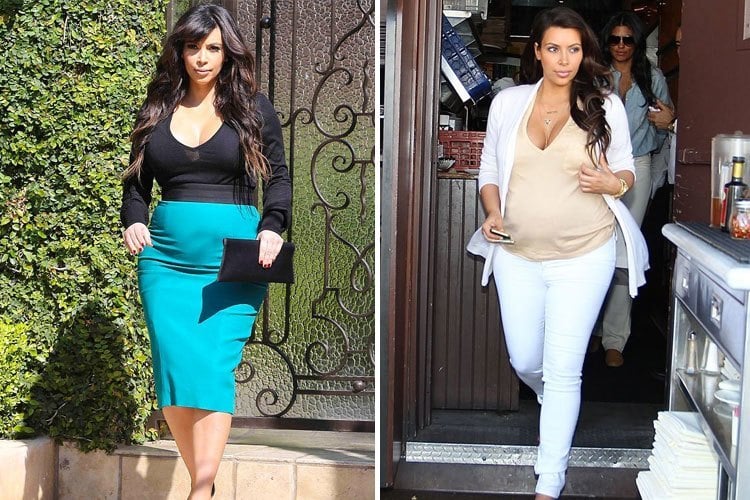 How does she do it? How does Kim make the world go round and round, up and down, side to side and you get the gist, how does she do it? One of the famously infamous of the lot, and the most fashionable of all, Kim Kardashian lives her life on her own will and mindset. With many fingers shown to the world, the curvaceous hour glass beauty has never ever missed a moment to make the men swoon over her looks and the women desiring to emulate her. From being busy at social dos and events to a walk down the street and while flying, flaunting off airport fashion or while expecting her baby; Kim makes us all drool! We recently gave you an insight on maternity outfits which did not flatter Kim Kardashian's Figure.
Here are nine statements she made while being pregnant!
Animal prints and a black polo tee
Pregnancy fashion at its best, and although the fashion world may have written nonsense about her, what we love about this chic look is that of comfort, which is most needed for an expectant mother. Animal prints for the bottoms, frills on the waist that help concentrate on the baby bump and a black polo tee to keep warm, what else do we need?
At a dinner party with friends, Kim rocked in a pale green cocktail suit
Matching the pale green cocktail suit with a slit at the thighs, a statement long neckpiece covering the cleavage and an off-white summer coat to keep it chic, Kim rocked the dinner saga that night. All eyes for sure were on her, but the expectant mother made more waves with her charming entrée!
Cut-outs to flaunt the baby bump
A proud expectant mother she is, Kim rocked a red carpet event when she posed for the shutterbugs and flaunted her baby bump in style. A one-piece sheer cut-out black cocktail suit, made more news than what the event was originally called for. Can't blame the shutterbugs, now can we!
[Also Read: Unveiling Kim Kardashian's Closet]
Airport fashion and the baby bump
Pregnant women aren't supposed to fly, say doctors! But Kim once again broke all rules and flew with her baby bump, covered well in a chic grey tee, black opaque leggings, flats for the feet and a grey handbag, with a denim summer coat!
LBD for the expectant mother
While walking down the streets and heading for a social do, Kim made head turns and the onlookers could not stop gasping for breath, watching the diva with the baby bump in a elegant LBD. Need we say any more!
[sc:mediad]
Maternity fashion quite street style
If you thought Kim didn't mix with the masses, you were wrong! But she does that in style, and this time with white ciggy pants for the bottoms, a peach V Neck tee for the top and a summer coat in white, with a pendant flaunting her cleavage – the best way to distract the onlookers from the baby bump!
A onesie and a sheer overcoat
While expecting in 2013, Kim made a fashion statement for expectant mothers, wearing an all black onesie and a sheer long flowing overcoat. Perfect for comfort and movement, and with total hotness defined!
She broke it loose
An overflowing oversized romper in pastel shades, with an overcoat in white for the Summerish feel, Kim cared two hoots about what the media and the fashion world had to say about her maternity fashion when expecting her baby!
Colour blocks and Kim
Kim didn't stop experimenting with colour blocks when expecting in 2013. With pop colours in blue for the pencil skirt and a low V Neck in black for the top, Kim rocked the maternity scene as she does always!
What have we learnt from darling Kim? It is more about comfort than following the norms, especially when it comes to being pregnant and dressing well!