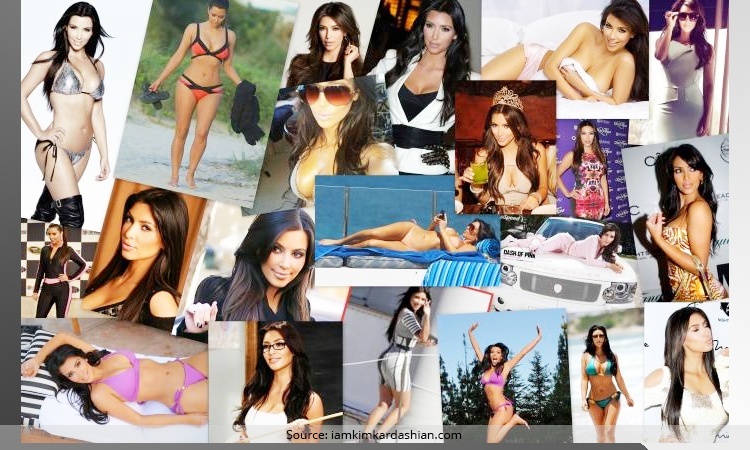 Irrespective of what the tabloids write about her, and what her rivals speak of her, Kim has a world of her own and she is happy being nonchalant to the naysayers out there. Love her or hate her, Kim has the guts to carry the hourglass frame in total elan and style. Not many women with a bootylicious body such as hers can carry their bodies with such elegance and grace, and here we credit her sense of fashion and style. From cocktail gowns to onesies, PJs to chic designer wear, skater skirts to grunge suits, Kim has donned them all and with total aplomb that too! Here are 15 of her best styles unveiled!
One shade of grey
Raven hair, pink lip gloss and fine eyeliner, Kim looks stunning in the all-grey ensemble. A grey full-sleeved crop top and a pencil skirt in the same shade. Stripper heels!
2014 colour blocks
Kim follows the fashion weeks and adheres to trends without a doubt, and sometimes she makes her own statement with colour blocks too. Grey full-sleeved tops with an orangish pink pencil skirt and heels, who would have thought of this style but Kim?
Onesie jumpers and a chunky belt
Leave your hair loose like a raven and wear your heels, the onesies jumper with the chunky belt worn by Kim does the haute trick!
[Also Read: How to Wear Rompers]
Cool urban woman look
Sunshades for the eyes, a fedora to protect the scalp and hair from the sun, a crisp summer coat in black with cigarette pants in the same shade and a white loose top inside, Kim rocked the summer look!
The royal blue entree
Kim and her daring styles, even though she's a busty girl, has stunned the world around. Parties and Kim go hand in hand, and the damsel knows how to dress for the occasion too.
Sexy in pink
If Aerosmith had to sing the song 'PINK IS MY FAVORITE COLOUR' once again, we are sure he would dedicate it to Kim. The sexy pink cotton outfit worn by Kim at a launch event last year created magic for summer fashion.
[Also Read: How to Wear Pink Denims]
Yummy doting mummy fashion
Lucky little one sitting close to his mother, Kim when out with her son to the movies or the mall would dress like the rest, but still has the swag! Sexy denims with a branded tee and slingback for the feet, wooopie!
Sheer leather
Touching a little on the dominatrix lines, sheer tops with leather pants and sexy heels for Kim, need we say anything more?
Getting high in life
Kim's hourglass sexy figure further accentuated with high-waist black jeans, embossed with studded embellishments on two ends and a white crisp shirt unbuttoned on top! We shall blame her for the raging heat wave this summer!
The corporate look
A black trench coat, a white shirt and a black midi-skirt with heels and hair raven like, Kim can stir boardroom meetings and win her deals too!
Hello Sunshine
A sexy high-knee slit gown in yellow and the luscious lovely enticing red lips; a package that flaunts the curves and the damsel's innate desire to woo the world comes through!
[sc:mediad]
Sheer embroidered tales
A passionate lover of all things sheer and pencil shaped too, Kim in sheer embroidered tops with flashing blood red pencil skirts has been seen hitting the pubs of late!
Branded while shopping
Cute baby pink Maison Martin Margiela coat on top of a crop top in white and a sexy body hugging Wolford dress. Kim carries a Hermés bag and puts her best foot forward with Prada heels, beat that!
Fishy lady in red
No matter who has to say what about Kim and her ways, the lady in red shows the world how it is done, when it comes to dressing for the special night out!
The floral swag
Kim with her hair in a bun, a floral leather jacket, leather pants for the bottom and a low V Neck inner for the top under the jacket, oomph factor pronounced!
[Also Read: 4 Sexy Ways to Style Floral Prints]
From a full-clothed haute look to the ravishing two-piece bikini and something baring the butt-all! Kim has style, confidence and the new-age swagalicious strut, most PYTs and her rivals can never match up to!