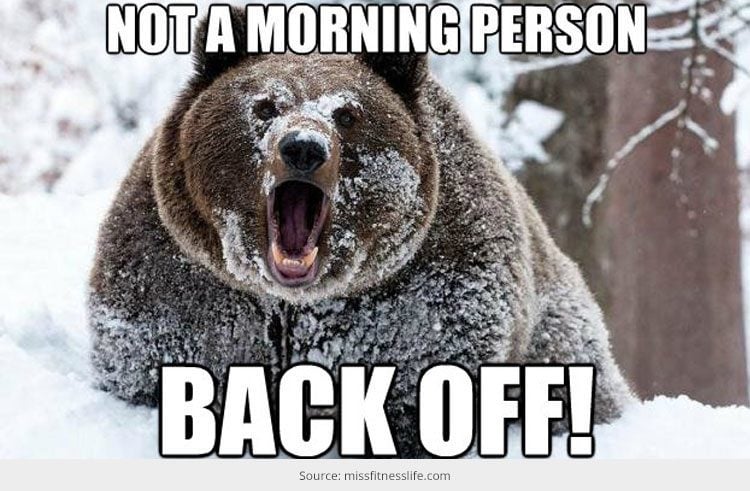 Isn't it funny that we retire to bed supposedly tired and stay awake till almost midnight? Tossing and turning, checking our messages on the phone, and remembering the events of the day too. But where is our sleep? It seems the nightly monsters are really our enemies, and slumber each night is a challenge to achieve. Waking up the next morning and 'Mom five minutes please' being the rant is the norm thus. Sounds familiar right? But wait, if you do claim yourself as not a morning person, but would like to make changes to your lifestyle, here are five easy-weasy ways on becoming the person you want to be. The rooster calls and has a little advice for the doting sleepy heads who want to be the morning fresh daisies! Read on!
One hour less tonight
Irrespective of your busy schedule at home or at work, you should start by putting your foot down and taking one hour early a nap to what you actually are accustomed to. Instead of retiring for the day at 11pm, try 10pm. Switch off your phone, the number one culprit that keeps us awake at night; sometimes all through the night. Deep breath, relax your senses and visualise the body getting into deep slumber. You would notice every inch of your body giving away, and slumber takes over. The next morning, you'd be surprised waking up earlier than before!
A little rewarding yourself helps
Congratulations, you are up and bright early this morning. And you didn't hit the snooze button too, for those extra five minutes. Great going girl, now it is time to reward yourself. You now have extra time in hand, so what about some meditation time to begin with? Maybe a nice walk with the dog in the park or simply by yourself, and yes plenty of eye candy around working out? Wear your jogging shoes and get running, a healthy body and a healthy mind leads to abundance and success ahead, isn't it? This would be the best reward and a motivation for days ahead, when the world sees an early-morning-and –a –fit- you!
[Also Read: 10 Ways To Stay Cool In Summer]
Pep talk the mind as you hit the bed
Tried and tested, hence it works. Pep talk yourself into things you want to achieve the next morning and the day ahead. Give yourself a nice girl talk, pamper yourself in your mind and condition your brain to be the natural alarm clock to pull you out of slumber at wee hours. Sometimes and believe it or not, this works. Start by keeping an aim for yourself, maybe 5am. The first few days may not hit the nail on the head, but gradually you will. Even before you know, you would be literally up and running in your head, and your body would thank you for this later on.
[sc:mediad]
Keep the curtains up
Don't draw the curtains over the head while you make your bed. While fresh air is important to have at all times, keeping the curtains up would bring in the natural light of the morning. This would be the best alarm clock for you to wake up to. And when the light hits the eyelids, you wouldn't have a choice but to be up and about. Unless of course you really aren't physically in the mood to leave your cozy bed and head on to face the day!
[Also Read: Simple Bedtime Routines For Summer Nights]
Set a timer to your coolers and conditioners
While the summer winds blow harsh and hot, you would be using an aircon to cool things off around you. Sleeping in comfort, sans the heat and the humidity is always a welcoming thought, but the same can make you get too cozy for comfort, and hence a deterrent to waking up early next morning. Set a timer on your aircon or cooler. When it stops at say 3am the next day, you would have no choice but to wake up.
[Also Read: Quick and Easy 5 DIY Hairstyles for Lazy Mornings]
Five tips we hope helps, and if you really want to make a change, you would. Being a morning person isn't that bad, you get to slurp up the best moments of the day, all by yourself!