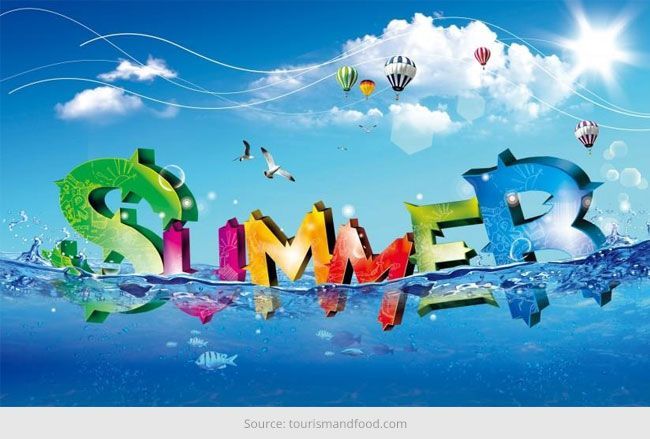 Summer is the time to steer clear of the sun and its damages. Triple digit weather can be a dampener for most people. However, if you keep a few pointers in mind during the scorching months you can keep heat at bay!
Read on to discover some easy ways to beat the heat!
1. Summer fashion is way diverse from winter; therefore you must know how to dress this summer – summer style tips being your top most priority. Make way for sun dresses, maxi skirts, shorts, sleeveless or tube tops and tees to sail through the summer months. Wear attires in light or pastel hues in easy breezy, oh-so-cool fabrics like cotton, linen, mul and chiffon. Refrain from synthetic, polyester or silks which will give you heat exhaustion.
2. Summer kitchen calls for carefully hand-selected cart full of fresh and easily digestible items. Avoid spicy or hot food and even meat; instead prepare cooling meals with plenty of salads, curd and fruit juices. Also steer clear of caffeine and alcohol, instead stock up on electrolytes and chrysanthemum tea at home. Of course, you can befriend ice creams, fruity shakes and cold custards to freshen up. And do not forget to have at least eight glasses of water to keep your body hydrated lest you feel nauseated or weak. You could also sip on fruit infused water for glowing skin.
3. Sunglasses and straw hats not only look glamorous but they also save your skin and eyes from damage. With plenty of sunglasses available in varied shapes and sizes as per your face type, you are sure spoilt for choice.
4. Summer and beauty rituals go hand in hand. Fill an ice cube tray with rose water or a spray bottle with water and keep it in the refrigerator. Dab your face with the refreshing rose ice cubes or spray your face with cool water after you get indoors. You can also place cooling ice packs on your face or wrist. A summer face mask made of fruits or yogurt or fuller's earth can be equally rejuvenating and can help ban the tan.
5.Sunscreen should be your best friend during the scorching months. Gently slather a good amount of sunscreen lotion on your face and the exposed parts of your body to avoid getting burnt from sun damage
[sc:mediad]
[Also Read: Sunscreen For All Skin Types]
6. Bathe often as it regulates the body temperature and energizes you like nothing else! Try taking a shower with citrus or aromatic body washes and you'd feel cool as a cucumber instantly.
7. Want to enjoy a fit summer? Well, exercise is vital even in summer months. However, instead of working out under direct sunlight try indulging in yoga, walking in your backyard or even cycling and swimming during the cooler hours. Also if you wish to accelerate your training intensity, do so slowly so that you stay at a desirable body temperature.
8. How to sleep like a baby during the torturous summer months? Well, it's easy . Simply dampen your bed sheets a little and put on the air conditioner or cooler at a comfortable temperature.
9. Keep off lights! All it takes to keep cool is to make use of the natural lights and switch off the lights at home. You can use dim lights or lamps to give a calming effect and bring down the temperature in the room. Also you can unplug as many electronic gadgets as you can to keep away from heat.
10. If you are a sucker for do-it-yourself methods, then you enjoy doing this. Just fill up your pillow with buckwheat as they do not absorb heat or perhaps make a cold compress by filling up a pair of socks with rice and tie up the ends, thereafter stick it in the freezer for one hour. Voila, you have got the quickest ways to keep cool.
Keep cool and enjoy the sizzling days of summer!