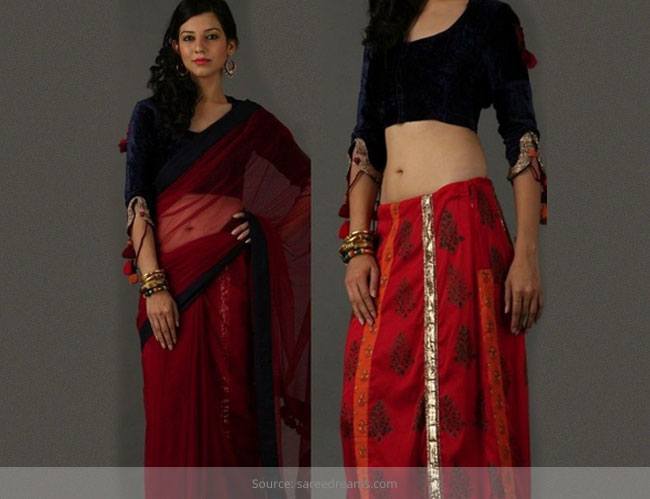 Who pays attention to a petticoat? Most women often underestimate the use of a petticoat under the saree. After all, it's just there, who cares about it anyway? But do you know that however gorgeous your saree maybe, there are always times when you would not be doing a justice to it, if you haven't got the petticoat right. Your entire look has gone down the drain if you wore a petticoat a size too big or small.
But don't worry; we have exactly what you need- a cheat sheet which will actually guide you on what is right and what is wrong.
[Also Read: Remember These Tips While Getting Your Blouse Stitched]
Read on to know more:
1. Colour Me Right!
You wouldn't want your petticoat to attract more attention would you? Exactly! So, the first important thing is to decide which saree would look good with what colour petticoat. It has never been in vogue to wear a petticoat which is not the same colour as the saree. The rule is to wear one which is lighter than the saree. If you are a fan of colour contrasting, experiment with your blouse or your statement piece, but it is best to leave the petticoat alone!
2. Fabric Matters too!
As much as you would love to experiment with your saree fabrics, make sure you decide on your petticoat fabric with care. Two fabrics which are most comfy are cotton and poplin. Sure you would have to iron them and make sure they sit right, but when it is hot and you would love to rip off your clothes, a cotton petticoat would make sure that you are actually airy enough. There are special petticoat fabrics for those who want to actually put emphasis on the petticoat. People usually go for raw silk and jamawar.
3. Shorter the better? Not really
[sc:mediad]
Many think that it is best to have a short petticoat because that way there is no danger of tripping! It should be an inch shorter than your saree but that's it. Don't go beyond that because if you walk a little briskly your petticoat will start showing and believe me that is not a pretty sight unless your petticoat is really fancy!
4. Strings or Zips?
Your grandma's favorite has always been a drawstring. But as a fashion forward woman, you now have another choice- a zip. The zip does a much better job than a drawstring because then you won't have the problem of the petticoat bunching with a zip. The zip will also camouflage your muffin top well and you would be able to handle the saree much better with a zip.
5. Pick the right style:
Every saree requires a different kind of petticoat. For instance, if you have wider hips, you would love to go for A-line petticoats because there is a lot more space offered with that. On the other hand, for ladies who have a fascination for a more slimming look, fish-cut petticoats would do the job. These sit smug on the hip, but as you go down, these flare. Most women prefer to wear this type of petticoats with lehengas and half sarees. If you are a little more adventurous, you can always add ruffles to the petticoat and it will give you a more slimming effect.
[Also Read: 9 Must Have Saree Styles Every Indian Women Must Possess]
Petticoats are thus a very integral part of your wardrobe but also remember that you shouldn't go overboard with the elements. Decide on a design and coordinate it with your saree for the best effect.